The Satan Conspiracy…
Satan is an Alien!!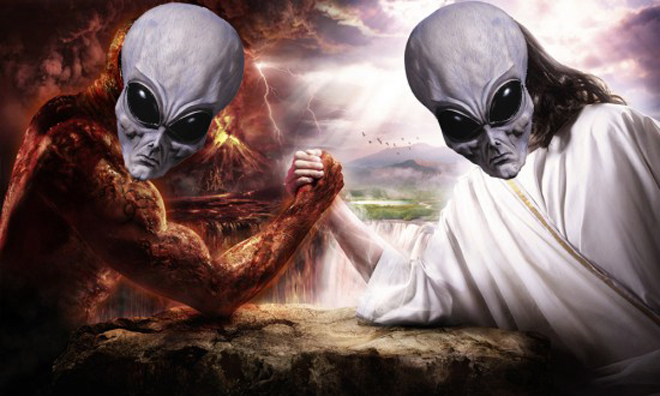 This may or may not be news to all you Satanists out there: Satan is an alien. Not an angel, not a god; he is, in fact, an alien. And not only that – despite what Christians, Muslims, Jews and the like have been claiming for millennia, he is actually a GOOD alien. While the evil aliens – ie. God and his cohorts – have been trying to keep us ignorant, naked and freezing cold, Satan and his demons have been trying to help us by giving us knowledge, technology and the all-important fire to warm us and grill our steaks (or tofu). I don't know about you, but when I started watching Ancient Aliens and they talked about how God, Jesus and all the other deities were actually aliens, it made a lot of sense to me. And if they are aliens, well then of course Satan is one too. A big part of my atheism is that I just can't bring myself to believe that there is some almighty power that runs everything, when all around us is evidence that we are just cogs in huge, clockwork universe, each being doing its part for the system. All the fuckups around us seem to be directly related to religion, namely human beings thinking that they are not a part of the system, but somehow outside of it. By stepping outside of it, we are literally destroying the entire thing. It makes a lot more sense to me that deities are beings just like the rest of us, with faults and flaws, capable of bad judgement and greed. Anyway, back to Satan – check out this episode of Ancient Aliens, which explains what a rad dude Satan is, and how he is a friendly alien just trying to give us a hand with our shitty lives, battling God-alien to help us better understand the universe.

ANCIENT ALIENS – THE SATAN CONSPIRACY – Alien… by artforall101
Enjoy this post? Donate to CVLT Nation to help keep us going!