Bryan Ray Turcotte has one of the most enviable collections of 80s punk memorabilia we've ever seen. With his publishing company Kill Your Idols, he's published so many rad books about punk history, including his most recent publication, PUNK SHIRTS. Trust us, if you're a fan of 80s punk tees you absolutely need this book! Check out a special playlist he curated for us below, as well as an interview we did with Bryan about his punk history…
KFJC Foothill College in the Los Altos Hills of Northern Cali

There was a Punk Only radio show in the 80's called Vinyl Rights with DJ Alex Morgan. That show alone turned me on to bands I would never have had a chance to see live or be able buy their singles easily. The Authorities 'I Hate Cops' melted my brain! Alex Morgan did that!

This playlist is my Homage to KFJC's VINYL RIGHTS Show and DJ Alex Morgan.  

Obviously I leaned into my Nor Cal Hero bands pretty hard…Crucifix, Ribzy, Social Unrest (Singers Cretin and Jason are Both amazing)

SIDE NOTE – Hey Taxi 'I Hate Dogs' features George Hurley on drums Pre-Minutemen, and 'Validation' by Minutemen recording is Pre Hurley on Drums.

I still have a dozen cassettes I recorded of Vinyl Rights and often still find gems of songs I had not noticed before…all these years later, still an influence on me and also demonstrates the impact and importance of college radio. 


XX Love B
Why do you think that t-shirts have been such an important signifier to so many sub-cultures, especially Punk and Metal?
Good Question!I think, at least in my mind, shirts are like a 'sign' or a  'banner', I mean literally, like an introduction…of your self to the world. Like when I was a kid, we would walk around our Jr. High School holding our records under our arms…sort of showing everyone what we were into and the identity we connected with. It's not like there was a random record player anywhere at school for us to actually play those albums…but it didn't matter. We were flying OUR flag, it that makes sense.We would draw all over our school folders, the bands we loved and song lyrics we connected with etc.,T Shirts are a more deliberate and in your face version of that gesture. In the 80's it was impossible to find a Minor Threat T Shirt to buy, so we made our own and wore it like a statement…The shirts meant just as much to us as our Skateboards and our Albums. They told on lookers what you were all about in one bold graphic gesture. I think Punk and Metal. At that time, was such a counter culture thing, I mean people were listening to The Eagles and Ted Nugent…we felt we had to distance ourselves from that norm and Shirts certainly helped us do that.  
Do you remember the first Punk Tee that caught your eye and sparked your passion?
Oh yes, for sure.My cousin Michelle was a few years older than me, and into punk well before I actually knew what was up.She would show up to Thanksgiving dinners with Pink Hair and Leopard sweaters…She ruled.I was like 13 years old and she showed up to a family function wearing an amazing Cramps Shirt…bright colors and huge printed graphic. I was like 'WHAAAAT is THAT?'She turned my on to Punk , No turning back!  
How did get the idea to create the Punk Shirts: A Personal Collection book?
To be honest, I believe it was my good friend and collaborator David Lopes at Gingko Press…We have spent 20 years making books together since Fucked Up + Photocopied, so he's had hands on my entire collection of punk madness. I think after showing him the Joe Strummer 'Rude Boy' shirt, he was like, 'Do you think you have enough to do a book of shirts?' I was like HECK YEA! 
While doing this book, did you come across a shirt or shirts that you thought you'd never see?
Absolutely!The hand made shirts always freak me out the most. One of One, you know? Hand made by punks.Those have the most value to me. I mean, getting Sid Vicious' Sex Pistols 'Smoking Boys' shirt spun me pretty hard, or Darby's 'Boobs' Sedtionaries shirt…that kind of stuff still freaks me out every time to look at them…but when my high school friend Chris Luan sent me her hand made shirts from High School, I just about cried. The most amazing shirts in the book in my opinion are the ones with the most Punk Love put into them.
Your layouts are always spectacular. What inspired the layout for Punk Shirts?
Thank You so much!! I think initially I wanted the shirts to Stand Alone as artifacts…simple White Backgrounds, expose the entire shirt including all the wear and tear, stains and holes…The hell some of them have been though, you know? But then typically I get like, add MORE and MORE…ha ha.So I started sneaking in Buttons and Illustrations that would support the shirts and their stories without distracting from them too much… like little surprises thrown in. I like to give the reader the feeling that every time they look through the book they see something they didn't notice before.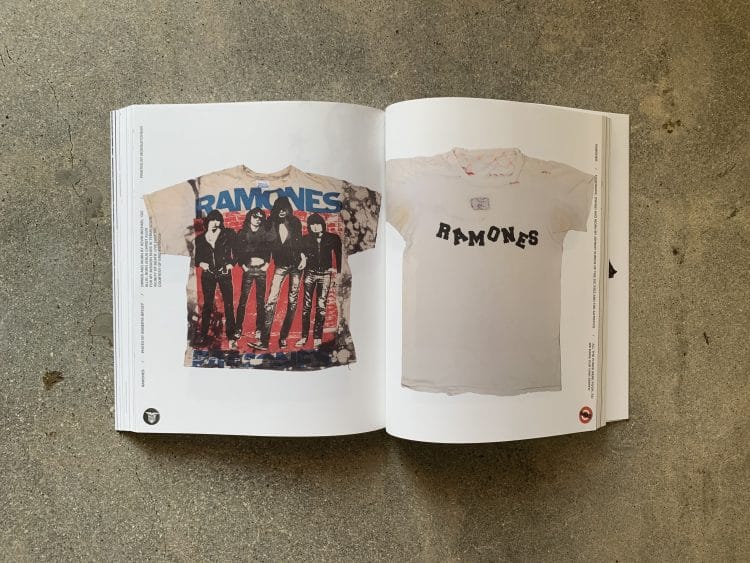 Which tees featured in the book mean the most to you, and why?
The one T that means the most to me is not physically represented in the book…there is only a photo of me wearing it when I was young. The Sid Vicious shirt my cousin gave me. It was my very first, but sadly was stolen from me many years ago. I would trade my entire collection for just that one shirt if I could.   
During the 80's, Punks were the villains in the media. Are your books a way to reveal the truth behind the punk movement?
I kinda love that Punk is still the Villain in many ways…I hope it continues to maintains that mystique for a while longer. I think I feel compelled to show the Depth and Beauty behind the Villianery. I suppose that IS revealing the TRUTH a bit…but the Danger is always there, and if people think that's bad, so be it.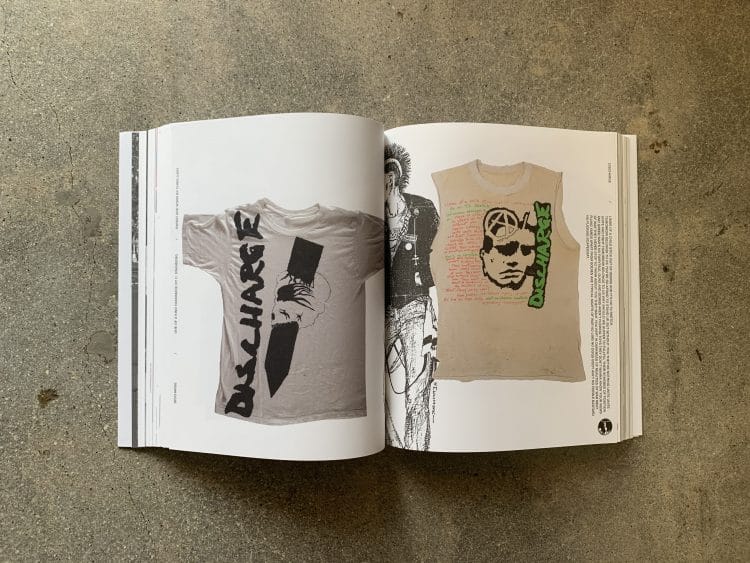 How did growing up in the 80's Hardcore/Punk scene impact your life and worldview?
That is a question that deserves a very lengthy and heavy answer maybe for another time.I can say this…I don't even want to imagine who or what type of man, father, husband and human being I would have become without having Punk to set my path in life. I owe a lifetime of dept to punk rock and I just want to keep on paying it forward as long as possible. Living My Truth.