Punk Hellions Sesso Violento R.I.P.! Streaming their Final Release "Vicious"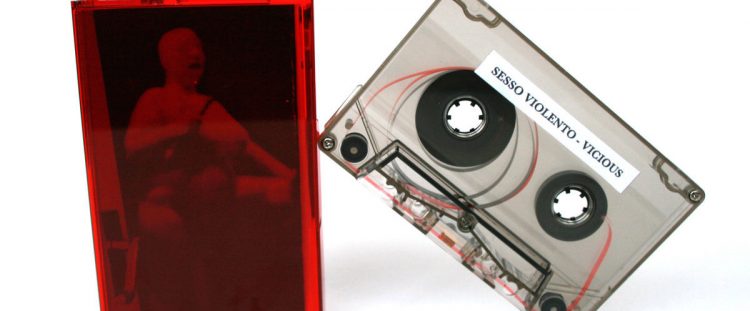 One of the first bands that we covered on CVLT Nation almost 7 years ago was the mysterious Sesso Violento. It's been a blast to be a HUGE fan of theirs and watch how the band has grown over the years! Today I am here to tell you that Sesso Violento is no more, but they have left us with this rad last tape called Vicious. I know for a fact that this fucker is going to sell out soon, so you better get one before they are gone! All hail Sesso Violento – you will always be a part of the CVLT Nation family!
— From Jan 22, 2014
Word is motherfucking bond, Sesso Violento is a band that have inspired what do at CVLT Nation! Their brand of raw black metal fused punk is the kind of music that gets us hyped. Sesso Violento has a new one-sided record out now on Prison Tatt Records entitled Molestador. Over 19 minutes, this band drills caves in your skull that are full of chaotic fire. If you have not heard of Sesso Violento after listening to Molestador they just might become your new favorite band. Enough talking, you can download the new Sesso Violento below…All hail these masters of sonic filth!…Purchase Molestador HERE!
— Jan 23, 2012
Hey hater, come a little closer so I can pour my rancid bile down your throat – no, that would be too kind. Better yet, I'll call in the Brazilian death squad, Sesso Violento, to do some damage to your thick skull. These blackened punk hellions killed shit last year with their release Sesso V., and then followed it up with another gnarly record, Pacificador, out now via Prison Tatt Records. Unholy fuck I dig this band, because they just don't give a fuck, and always manifest black metal the way I like it – all mixed up with punk abandon. On Pacificador, they mix off-kilter electronics into their perfect storm of mayhem. If I could serve my haters the death meal they deserve, this band would be the soundtrack as I cooked up murder stew. Too bad for you motherfuckers, when I listen to Sesso Violento, I know your death is near. On the title track "Pacificador," they construct walls of charred feedback that hit you like the whips of Hades. Their vocals remind me of cats high on meth being electrocuted, which is pretty fucked up, but so is the sound of these vocals. The riffs that this band spits out are coated in demon blood, only adding to the black aura that surrounds their songs. More than anything, when they break shit down to their sleazy essence, that's when the party really gets started. Sesso Violento knows how to conjure up nightmarish melodic grooves that will haunt you even when you are awake. Pacificador is an audio experiment of true danger that only those who want their metal real will understand. The only favor that Sesso Violento can do for me is to keep giving me their sounds of destruction. Like I said, come closer haters, so that this band can rip the skin off your fucking face, and then hold up a mirror so that you can look at your own bloody bones.
— Jul 25, 2011
Haunted riffs, haunted beats, haunted sounds coming from the minds of the undead, named Sesso Violento. Unholy fuck, this  blackened crust band conjures up the kind of audio filth I like to bathe myself in. Their self-released demo of six songs is black metal clothed in the chaotic spirit of punk rock. All of Sesso Violento's tunes are perfect in my twisted dark world. The vocal delivery from this band sounds like black ants devouring flesh & then shape-shifting into hungry demonic wolfs. While listening to this demo, I feel like I'm being transported into the eye of a dark ritual. These humans have tunes that pack the force of a cracking whip, but even those tunes have a killer blackened melody to them that will keep you transfixed. Sesso Violento are warlocks at creating pits of sorrow for you to drown in, so beware when you drift off into an emotional slumber. Make sure that when blasting this demo, you have space & time to head bang, because Sesso Violento will cause this to happen involuntarily. This band totally inspires me to make sure the CVLT Nation Mixtape Volume 4 has the power to put the whole universe under a blackened trance. I want Sesso Violento to be the soundtrack to my nightmares, then maybe I will wake up to the sun shining onto a happy day ahead of me…
Enjoy this post? Donate to CVLT Nation to help keep us going!