America's first Olympic games, held in 1904, centered on a marathon as its main event. One of the favored American contestants, Thomas Hicks, sustained himself throughout the race with a combination of egg whites, brandy, and strychnine, which was considered a stimulant at the time. He hallucinating for much of the race, and he had lost eight pounds by the time he finished in first place. Yambag's brilliant new 7″, Strength in Nightmares, is much like the race Hicks ran. It is an innovative event, a lean, psychedelic sprint against the odds, fueled by something deadly and intoxicating.
This 7″ builds on the brilliant foundation laid out by the band's 2020 debut LP, Posthumous Pounce. Like that release, Strength in Nightmares delivers white-hot starbursts of frenetic energy, burning brightly and briefly, with the longest track on the album being the relatively marathonic closer, "Lowlife," a fantastic cover that reimagines the underrated Cryptic Slaughter crossover sound as coming through the Upstab school of fast hardcore while infusing it with some surf and Minutemen elements.
The aural triptych that opens the album comprises three sister tracks feel combine the breathless paroxysms of early Bad Brains with the heft of metallic skate-thrash like Evolved to Obliteration, all an eruption foaming from the base of the spine and out through Richard Rodriguez's mouth. "Inclusion," Diversity," and "Seclusion" condense more energy and innovation into 158 seconds than many bands manage to provide in an album. Interweaving lyrics in Spanish and English about the shallow performativity of hashtagged Diversity, Equity, and Inclusion in modern neoliberal spaces (including punk ones), the songs are incredibly tight despite their breakneck pacing and superhuman fingerboard coverage. The band's incredible musicianship can easily be missed due to the startling rapidity of the music's delivery, but it takes considerable skill to make calculation sound so chaotic.
In the spirit of genre-pioneers Spazz, Yambag's aesthetic is deceptively fun. Featuring Hanna-Barbera and Disney characters, plush creatures, and animal costumes in their album art, merch, and live performances, the band invites you to question their seriousness. However, any potential silliness ends when the band actually starts to play. In an instant, the playfulness, the childishness, are re-oriented into an Ambien nightmare, the symptoms of poisoning by strychnine and brandy, as Yambag uses the images of childhood to cast light on the dark and insidious machinations, the deeply thought-out propaganda machines that could create a character like McGruff the Crime Dog, a proto-Paw Patrol canine cop designed to endear the police to children, often in conjunction with anti-drug brainwashing programs like D.A.R.E.
While the band truly is fun, it is a mistake to consider them unserious, thematically or musically. Their disarming levity only means that you'll be smiling when the first crowdkiller's boot makes contact with your grill. It might well be at the beginning of a track like, "Without Sin," whose angry-hornet's-nest tremolo-picking and tupa-tupa d-beat convey a yo-yoing melody that is irresistibly catchy. The aural bonfire, punctuated by the heart-palpitating fast-picking on bass, is groovy, technically adept, and cathartically pissed. It leads perfectly into the unhinged "Capture the Flag," a meditation on the cognitive dissonance of people with blue-stripe Punisher bumper stickers situated next to "don't tread on me" bumper stickers, of those who "back the blue" unless they're standing on the steps of the Capitol. The open, jangling chords ring out loosely over the pinpoint drum and bass synchronization, managing to capture both the intended organization of and the actual chaos of a failed civilian coup.
"Psyop" feels like the listener is being held over the steam vent on a boiling kettle. One can sense the immense, steaming pressure that has been concentrated into the scalding and gurgling of this condensed track. While it's only the second shortest song, after "inclusión," the frothing frustration of this track is especially palpable, especially as prefaces the aforementioned "Lowlife," which, while a cover, is a perfect encapsulation of what Yambag manages to do with much of their art: to take a cultural artifact (e.g., a Disney character, an esteemed thrash track) and hold it up to a carnival mirror, giving it new meaning by critiquing its original instantiation through distorting it and re-situating it.
Yambag is unequivocally amazing. More importantly, they are important for the future of punk and hardcore. More than just about anyone in modern music, they exhibit the irreverence that was so foundational to early punk while combining it with speed, musicianship, and critical socio-political commentary. Their apparent goofiness belies the deadly seriousness of their craft. It is a spoonful of sugar to help the strychnine go down.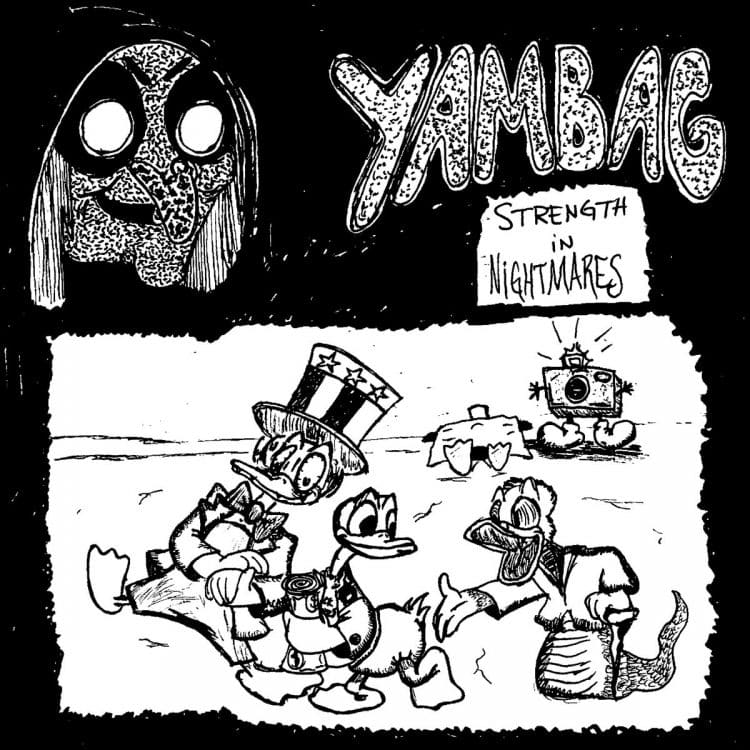 Yambag was kind enough to spare some time to talk with Cvlt Nation about Strength in Nightmares.
First, can you introduce the members of the band and any other projects they'd like to promote?
Nick: My name's Nick I play bass in Yambag. Richard does vocals, Drew plays drums, and Tom plays guitar. Listen to every band they've been in (Bad Noids, Lucha Eterna, The Cowboy, Fashion Pimps and the Glamazons, Woodstock 99, much more…). I also play in Shitblimp and Grin and Bear It right now. Outside of that, I make a TV show with some of my other friends called Little Lions Den on Means TV.
How did the band's approach to Strength in Nightmares compare to the approach to Posthumous Pounce. Can you describe the writing process?
The approach has always been to make songs that are fast and structurally interesting but I don't think much has changed about the writing process. Generally we just bring a riff or a song idea to practice and then flesh it all out together.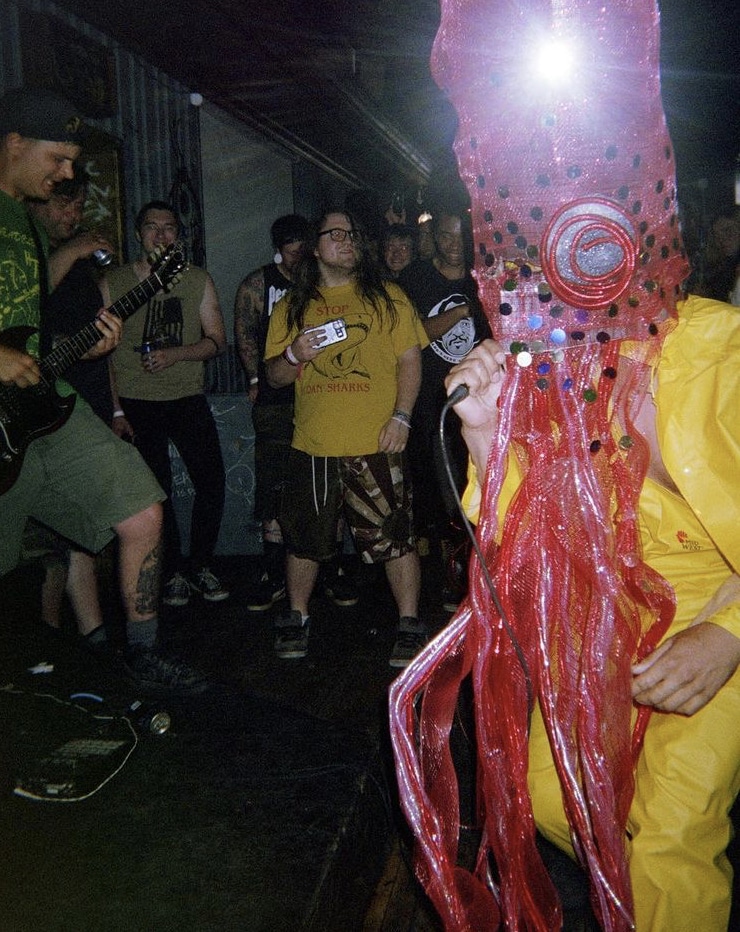 What were the major musical influences for this release? What about lyrical influences?
Nick: I think we're all pretty influenced by No Comment, DRI, Hirax, Ripcord, Spazz, The Fix, Scholastic Deth, Cryptic Slaughter.
Richard: A lot of things that influenced my lyrical content revolved around 2020 and all the realizations, movements, pandemic responses and other political issues that resonated with me in some kind of way. Like everyone else, my brain was truly rattled throughout the years that ensued and so because of that my standpoint shifts to and from either side of the argument of the topic at hand. Not necessarily to play devil's advocate. It's sarcasm, if anything. But mostly it's to try to give some humanity to all the pieces of shit out there.
"Capture the Flag" is about/was influenced by the events on January 6th, 2021. "Power doesn't lie where you think it ought to be / couldn't kill your idol so you became the enemy / used and abused like a bunch of blind mice, you wanna walk hard but you're walking on thin ice." I know these people suck haha but they were just as swindled as the rest of us who fell for the "vote blue no matter who" nonsense. Working class people, so-called apolitical people, get fucked over a lot from all sides all the damn time. January 6th was filled with all sorts of far right extremists, but most of them were there because they had nothing left to believe in. Liberals and conservatives alike are more than happy to feast on their gullibility.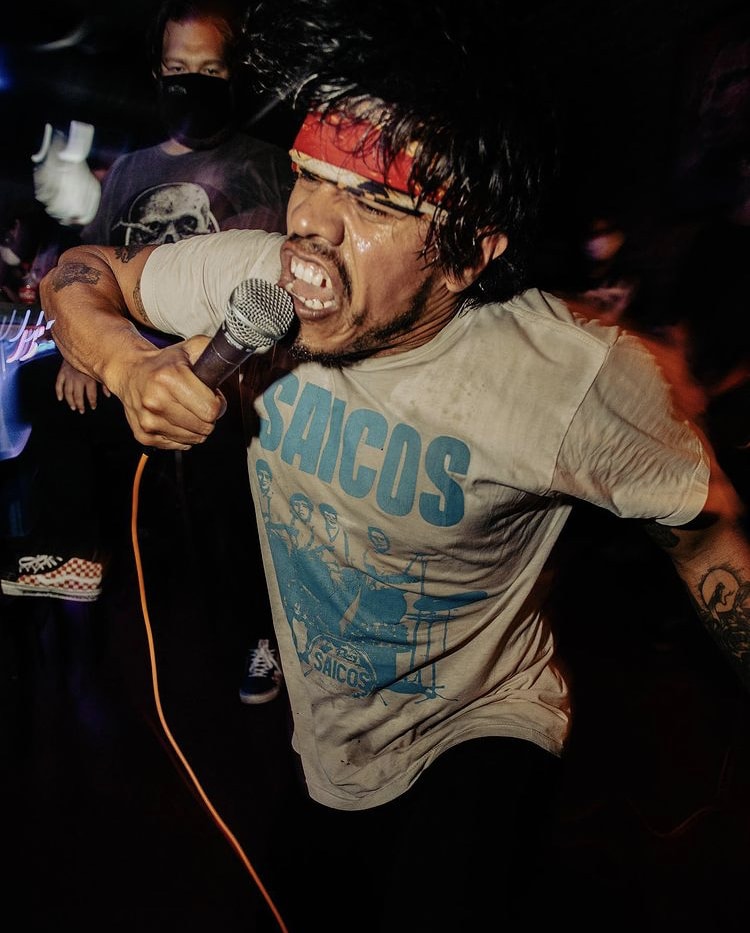 Cleveland has had a history of producing strong hardcore bands, even earning the subgenre title Clevocore. Can you describe the scene in Cleveland? What are some characteristics of Clevocore and who are some essential artists?
Nick: I feel like Clevocore was something that was just used to describe a very specific set of bands that were happening around the same time in Cleveland that were really influenced by Japanese hardcore. Now it seems to cast a much wider net and is just kind of applied to most hardcore bands from here. Some essential Cleveland bands are 9 Shocks Terror, H100s, Spike in Vain, the Dark, electric eels, the Mice, Pere Ubu, the Guns, Folded Shirt. Everyone should check out the Enjoy Cleveland DVD from a few years ago too. It was basically every active punk band in Cleveland around 2016 playing in front of a green screen. The scene here is definitely different now than it was then. I think like with everywhere else Covid forced people to change how they were doing things and now we're looking for different places to play, there's new people booking shows, new people are coming out. Some new Cleveland bands worth checking out are the Carp, Show Pink, Rabid Delusion, Slug, Morgan Precum, The Hell.
Like the animal-name tracks on Posthumous Pounce, the first three songs on Strength in Nightmares are thematically related. Was this intentional?
Richard: Definitely. The title of the record itself is a reference to the Adam Curtis documentary "The Power of Nightmares: The Rise of the Politics of Fear." The politics of fear are still being capitalized on today with gentrified neighborhoods having BLM posters on their pastry-brewery combo windows. The perceived threat to the "left" is any establishment that doesn't commit to "diversity, anti-racism, inclusion, etc…." Nike sells a hoodie with a rainbow colored check at $80 bucks a pop and I'm supposed to forget about the sweatshop in Bangladesh that mass produced it. We slowly learned to accept American exceptionalism all over again when less than a year ago we were burning shit down and demonizing anyone that couldn't see why we were doing it. These words were cooked up in the same marketing board room meeting that brought us classics like "Change" and "Hope."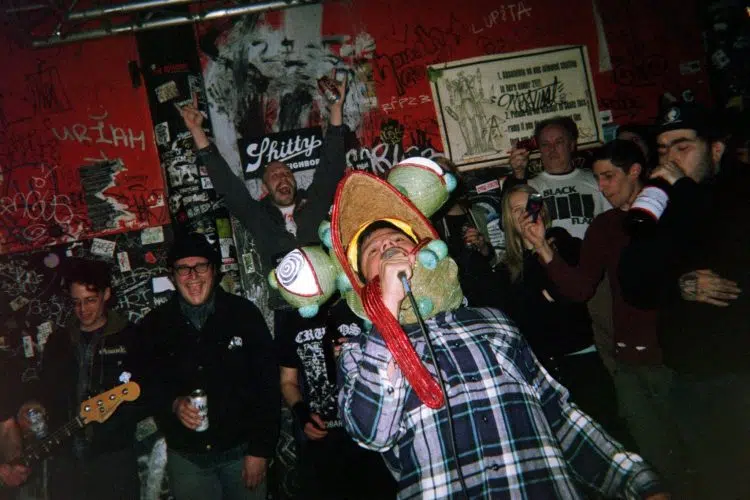 Can you talk about the choice to include bilingual lyrics on this release? Other bands have been including more non-English lyrics in their songs (e.g., Spine's Himnos Mambises), and it's an exciting development.
Richard: I used to sing in a hardcore band that was all in Spanish. Then around the same time that Yambag started, I stepped in to do vocals for another band as well that started in English and I eventually had Spanish lyrics in that as well. Naturally, it just happens. It's not always a conscious choice, like sometimes the cadence just fits so much nicer and angrier. Other times it fits the message I'm trying to send even though it ironically might fall on deaf ears.
The opening track addresses the buzzword "inclusion" and how I struggle to understand how I'm supposed to feel about being "included" in certain spaces. Primarily because I struggle with an identity crisis myself. 2020 was very "black and white" in a very literal sense for me. Living in Cleveland, I'm in a punk scene that doesn't have as big of a variety of race, gender, etc. as other scenes in other cities. So when protests were happening it very much felt like I wasn't seen as anything other than "not black," which means I was just lumped in with all the white people that were there. Infographs and whatnot were being shared to "Check in on your POC friends" and not much came in my direction. When I was included in conversations, it was almost in a tokenizing manner. Like the hardcore scene was "white male dominated" when it was time to talk shit. But I was a "brown guy booking a bunch of shows" when they needed to save face. "No me pueden alcanzar, no soy de aqui ni de alla" translates to "you can't catch up to me, i'm not from here nor there". That's kind of how I've felt for a long time.
Yambag has partly built its strong reputation on its powerful live shows, which feature intense energy and the occasional use of costumes or puppets. How would you describe Yambag's approach to performing?
Nick: Right when Yambag started, Richard used to make a really elaborate animal mask for every show we played because all of our songs had these different animal titles. They would inevitably get destroyed or torn apart during our set, but they were incredible. That's where the McGruff mask originally came from and I think it's one of the only masks Richard has left. He stopped doing that after a while because we were playing more often and there wasn't enough time to put new ones together. Everything else we do just kind of comes naturally and I think we all want our live show to reflect what the music is like. Just really constant energy with little to no stops. Everyone brings it.
Yambag art, merch, and videos often feature familiar characters from childhood that have somehow been repurposed, twisted, distorted. How do these aesthetic choices line up with the musical elements of Yambag?
Richard: Part of it had to do with how awesome the cartoonish art was for Slap A Ham Records, a label whose roster had some true speed legends on it. I wanted to take that concept and use it initially with Captain Caveman and using Scruff McGruff as an abolitionist and eventually to using Disney characters (specifically Donald Duck) to depict imagery of how something so nostalgic was indoctrinating us from a very young age to look past a lot of the propaganda aspects of these stories. Truly evil shit haha.
What should people know about Yambag? About Strength in Nightmares?
Nick: People should know that Yambag was in an HBO movie and we were filmed by the same man who filmed Iron Man 2 and Venom. Our scene was cut, but we have an iMDB page.
Is there anything else you'd like to say?
Nick: This hardcore shit… it's all love.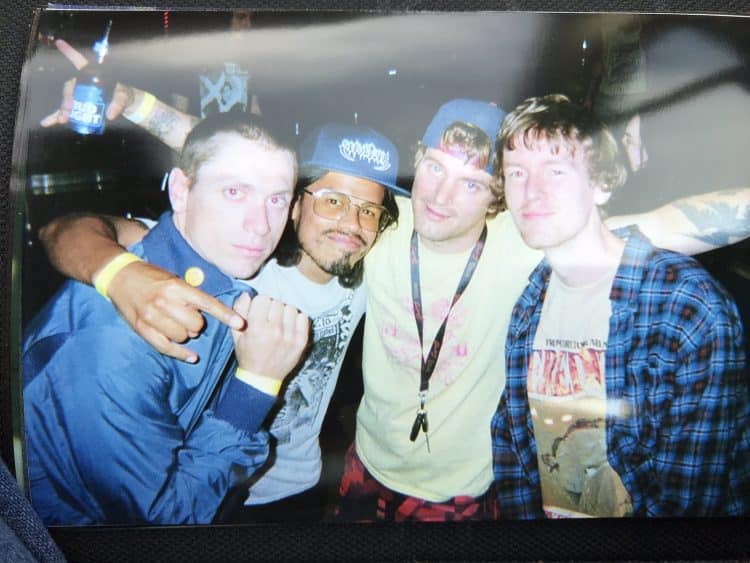 Strength in Nightmares was recorded, mixed and mastered by Will Killingsworth at Dead Air Studios.
The cover art is by Richard Rodriguez.