For the past several years – since 2007 – writer Mikey Bean has quietly been working away (or, depending on who you ask, not so quietly!), gathering an oral history of California deathrock for his upcoming book Phantoms: The Rise of Deathrock from the LA Punk Scene. He's assembled a treasure trove of interviews, flyer material, and other goodies and has had the support and involvement of most of the key surviving figures from the original LA movement. The book's publication date has been pushed back several times, but there has been a demand for this history for a little while now, especially with the renewed cultural interest that has serendipitously dovetailed with his own work on the book. Below, Mikey shared information from what he has gathered from the hundreds of hours of interviews he's conducted over the years, and he's provided a chapter list for the book that is itself an impressive discography of the scene he's been documenting.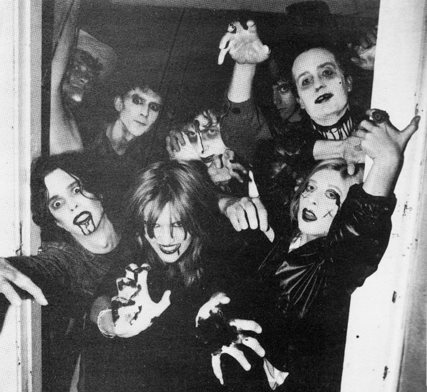 "Hell Comes to Your House' photo by Peggy Morrison
Mikey Bean was interviewed by Oliver in June, 2015.
Mikey, I'm interviewing you because you got my attention with your Phantoms: The Rise of Deathrock from the LA Punk Scene book project. Can you tell readers who you are and what this upcoming book is all about?
Mikey: The project came about because I couldn't find the book to read myself, basically. I had recently read We Got The Neutron Bomb: The Untold Story of LA Punk, which is about the LA punk scene, the music of which I was a fan, plus I was already a fan of Christian Death, 45 Grave, Super Heroines, Kommunity FK, etc. I started to notice little connections between the two scenes. Having never written anything before, I approached a few people with the suggestion that they should do it. No one seemed that interested, or they were busy with other things. Then I was chatting on Myspace with Paul Roessler (45 Grave, Screamers, etc.) who simply said, "Why don't you do it?" My reply was that I wasn't "there." His reply to that was, "So?" And it grew from there.
Why do you think a book about this time period and scene is needed, and what do you want readers to know about it?
Mikey: As I said, there was nothing already out there that was book-length when I started. The punk market has been flooded with books. This is not a bad thing. It just all stopped after that and I felt it could, and needed, to be taken further. When I began the project I had a rough idea of what I wanted from it – it was from a fan's point of view. But in the time I've spent on it, I've actually learned tons more myself that I was never aware of, bands I never knew existed. I'd like to think that there are others out there who are in a similar situation to me.
What do you think was going on in the LA punk scene at the time (1978 – 1983?) that led to this particular development in the music there?
Mikey: I think it was a variety of both local and outside influences. Drugs were a key factor. The end of the original LA punk scene is tied in with the death of Darby Crash. The jocks who used to beat up the punks were now becoming punks themselves. Hardcore brought in a lot of tough guys. The original punks grew tired of this and veered off in other directions: some went into the then upcoming hip-hop scene (a logical shift when you take Malcolm McLaren into consideration). Some settled down with families, and some moved into a 'darker' area.
Both PIL and Siouxsie and the Banshees had a couple of very influential albums released around the same time. Combine with this Throbbing Gristle's influence, even the Screamers, the Cramps and Misfits. You had the thrift stores selling old decaying Hollywood memorabilia. Plus stuff like Vampira, Monster zines, the Munsters and Addams Family, even Disneyland…. It all started getting not just 'spookier' but 'artier' at the same time. Then the drugs started getting harder and played more of a role in the scene. Acid and heroin had a big influence on what was happening.
Who were the formative and foundational deathrock bands of Los Angeles (or of anywhere), and why do you feel this to be the case?
Mikey: 45 Grave and Christian Death would be at the top of the list. Voodoo Church should also be included. But I would also beg to suggest that the first LA deathrock band would actually be Castration Squad. Certainly Rozz was a big fan, Mary was in the band for a time as Mary Bat Thing before she became Dinah Cancer, and Shannon Wilhelm's deathrock-esque image in that band pre-dates that of a fair few people. Also, from a musical point of view as opposed to image, I would advise anyone to check out UXA's Illusions Of Grandeur album as there is a lot of crossover on that.
We chatted about this once, and did we ever decide who came up with the term "deathrock," and why? It seems like Mary Sims (Dinah Cancer) of 45 Grave was saying she might have suggested it, but there are other candidates. SPIN Magazine used the term in their first issue in 1985, which had a feature on "DEATH ROCK," so it existed before that. Who do you think came up with that term and why?
Mikey: Before I go into that, I should say that the book isn't strictly about the 'deathrock' scene as such, but the roots of what later would come to be called that. Yes, a lot of the bands included can rightly or wrongly be termed 'deathrock,' but many were just playing alongside. It was an incredibly eclectic scene and nowhere near as pigeonholed as it would later become. 'Deathrock' as a term originated in the 60s for songs like "Leader Of The Pack," "Johnny Remember Me," "Tell Laura I Love Her," etc., but you could even include the likes of Screamin' Jay Hawkins.
As far as being used for the burgeoning LA scene, the labelling went from 'postpunk' to 'gloom' or 'horror rock,' and eventually became 'deathrock'. It would seem to have been circa '80/'81 by one of the 45 Grave set; Mary/Dinah, Don Bolles or even Tammy Fraser, although Nikolas Schreck of Radio Werewolf recalls it possibly being used as early as 1979. The term 'goth' didn't really appear until the mid-'80s.
I have seen a rough chapter heading listing, can you tell us what chapters you have for the book so far?
Mikey: Easier to start by including the full chapter list, I guess:
1- 'Partytime': Consumers, Vox Pop, 45 Grave, Penis Flytrap
2- 'Sex Girls In Uniform': Mau-Mau's, Castration Squad, Cambridge Apostles
3- 'Music From Hell': Nervous Gender, Fat & Fucked Up, Gobscheit, the 'Church family'
4- 'Stairs – Uncertain Journey': A-Sexuals, The Decadent, Christian Death, Premature Ejaculation
5- 'Ashes': Pompeii 99, Christian Death, Rozz Williams projects, and after…
6- 'Love And Pain': Speed Queens, Strong Silent Types, Super Heroines, Shadow Project, Eva O
7- 'Sounds To Make You Shiver!': Orange County Recorders, Bemisbrain Records, Hell Comes To Your House
8- 'I'm Dancing As Fast As I Can': Brave Dog, Red Wedding, Joseph and Henry, miscellaneous clubs, bands and stores
9- 'Night Voices': Jwlhyfer de Winter, Omewenne, Janet Cunningham, Anne Marie Bates, Paul Perner, Scratch Magazine
10- 'Phantoms': General roots and influences
11- 'When It Strikes': Opus, Smog Marines, Aphotic Culture, Crown Of Thorns, Fade To Black, Fountains Of Use
12- 'Boneyard': Schizo's, Zombie Legion, Voodoo Church, Frankenstein
13- 'Cats And Bats': Die Schlaflosen/Sleepless
14- 'The Vision And The Voice': Kommunity FK, UXA, Party Doll, Patrik Mata projects
15- 'Plunder The Tombs': Patricia Morrison, Legal Weapon, Gun Club, Tex And The Horseheads, Beast, Boneheads
16- 'The Golden Age Of Horror': Skull Kulture, Radio Werewolf, Symphony Of Terror, Kingdom Of Heaven
17- 'Dear Familiar Phantoms': Ex VoTo, Screams For Tina, Mephisto Walz, (Like) Wreckage, The Deep Eynde
18- 'As Evening Falls': Then and now
Mikey: The book has changed direction a few times over the period I've been working on it, especially when new information is discovered. The chapters are constantly evolving, so one that I might think is finished could drastically alter if I feel that something actually fits better and makes more sense in another. Overall, it's coming along nicely, and at present I'm down to working on my final five; Radio Werewolf is almost done, but then needs reviewing by Nikolas Schreck to see what's missing. Chapter 17 is currently split into three working sections which will need integrating when done, and the "General roots and influences" chapter still needs a bit of coherency to it. Chapter 1 is not as straightforward as I thought, and is probably the most difficult; I try to keep a solid timeline flowing though each chapter, but it wasn't as cut and dry as "this is where Vox Pop ends and 45 Grave starts." There was a lot of to-and-fro-ing in the actual scene of the time. Chapter 4 has had a few alterations along the way, and involves a lot more detective work because there were so many anomalies. With the help of some good friends, we've managed to iron some of these out, piecing together some of the jigsaw, and even coming up with some new vital date information.
Why did you choose the bands you did, and exclude some others (like TSOL)?
Mikey: Every band included will make sense when the book finally comes together. I'm only touching the tip of the iceberg and there were a handful of bands that I decided not to include for an assortment of reasons. This is a book done in the oral-history style. That is, I'm merely the 'editor' cutting and pasting sections of over 200 interviews into a logical semblance of story as told by the words of those interviewed. Most of the cast of characters are interwoven throughout the whole book, appearing in each other's lives and featuring in one way or another in the bulk of the chapters.
With regards to TSOL, yes they had the punk/deathrock crossover but weren't in my mind closely linked enough to the core unit. They would therefore require a chapter of their own, which doesn't really seem to fit well enough with what I am doing for me to do them total justice. Plus, I had the impression that (TSOL singer/frontman) Jack Grisham was working on his own biography, and who better to do it than the man himself? They do, however, get mentioned in a few places. Burning Image were another band – they were in a similar timeframe but hailed from Bakersfield, out in the Central Valley. Again, they get a small mention. My other key decision was to not cover Premature Ejaculation in any great detail after 1987 – this is because their story becomes so in-depth after that that it really needs a whole book to itself, and again couldn't be done total justice in mine.
Do you think deathrock was an isolated historical moment in a particular scene or do you think any deathrock bands have existed outside Los Angeles at other points in time since the 1980s? What about bands like Cinema Strange, or Antiworld in Portland, or bands in Latin America like Las Gorgonas?
Mikey: I would say that 'deathrock' itself originates in LA but there were a few other isolated pockets of similar things happening elsewhere … similar but very different at the same time. The other thing about the LA scene is that a lot of the creativity was based around who was sleeping with who, who was doing drugs with who, and what particular drug it was they were using. It sounds base, but when you have such a tight-knit community it really is basically that simple; any sort of artistic relationship, albeit sexual or drug-based, is going to bounce some ideas, even if only briefly.
Do you feel like there are any common misconceptions or wrong ideas about deathrock out there that need to be set straight? If so, what are they?
Mikey: I suppose the biggest misnomer is – and I need to be careful how I phrase this so as not to offend, lol! – as anyone who knows me will tell you, I'm a huge fan of the guy's work, but the scene did NOT revolve around Rozz Williams. He was one of a few key people on the scene who made it what it was, but there are so many others of equal merit who are forgotten in his wake. The book is designed to be read from cover to cover and, although they can, I would prefer that the reader doesn't skip straight to any particular chapter. As I've said, the cast is incredibly interwoven and because timelines run concurrently there is a lot of crossover between chapters that could be missed by reading just one of them.
When do you think "Phantoms" will be finished and see the light of day? Are you currently interviewing bands for it?
Mikey: Ah, the million-dollar question lol! Welllllll…I guess the two main factors in the delay are firstly that I have an odd-hours day job, so I constantly have to fit the book in around that, plus I kind of made a rod for my own back in my initial choice of editing style. Most oral-history books have each person saying from a few lines to a paragraph, but I chose to whittle this down a lot further. Although that makes for harder work, I prefer the outcome as it reads as though everyone is in the room at the same time having a conversation. I started the project in 2007, making my first (of 3) trips to LA in September of that year, and had an original deadline of Halloween 2012. Nearly three years later I'm still plodding away! That said, I'm glad for the delay, as a few good things have happened in the last couple of years. Only last year I finally procured a much-needed interview with Valor, and although I know that name causes issues with some people, he is an integral part of the story and a lot would NOT have happened without him. Certain other people have come out of the woodwork in the last couple of years, too, so I have been able to include some of them. I actually received a needed section of an email interview only this morning! With the exception of a handful of people I would dearly love to include (Flea, Anthony Kiedis, Mike Ness, Tony Lestat, Warren Mansfield, and especially Mary Torcivia), I'm pretty much done with the interviewing now and down to editing. I also added a couple of chapters recently, too; I had an unexpected opportunity to chat with Nikolas Schreck from Radio Werewolf so that turned into one of them. Then, as I was getting a closing chapter together, I felt that there was too much of a gap between what was to be included in that and the preceding chapters, and so the penultimate chapter was created.
Where can folks go if they want to get more info on your book and its progress? And if there's anything else I failed to ask, but that you'd like to get out there, go ahead and use this opportunity to do so! Thank you!
Mikey: After a few unsuccessful attempts with some appropriate publishers I resigned myself to self-publishing – vanity press or no! (By the way, if anyone reading this can change that, then please get in touch!)
When the book does finally see the light of day, I'm looking to do a launch party in LA. I started the project through Myspace and currently use Facebook. For all their faults, I doubt I'd ever have got it off the ground without them as it gave me opportunity to make contacts with people to start with. I no longer use the Myspace profile but there is a 'Phantoms Book' Facebook profile, and a group of the same name, both of which I try to keep updated.
On the subject of Myspace and Facebook, although "Phantoms" will have a big 'thanks' section included, there are a few people who have been a total godsend and I'm indebted to. As a final note, I would encourage anyone to take up a project like this. Yes, it's hard work and brain-numbing at times, but like I said before, I've learned so much by doing it, discovered new music, made some good friends and had some great laughs along the way! I've got at least two more books in the pipeline after this one; the next one is a photographic document of the fashion and prints of Sue Clowes. If it's something you're passionate about then you're doing it for the right reasons.
There is a Facebook profile for "Phantoms: The Rise of Deathrock from the LA Punk Scene" here.
And there is a Facebook discussion group about the book and deathrock in general that is here.