Keir Gilchrist is a Canadian actor and musician best known for his roles on United States of Tara and Atypical. He fronts Los Angeles death metal band Phalanx, and grindcore act Whelm. I came across Whelm after hearing their split with New Jersey's Sick Shit a few years back, really dug their stuff. After stumbling across 2010's "It's Kind of a Funny Story" and the Phalanx EP in the same week or so of one another, I decided to reach out to learn more about Keir's life, career, and involvement in punk/hardcore.
Where did you grow up, originally?
Keir: I was born in London and lived there until I was 6. Then we moved to Boston and then Brooklyn before settling in Toronto. I usually just tell people I'm from Toronto because that's where I spent my most formative years and it saves having to explain why I don't have a British accent.
How did you get into punk and hardcore?
My dad was a first-wave punk back in the late 70s and kept up with the genre so I grew up around punk music. When I was in middle school I really started getting into The Clash, Buzzcocks, and Undertones so he started taking me to shows. Then I really got into it. I started looking for more aggressive and fast stuff so he showed me hardcore punk. From there I just kept getting into more extreme music.
When did you move to Los Angeles?
I moved to LA pretty much right when I turned 18. I was working on the United States Of Tara around my 18th birthday and just never left.
Have you found there to be any tension in your relationships with the film industry and subculture music?
I've found there to be a lot of tension in my relationship with the film industry, both on and off-set. The vast difference between the way that actors are treated and the way that the crew is treated has bothered me deeply since I was old enough to notice. The working conditions and wage gap between the two are impossible to ignore. I think many actors must just disregard it.
This was all brought to the surface publicly last year when IATSE voted to strike and was then sabotaged by union leadership. It's a complex situation that I won't get into in this interview (although I urge anyone reading this that is curious to look into it) but the thing that really bothered me was the lack of public support from many other actors. I even urged some people I know to show support but they didn't want to get involved.
Off-set, I've also been bothered by how much praise we receive as actors. A lot of people seem to think we're curing cancer or something and I think a lot of actors actually buy into that as well. People even go as far as to look to actors for guidance about real-world issues and politics, which most of us really have no qualifications to speak on. I think it's good to use your platform to raise awareness, but I think it's gone too far. A lot of people would rather listen to celebrities than actual activists.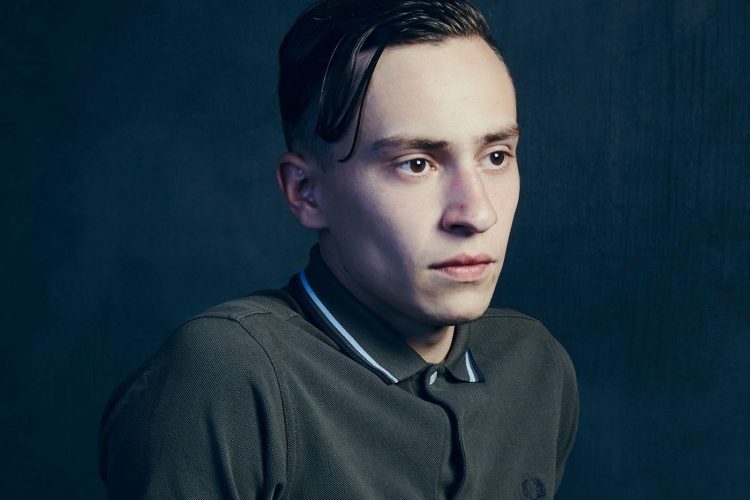 Acting can be very demanding of one's time, has that had an effect on your social life?
Acting is very demanding while you're working. You really can't do much socializing outside of work when you're working 12 to 15 hours a day, and I'm also often on location in some other place for months at a time. When I was younger, I worked a lot and missed out on quite a bit, but I've found a pretty good balance at this point in my life. I don't like working on back-to-back productions. I always space out my work and make sure that I get to come home to my partner, friends, and dog.
I've watched a lot of my friends who are actors put acting first at all times and they usually end up lonely. I guess it's not surprising, given that a lot of us are narcissists. That's another way that it's affected my social life, actually. It's taken me almost 20 years to fully come to terms with the fact that while I may relate to other actors in terms of having a similar lifestyle, it's not really possible to have a genuine friendship with a lot of them. They're fun to be around but lack the ability to pay attention to other peoples' needs. They don't really like other people because they don't really like themselves. So while I have some very close friends that are actors, I've stopped socializing with the vast majority of the actors that used to make up a lot of my social circle.
Tell me about the scene in Toronto, and some shows that left an impression on you as a kid.
The scene in Toronto had a really great moment that I was lucky enough to be a part of around the end of high school. There were a bunch of young kids who got into hardcore around the same time from going to see bands at venues like Siesta Nouveau and Soybomb. Both were really cool all-ages DIY venues. The band that we all were super into was Urban Blight. They inspired a lot of kids to start their own bands and there was this awesome explosion of youthful energy. After Urban Blight broke up, S.H.I.T. was definitely the band that became the flagship band of Toronto. I've probably seen them play 10 times and it's always an unforgettable performance.
There were so many shows back then and a lot of them blend together in my memory, but something that left a huge impression on all of us was Not Dead Yet Fest which happened once a year in the fall. 2013 is burned into my memory as the most influential few days of shows. The lineup was insane. I remember going to 2 shows a night and then usually a secret after-show that started at like 2 AM. Got to see Limp Wrist, Left For Dead, Mammoth Grinder, Warthog, Impalers, No Tolerance, Gas Rag, and Born Wrong, just to name a few off the top of my head. Sardé Hardie and Greg Benedetto worked their asses off to book and run the fest.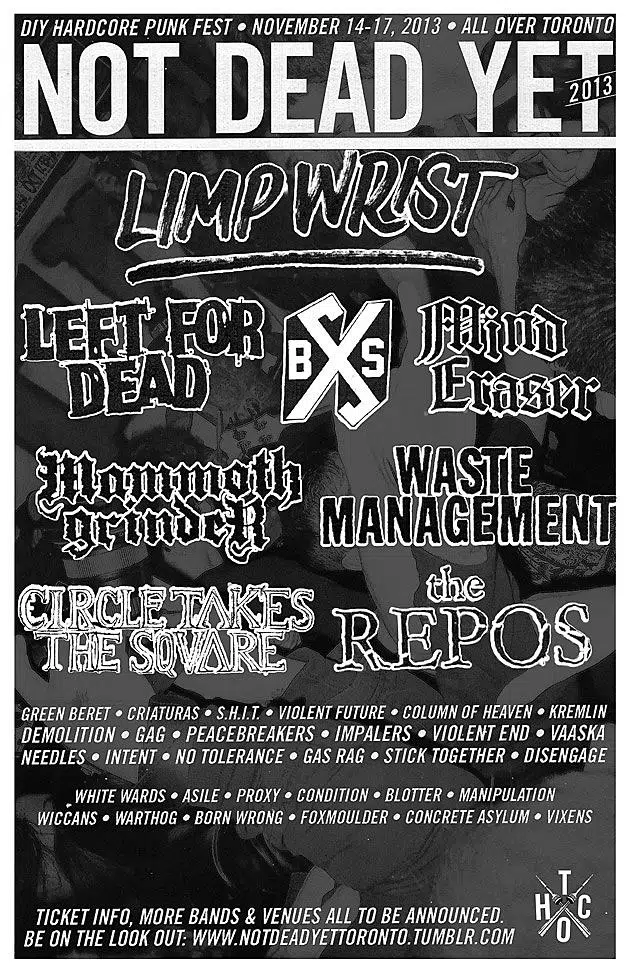 Whelm has had something of a revolving lineup since your inception. Tell me more about that.
Whelm was a really difficult band to get off the ground at first. The main reason was that we couldn't lock down a proper lineup. Sean (guitar) had already started writing with our first drummer when he asked if I wanted to give vocals a try. We started as sort of a Tragedy/His Hero Is Gone/Wolfbrigade-type crust band but our first drummer was too busy with other stuff so he left. It took us a while to find another drummer but we found David (still our drummer) and he loved blast beats so we threw out some songs and modified the ones we kept to be more of a grindviolence vibe while keeping some of the d-beat/crust parts. Then the saga of finding a bass player began, which I think took almost another year. Every time we'd find a bass player they'd bail shortly after for a variety of reasons. Often they just stopped showing up to practice. One dude even just stopped answering any texts or calls and then slid a CD he had borrowed from Sean under the door to his apartment one day. It was ridiculous.
I have my theories as to why it was so difficult (One being that we're super weird and intense people) but I think a major factor was that we were all relatively new to LA and didn't have roots in the scene here. It was even difficult to get a show once we dropped our demo but thankfully a couple people that I sent it to took a chance on us. It's been a pretty chaotic band to be in but I think that's pretty fitting and reflects the music we've put out.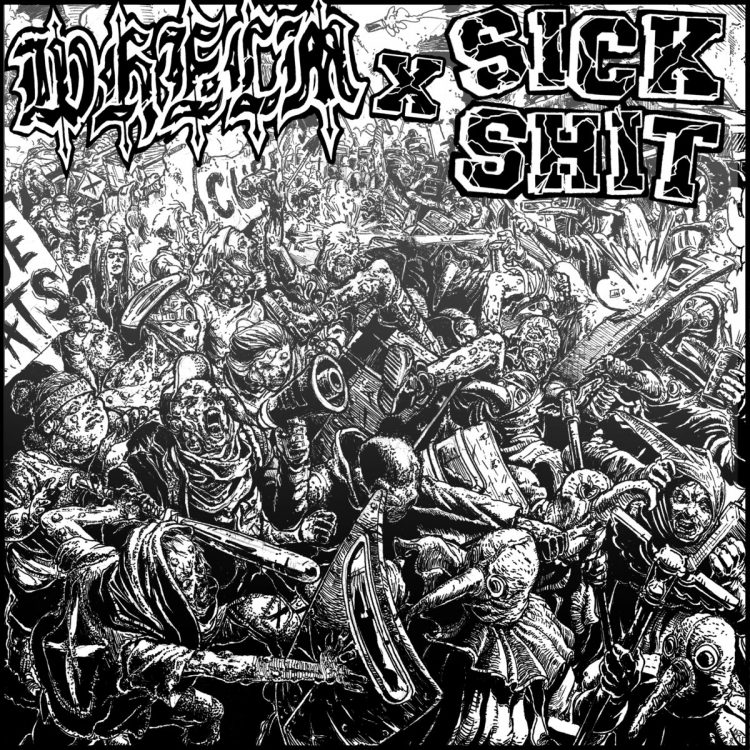 What roles do you have coming up? What are you most excited for?
I'm currently finishing up an HBO max limited series called Love And Death that I'm really excited about. Working for HBO is a really liberating experience because they let the creatives do what they want for the most part. I'm also playing a Texas pastor so it's something very different from my previous roles and hilarious. I also recently finished an indie movie called Pep and I'm excited to see how it comes together. Other than that, I have some other indie projects floating around, but you never really know if any of them will actually happen. It's so difficult to get them made that it's pretty miraculous to see any of them actually get a release.
For some folks, subculture has a strong hand in shaping their identity, for others not so much. Have you brought any values from punk and hardcore into your career as an actor?
I'd like to think that I've brought values from punk and hardcore into my career as an actor. I would usually describe myself as a punk/metalhead that acts as opposed to an actor that is into punk/metal.
One way is how I select what projects I want to audition for. I'm ridiculously picky with the scripts I respond to. Just recently I apologized for shooting most of them down and thanked my agent for always respecting my opinions — to which he replied, "That's ok. That's just my challenge with you as a client." I'm just as opinionated when it comes to playing and listening to music. Also much like playing underground music, the projects that I gravitate towards the majority of the time don't pay much comparatively. I usually pick stuff based on the script and whether I get along well with the people involved. Of course, I also do work that pays the bills but I'd much rather roll the dice and do something I believe in with friends.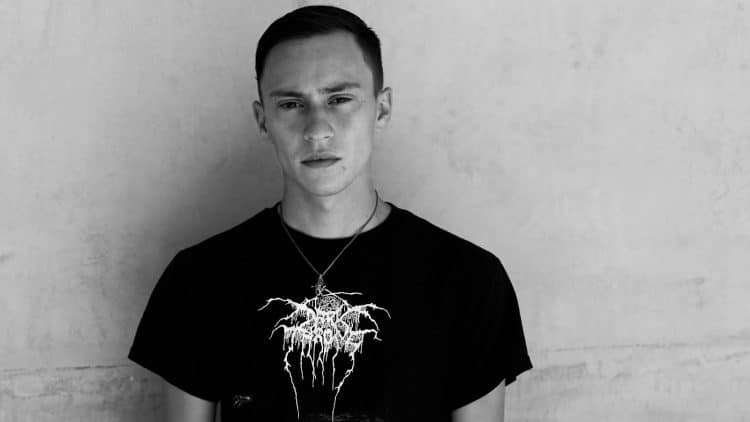 Another way is that one of the main reasons that I was attracted to punk initially was the idea that there wasn't supposed to be a huge hierarchy in the scene (although admittedly I see way too much of that bullshit going on, regardless). I loved going to shows and being able to hang out with like-minded people afterward. I loved and will always fondly remember the bands that I talked to after their sets who weren't too cool to give a random kid the time of day. I loved sharing music, books, and movies with people in person or on the internet that I never would've met otherwise. I approach my on-set life in the same way that I approach being in the scene. I like getting to know any of my co-workers regardless of what job they perform on set as long as they share interests. Sets traditionally have a very strict hierarchy and I've hated that since I was a kid. The music scene definitely has that, too, but that's not how I grew up in punk and I don't fuck with any of it. I'll talk to anyone at a show whether they're playing in the headliner or some kid who's seeing their first show.
Overall, as I've gotten older, I think I've approached my acting career more and more in a way that reflects who I really am. I used to think there was this fine line that I had to tread or risk losing everything I'd worked so hard to achieve, but nowadays I don't really think that exists for me. I've definitely burnt bridges by calling out shitty behavior on and off-set. I've chosen to work long hours for little pay on projects that few people ever got the chance to see because I just wanted to collaborate with and help like-minded people bring their vision to life. I've done a lot of things that wouldn't be considered great career moves but I'm not interested in just having a successful career. I want to build a career that I can be proud of, even if the majority of people don't understand or appreciate it — which is also why I love punk/hardcore.
Are there any plans for either Phalanx or Whelm in 2022?
Phalanx has talked about getting back up and running, but like a lot of bands, we're in a weird place after dropping an album right before the pandemic. We didn't really get the chance to tour on it which was the plan so now we're figuring out if we should try and do that or get to writing the next release. I'm sure at the very least people will get to see us live before the end of 2022.
Whelm is working on an EP that we started before the pandemic, but we're having a hard time finishing it due to work schedules cause we're all very busy, but hopefully, that will be out before the end of the year, too.
Last words are yours.
Thanks so much for interviewing me. I've loved Cvlt Nation for many years and this has been a really fun/challenging set of questions.