Berlin's Linnéa Olsson is a veteran of the metal genre, having been part of numerous notable projects including Beast Milk, The Oath, Grave Pleasures, and Sonic Ritual. Her new project, Maggot Heart, has her as the songwriter and face of the band, which is a first in her career.
Since releasing the 2017 EP 'City Girls', Maggot Heart has gained a lot of attention. Aggressively touring multiple countries with the likes of Earthless, and playing festivals such as Roadburn has earned them crossover genre fans. We caught a performance by Maggot Heart in San Francisco at Bottom of The Hill on September 20th, 2019 to snap some photos and witness their energy firsthand, and then followed up with Olsson with some interview questions.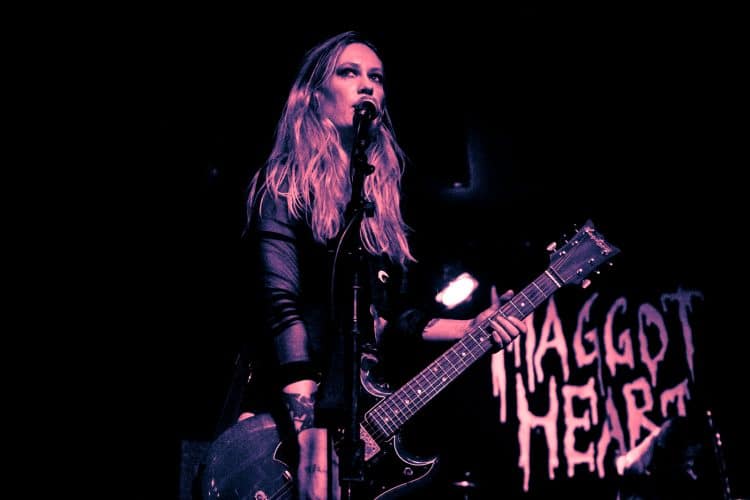 What was the catalyst for Maggot Heart? Was there a specific experience or moment in time where you made the decision to begin this project?
After quitting Grave Pleasures I took some time to think about my priorities in life, and as an artist. What kind of artist do I want to be? What makes me happy and unhappy? At the core of my unhappiness in other bands, there was always the notion of having to compromise. I love collaborating with other musicians, I just hate having to deal with bullshit that slows the process down and ultimately is not important.
I also feel strongly that a happy band is a band with clear roles. I am a song writer and I knew that even though I had never wanted to front a band before, this was something I had to do if I wanted to move forward. I couldn't see any other way. I was fueled by a lot of bitter experiences, and finally I had arrived to a point where I could use them and see clearly what not to do, what mistakes not to repeat.
Some things crystallized themselves as extra important — independence being one of them. Absolute honesty and integrity, another. And a close and trusting relationship with my band members; only working with people I love and admire, never ever work with people I have a bad feeling about. I started off saying it was something more like a solo project rather than a traditional band set-up, but since then I think it's fair to say that we are very much a band in the sense that I really couldn't imagine doing this without Uno [Brunniusun] and Olivia [Airey] at this point.
After being in other bands, what were some considerations you made when building your own live band?
I want to work with people I trust and respect and people who put the music first. No weekend warriors, no sub-par musicians, no posers. Simple criteria, but not a lot of people fit them when it comes down to it, in fact very few do. A band is a family; you might not agree on everything but you have to share a fundamental understanding, also on a spiritual, unspoken level.
How did you meet your bandmates, and what qualities do they possess that made them a good fit for being part of Maggot Heart?
Uno and me have played together since 2015. He is a trusted friend and collaborator and he plays on everything I've done since then. We have known each other for over a decade, from back home in Sweden, and we also toured together when I was in Beastmilk and he was still in In Solitude. Him and Gottfrid Åhman helped me bring Maggot Heart to life and put it on record. He is very much a musician in his own right.
I met Olivia in 2016, she is from London. It was immediate with her, you don't let somebody like her get away when you find them. Everything I mentioned in the previous question: they fulfill these criteria. I'm very lucky to have them in my band.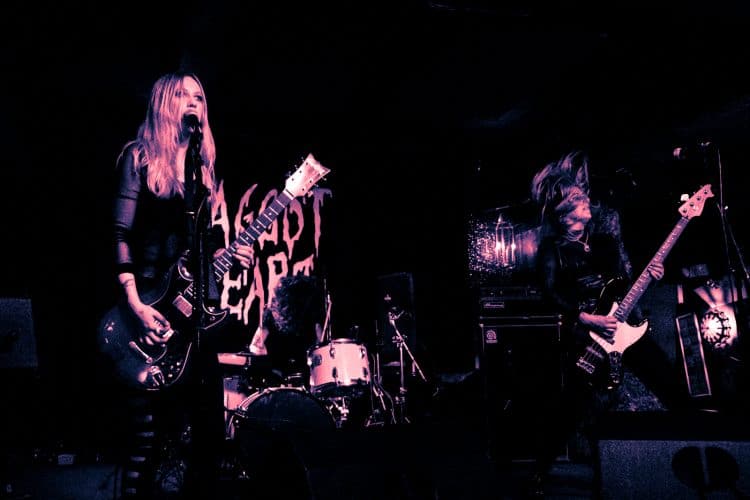 Did it take time to get used to being the focus of fans' attention while on stage as the front-person, or did it come naturally?
We are a three piece now, after having played as a four piece for a while. I was worried in the beginning that I wasn't going to cut it having all that attention on me, but I actually feel it's more evenly distributed between the three of us now. You know, I always said that I never wanted to sing or to front a band, which is true, but to have the means to communicate a message in this way is something I cherish these days. It has definitely grown on me.
What have been some of your favorite experiences so far on tour?
Meeting people who connect with my music. It really blows my mind that there are people so far away from where I come from, that know and appreciate these songs. Mexico was pretty far out – I never thought I would get to play there, and it was overwhelming meeting all these people who for some reason has followed my "career" since the Sonic Ritual days. Mexico City was a true high point for sure, the energy of the audience is just something else.
The US East Coast tour that we just finished with Earthless and Sacri Monti was special too; I love how this trippy, true Californian band brought a band like us along, which is so different from their style. Only top notch musicians across the board on that tour, so a lot to learn and get inspired from.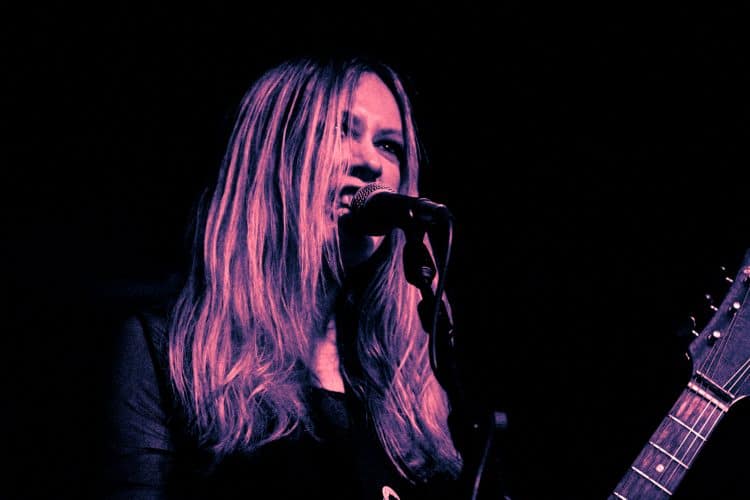 What have been some of the most challenging experiences?
Well, when you're trying to sleep in the van in a Walmart parking lot in 40 degrees [104 degree fahrenheit] heat with no AC, a persistent cold and no money to buy food, and you wonder if somebody, anybody, is going to show up at the next show in some forgotten town in the desert; your phone is fucked and people at home wonder why you're not in touch; there are meth heads and bats circling the van – and did I mention the hunger? – in those moments you pray a bit extra to the gods of rock n' roll for sure.
Have you felt overwhelmed at all managing the tour, booking dates, having merchandise produced, and all of the non-songwriting and managing aspects that would normally be handled by someone else?
I don't book our shows, we have agents for that. But I do manage and tour manage the band, so I have a lot on my plate that is more or less administrative work, on top of the creative. I enjoy it, but there is undoubtedly a ton of work. Even for a small band like mine. It's difficult sometimes to find a good balance.
With some emotionally intense tracks like Show Them Your Teeth, where do you pull your emotion and energy from during live shows, and how do you maintain that energy across multiple shows?
Drugs, just a ton of drugs. Nah, it's never an issue to find energy for a live show, no matter how tired you are. It comes from a deep place within and the adrenaline always helps.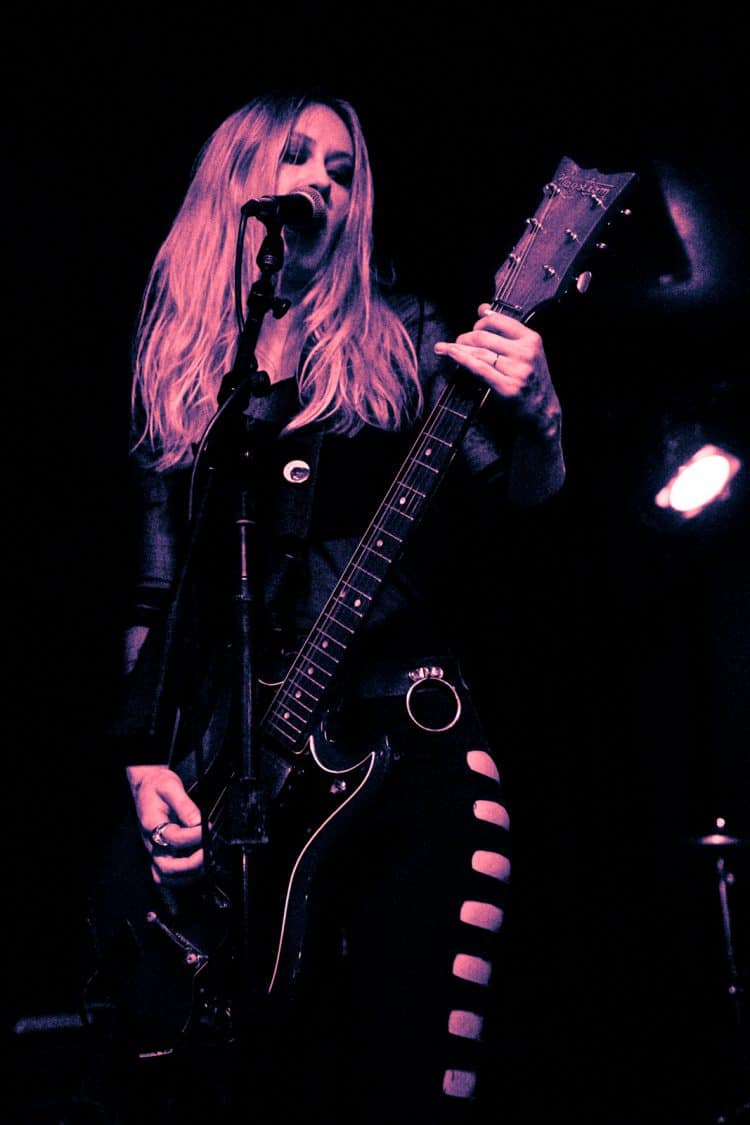 Is there anything you plan to do differently on future tours?
What Maggot Heart is doing right now is quite unorthodox. We just came back from our third US tour in six months, along with Mexico and Canada, one of them being a headline tour, on our own. We don't have any label support, financially or promotional – because we don't have a label per se, our releases are licensed through a small Berlin label that are friends of ours. We don't have any official social media channels, because it's just not my thing.
We are basically touring the way that a bigger band is touring, but without any of the support. Financially it is extremely difficult, and I've become a pro at hustling for money to fund our touring. I'm not making any money, my band is not making any money, it's definitely not easy. I don't know any other band who operates like this at our level, but I am very proud of the way we do it and I firmly believe that the momentum that we are gaining right now is worth it. Right now it's just full on dedication into this, I wouldn't want to do anything different.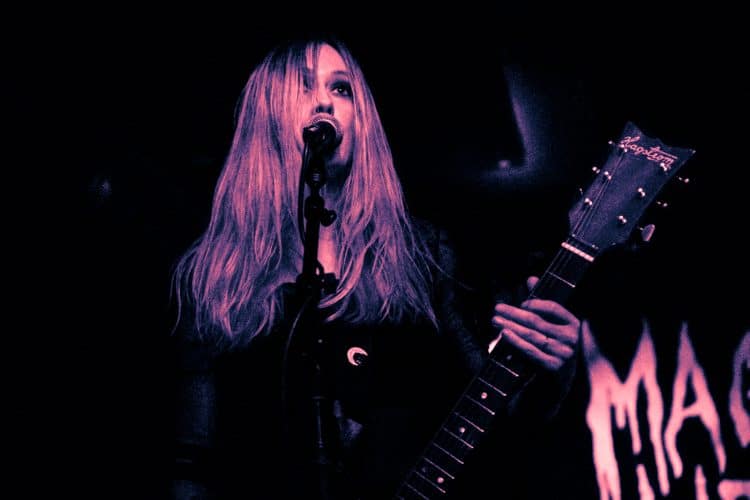 Have you been working on additional material while touring?
I am working on new material at the moment. It's still too early to think about direction or sound or whatever – I like to just go for it and see what happens. It's really good getting into new stuff, though. "Dusk to Dusk" has been good, but we're definitely itching to play new stuff. I hope to finish writing and then record in the same manner as the last two releases – meaning quickly to keep a sense of urgency. Plan is to release next year, so wish me luck.