When I think about the years that I spent living in NYC, Dracula was one of the realest and raddest people in the whole city! His brand 1-800-Possessed is a true reflection of his art and creativity on all levels! I'm beyond stoked to share with y'all another episode of Inspiration Is The Vibration featuring Dracula.
1-800-Possessed Website & IG
Photo by Ratbats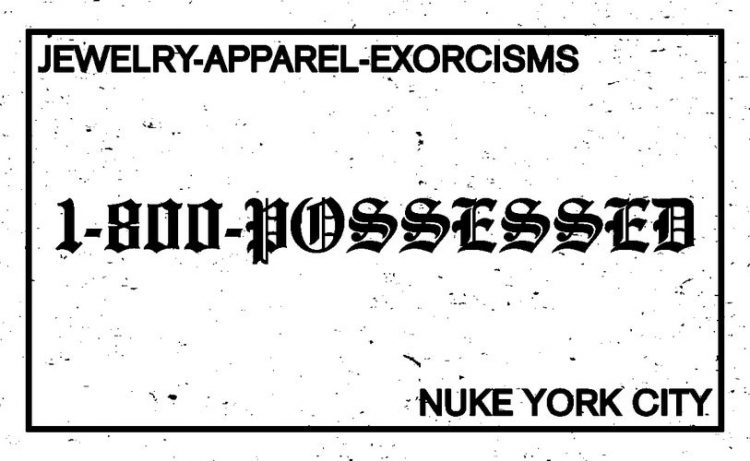 What five albums define the ethos of your brand?
Blu Anxxiety – Plaay Dead, Blu Anxxiety
Plaay Dead, Blu Anxxiety is who I am organically and it's what 1-800-Possessed represents.
Last Dragon Soundtrack
Soundtrack from my favorite Motown movie.
Onyx – Bac Da Fuck Up
Onyx is my attitude as a New Yorker and was my first love of music as a kid… In 5th grade I went to school in a long-sleeve Bac Da Fuck Up shirt and almost got suspended, they made me turn my shirt inside out. 
Alien Sex Fiend – Acid Bath
I was put on to this by a friend in junior high named Caterina when I went to I.S. 77. She had a patch and I teased her and said, "ohhh you have sex with aliens," being a lil asshole. She turned to me, sassy and goth, and said, "ughhh, it's a band. Don't you know it?" Acid Bath turned out to be an amazing album. It's goth, punk, industrial… one of the fucking best ever.
Rudimentary Peni – Death Church
If you haven't listened to this band, do yourself a favor, and please do!!
These records make up 1-800-Possessed in a fucking blender of anarchy. 
What two historic events or subcultures impact your brand?
9/11 is definitely one of them that opened up Amerikkka's corruption and lies over the people. It was the event that made me go to demonstrations. And made me realize that in the Middle East 9/11 is every day for most people… and to think that these brainwashing settlers were exposed. 
My subculture is violent goth. Violent goth is a product of my nature and any goth/punk/hip hop/morbid weirdo, who never felt accepted in the hood and was always an outcast… my funeral attire is my uniform of choice. 
If you could give one piece of advice to a young person thinking of getting into clothing design, what would it be?
To those who want to make art, music, fashion… just fucking do it. Love, Dracula