Elder's new album Omens firmly positions this most likeable of bands in the great and the good camp of timeless psychedelic rock. It takes almost an hour to absorb these five new songs but each has its own qualities to enjoy and appreciate, each carefully measured undulation exposing a little more of Elder's endearing qualities.
Elder have been around for well over a decade now, their self-titled debut first opening the window to the presence and potential of these Massachusetts mavericks in 2008. The past decade has seem them flourish, under the direction of singer and songwriter Nicholas DiSalvo, from their early stoner/doom demographic into something woven into an altogether more technicoloured thread. As such, Omens is another commanding and confident statement.
The wonderfully immersive opening title track is a fidgety fuzzball of a song, you can almost sense the band holding on to the reins during a teasingly slow intro before finally allowing their unrestrained riffs to filter through, spreading their vibrant vibes with warmth and fervour. At times positively spine-tingling, this album opener leaves you panting like a Netflix junkie, anxiously awaiting the next episode to unfurl.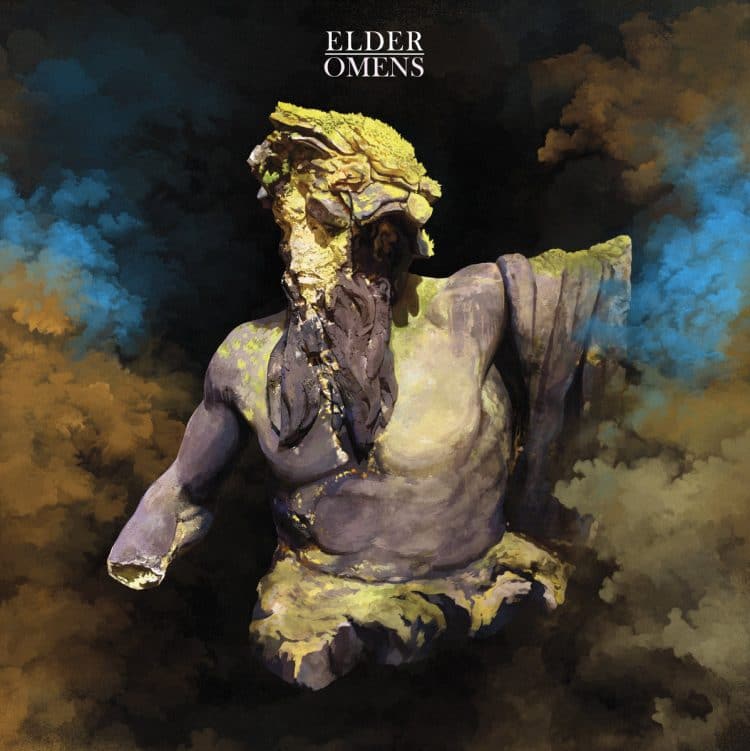 Satisfyingly, 'In Procession' flows on seamlessly, a tidy little chug meeting your gaze at the start before some ethereal shapes toy with your senses before DiSalvo's oh so distinctive drawl kicks in once more. His at times dreamy delivery help shape Elder's identity as a unit, and while new drummer Georg Edert's percussive parameters seemingly know no boundaries, DiSalvo's doleful prose breathes life into the band's constantly twisting audio arpeggios. On some of the extended prog passages towards the end Elder's sonic symmetry with cosmic legends Hawkwind shines through like a shooting star.
'Halcyon' is the longest piece, just shy of 13 minutes, with some cleanly-picked tremolo work nestled among the electronic keys at the beginning like playful waves stroking golden sands. After almost five minutes the urgency and tempo deviate sharply upwards, those watery wisps now turned into something approaching full on waves, as DiSalvo finally brings his unique tones to the table, although on more than one occasion you could easily mistake Omens for an instrumental album. 'Embers' is much punchier, before the trance-inducing 'One Light Retreating' closes things in captivating fashion.
Elder's third release, the universally-acclaimed 2015 album Lore, was the sonic stepping stone in which they really took a diversionary path away from their earlier solidified stoner sounds. It signified Elder's existential progress as they embarked on a more exploratory journey, which shone through again on their last album Reflections of a Floating World, and is taken to even greater heights on the even more opulent Omens. A loosely defined concept, Omens knocks on the very door of civilisation itself, asking what man has done and will do in the future – making its release amidst a full on global contagion apposite to say the least.
Last year saw Elder release The Gold & Silver Sessions EP, a significant work in its own right, so to deliver Omens so quickly on the back of that is no small achievement. The guest performance by Fabio Cuomo on Rhodes piano and synthesizers undoubtedly brings an at times even greater transcendental twist but then experimentation and exploration have always been close to the beating pulse of these Elder statesmen.