Gaerea play epic Black fucking Metal against the system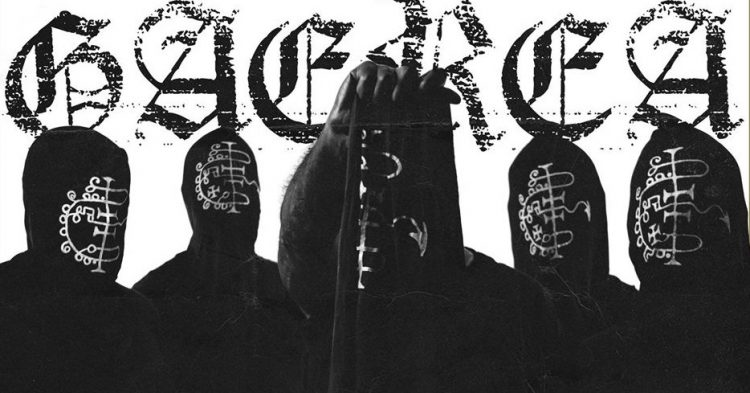 If, like me, these days you puke black metal out of your ears, eyes and nose, you'll be thankful for these guys.
Gaerea aren't the next big thing, because they're still a small thing since most people look at the usual places in search of new bands. But in case you haven't been paying attention, Gaerea are from Portugal, a country with a long outstanding tradition of good metal bands, even if, with the exception of Moonspell, most of them are not known. But forget about Moonspell, since most people have already.
Saying that Gaerea play black metal, it's like saying Hawkwind play Space Rock or Bad Brains play Hardcore; because this isn't going to be one of those obscure metal name dropping articles, so that's that. Their black metal is all over the place in the best of ways with a lot of different inspiration from different genres – all of them heavy as fuck – something completely understandable since they claim to have more visual than musical influences. That, in itself, is probably a game changer.
For anyone who isn't listening "Unsettling Whispers" with all the dedication it requires, Gaerea's new record and soon to be Best of The Year, might be mistaken for more of the same old B.M.. But it isn't, not only because they never sacrifice songwriting in favor of texture and ambient, but also because they never let go of those traits in favor of melody. The result is fucking epic, claustrophobic, haunting and desperate, which makes perfect sense in a record whose concept is The Void Society and its tragic tale told by a wanderer: "who watches everything that occurs in a street, a city. It is another dimension where suicide is part of the human regular daily basis. Death is a dream from another world. Aging is something for the lost generation and most of all, feelings of joy, anger or sadness no longer exist. They are part of a well-remembered past, a topic which once was praised and now is clear and present".

You can easily relate to all that anguish, via songs with titles as sweet as "Extension to Nothingness" or "Cycle of Decay". Again, the inspiration for "Unsettling Whispers" lies not in music, but in writing, particularly Thomas Ligotti and his philosophical horror as well as Portuguese dystopian author and Nobel winner José Saramago.
Besides the irreprehensible tight production that builds an awesome wall of sound, the artwork of Khaos Diktator Design also helps in creating an overpowering and daunting universe for Gaerea. And since these guys aren't fucking around, they take care of every little detail about the band, particularly the way they present themselves on and off stage. That's why they use masks to cover their faces, because the basis of their work is to put out characters which have no name or face. They consider it a normal visual reaction to what happens in our system, in which each person just dreams to get bigger, fatter and richer: "Everyone dreams of becoming a celebrity, a dictator for others or a model for others to follow. And that is all part of the sickening way we tend to live."
Enjoy this post? Donate to CVLT Nation to help keep us going!