Jay Tichy is one of the hardest working people in hardcore. He releases music at a near-constant rate and maintains a standard of quality that most bands can't manage even with a fraction of his output and longevity. Since 2000, Sidetracked has had upwards of 46 releases, including splits with To The Point, In Disgust, Scum Human, Limbs Bin, Disparo!, Hummingbird of Death, and most recently, Suppression. Tichy has been responsible for guitars, singing, and songwriting on all releases, and he has been joined on the vast majority of them by Brian Skiffington, also of Owen Hart/Earth Control and Sojourner, the latter another Tichy project.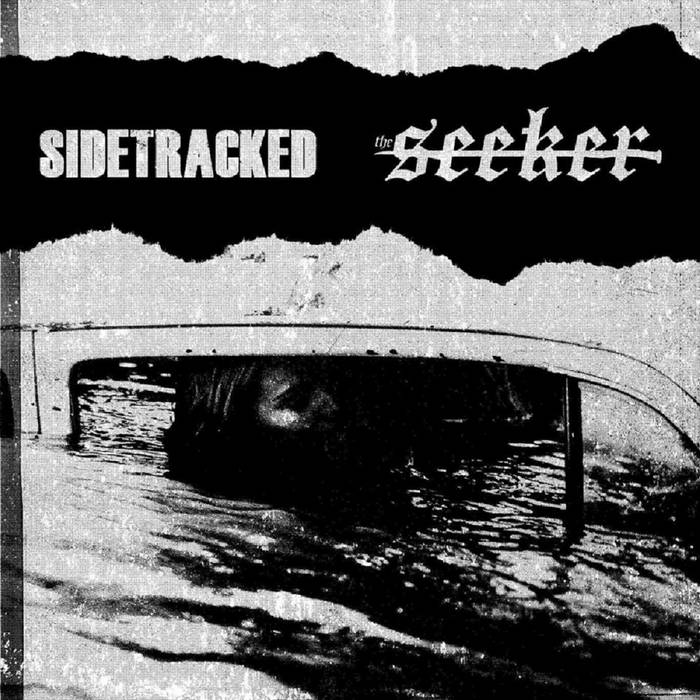 Sidetracked puts the fast in fastcore, producing blink-and-you'll-miss-them bursts of fury that combine the raw energy and streetwise sincerity of early straight edge bands like Chain of Strength and Inside Out with the violent, seizure intensity of Lack of Interest, Capitalist Casualties, Exit Unit, Low Threat Profile, and Extortion. Once Guinness gets wind of Sidetracked, the band is likely to hold some records. Their 2016 EP Annihilation Doctrine, for instance, manages to cram 32 one-to-two second songs into a 35-seconds-long album. Following 2019's fantastic full-length, Hollowed Out, the six songs on this newly-released split with Italy's The Seeker last only one minute and twelve seconds total. When one's album duration is shorter than the average red light, there is no room for error. Tichy knows this and has perfected the art of carving songs down to their essence. While Napalm Death and Brutal Truth have become meme-ified for their famously short "You Suffer" and "Collateral Damage," respectively, Tichy has made a twenty-year career of trimming the fat on his songs. Brief and powerful, these songs are a battery of punches to the mouth.
Initially slotted for a To The Point split in 2015, these Sidetracked songs are as immediate, as current as ever. Tichy's frustrated anger is real and palpable on these tracks, which alternate stylistically between bite-sized morsels of youth crew, powerviolence, grind, and crust. Potent, concentrated, the briefly burning flame is blinding and will leave you seeing spots.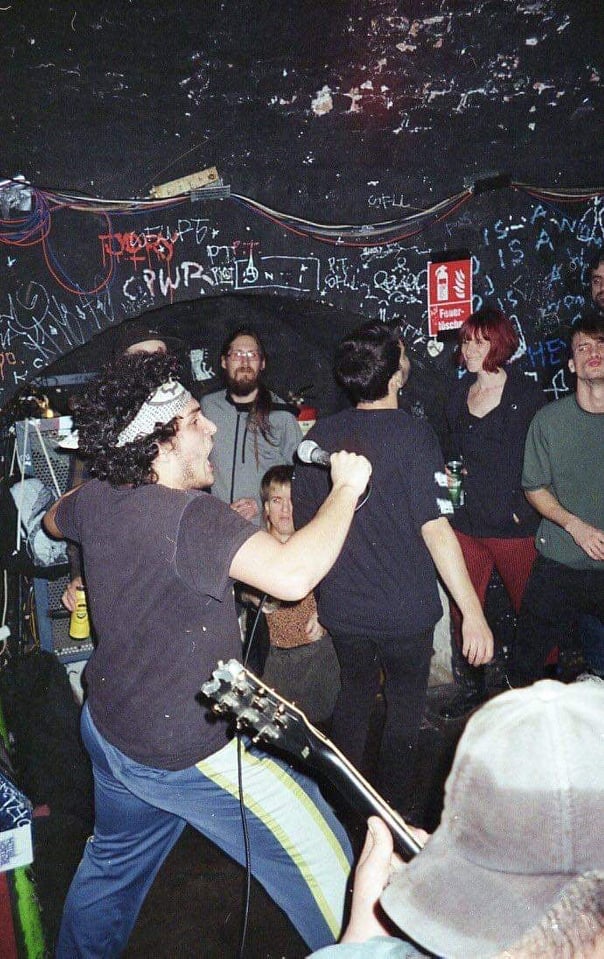 Filipino-Italian band The Seeker is a relative newcomer compared to Sidetracked, having released their first EP in 2013, but their sound is polished, genuine, and innovative. This split follows 2017's full-length Malaya and 2018's split with German phenoms Arno x Duebel, and it shows The Seeker at their most refined and most experimental yet. Drawing on old school powerviolence legends like Man is the Bastard, Neanderthal, Charles Bronson, and especially No Comment, there are also notes of xBrainiax, Iron Lung, Combatwoundedveteran, Failures, Vaccine, and Los Crudos. The vocals on this release, flooded, mutating, and hellish, are distorted in a way that reminds one of some ungodly mix of Agoraphobic Nosebleed and, believe it or not, Dir En Grey.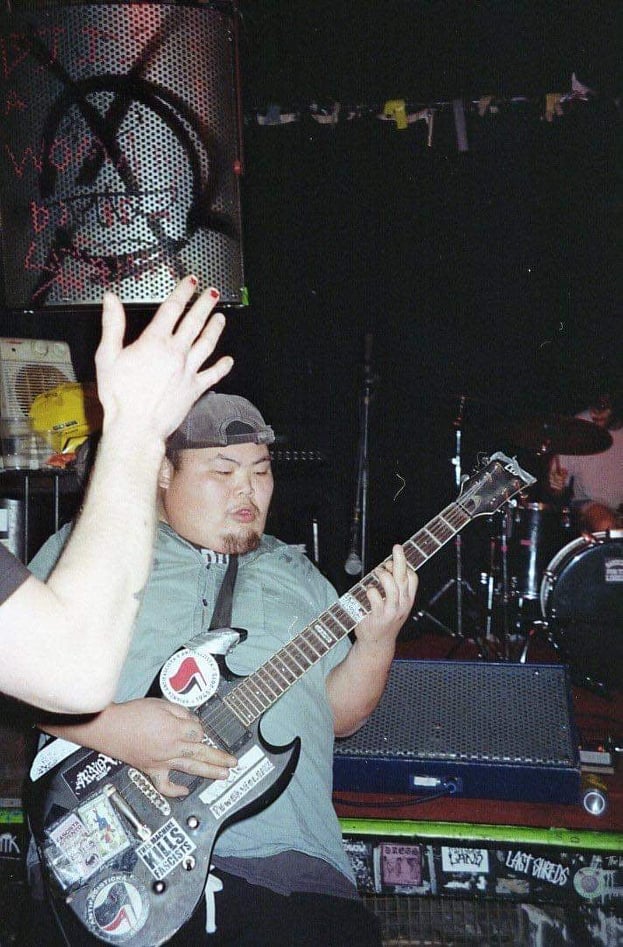 The Seeker's side–more than twice the length of Sidetracked's side at 4 minutes and 30 seconds–features compelling samples, furious vocals that crackle as if they're being delivered through a detention center's telephone. Clusters of grind with sludgy breakdowns and ear-piercing feedback keep these songs driving at a restless clip.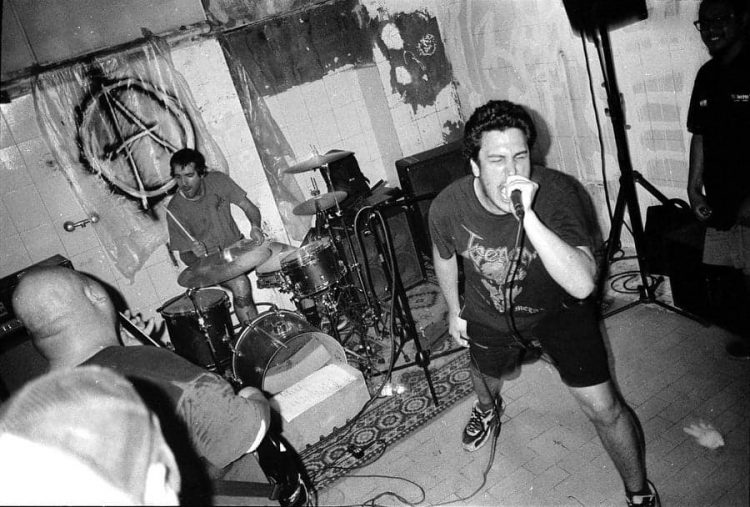 These frenzied songs could have been recorded on a black box pulled from some terrible mechanical wreckage. Multiple voices scream and yowl over the crashing machinery of the instrumentation. With topics like depression, anxiety, and toxic people as the lyrical focus, the panic and lividity in these songs is real and palpable.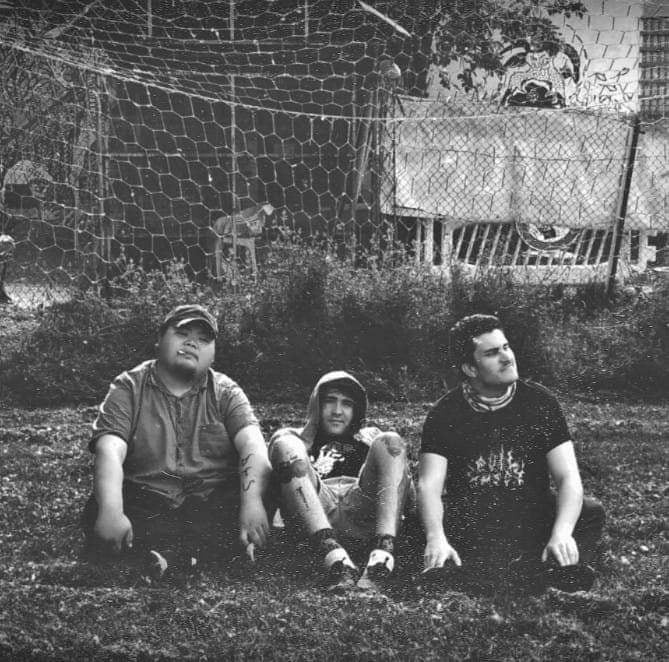 Sidetracked should already be on the lips of anyone discussing fastcore or powerviolence. To call the band prolific barely communicates the volume and excellence of their releases, and this split is a powerful addition to an already mighty catalog. The Seeker, already well-established and rightly adored overseas, deserves a devoted fan base in North America. This compact split is a boxed-up pit viper, with such viciousness condensed to such a small space, and the saying holds true: great things do indeed come in small packages.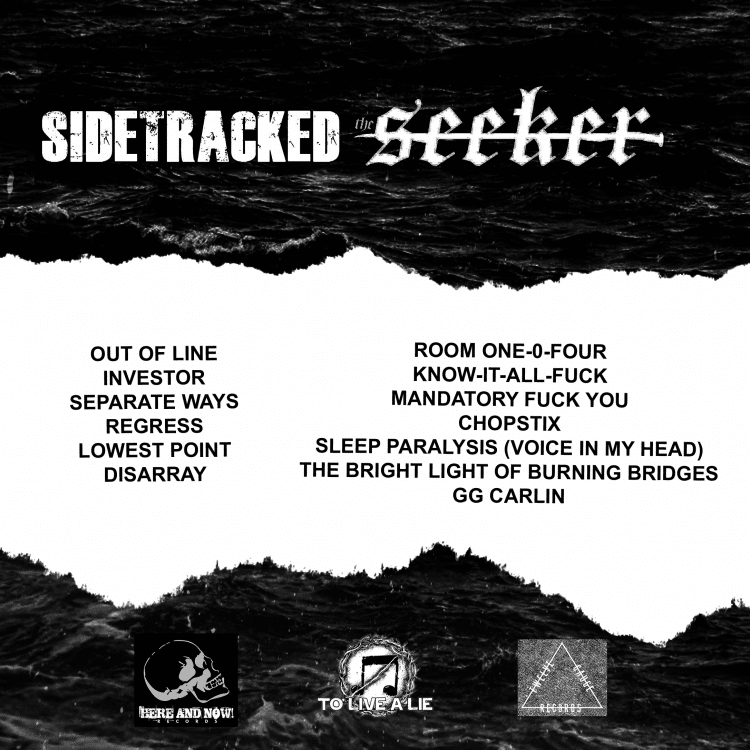 This intense split is available through To Live A Lie Records, Here and Now Records, and Twelve Gauge Records.