Mathieu Vandekerckhove (Amenra, Kingdom, Sembler Deah) is taking his solo project SYNDROME on its first cross-Atlantic tour with four dates at the end of November in Brazil, accompanied by the video installation of performance and circus artist Sofie Velghe, "Seppuku," directed and scored by Vandekerckhove. Syndrome is pushing the boundaries like it's fellow Church of Ra projects, pairing it's seething drone with the lithe and balance of Velghe's performance art, and these dates are no doubt going to be events not to miss! Check out the flyers below…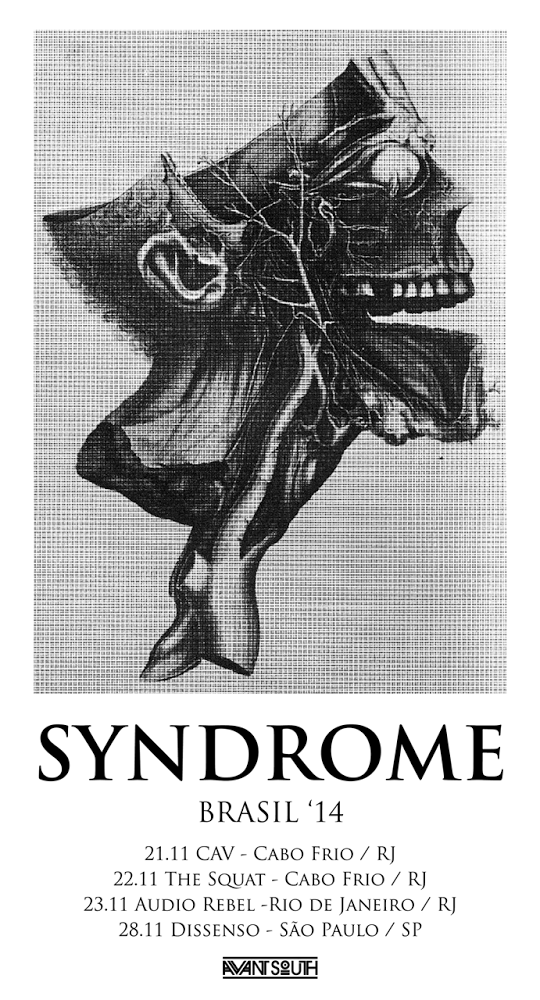 Close to a decade ago, a primitive form of Syndrome was brought to life as a vehicle for the solo output of Mathieu Vandekerckhove – mostly known for his work with Amenra, Kingdom, Sembler Deah, … For years, the self-taught musician learned and studied his craft of songwriting and sound-scaping – mainly as a means to self exploration, meditation and attempts at channeling negative into positive energy. After years of working and fine-tuning a collection of songs, his debut album "Floating Veins" was released in 2011 to critical acclaim. After making quite an impression for himself in the live scène, 2012 marked the release of the epic sophomore album "Now And Forever", consisting of one long track dedicated to his son Wolf. While Syndrome is working on his long awaited third offering, the release of his split and collaborative albums with Black Mare and thisquietarmy kept Syndrome on the vanguard of postrockish ambient and drone music.
Syndrome has already shared the stage as support of Neurosis, Sunn O))), Jesu, Cult Of Luna, Amenra, Wolves In The Throne Room, Oathbreaker, Madensuyu, This Quiet Army, Scott Kelly and the road home,
For this first ever tour across the Atlantic, Syndrome's live performances will be joined by Sofie Velghe's video installations.
Sofie Velghe is a circus artist who wants to cross borders between the circus and the art world. She distances herself from the traditional circus, and tries to tell her story in her own artistic way.
Syndrome's Mathieu Vandekerckhove collaborated with Velghe on her "Seppuku" installation, by both scoring and filming the video.
This project turns full circle with the collaboration of Sofie and her video art during these series of Syndrome live performances.
Syndrome is Mathieu Vandekerckhove (Amenra, Kingdom, Sembler Deah, Caan)
https://www.facebook.com/syndromechurch