An Eye for an Eye!
Watch this sick video from JUST ICE "Prime Time"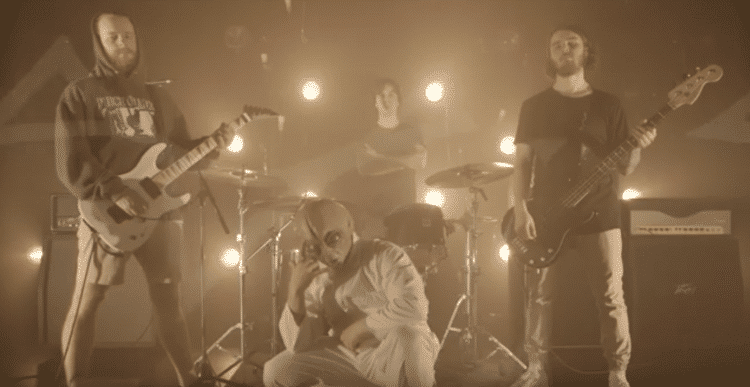 Listening to JUST ICE has me hyped that it's Friday and I'm about to head to a punk fest! This band has that 90s HC feel to it and I am digging it. It's that kind of hardcore that makes me wanna punch somebody and then duck so I don't get knocked out. And that's what this Québécois band is talking about in their song "Prime Time" – standing your ground and defending yourself, which I totally identify with as someone who likes to get close to the pit but not in it. They're about to hit the road in Europe, starting with a kick off in Montreal on June 25th, so if you're reading this from "back east" make sure you check their dates below. Right here and now, you can hit play on their video for "Prime Time," and make sure to check out their bandcamp and instagram!
"Prime Time is an ode to violence for me. Its all about defending yourself, imposing respect on your name and never letting anyone march on your beliefs. An eye for an eye, a tooth for a tooth. This principle is still very relevant in the city that I'm from, and it has affected me to my very core. I got that inner rage burning inside of me everyday of my life and I'm glad about it. Sometimes it brings me to bad places, but at the end the day, it's all about who you are, whats your roots and where you're going. I'm proud to be a crazy motherfucker from Chandler, Gaspesia, and I'll always be.

I first heard the prime time expression in a boxing match. In the fighting universe, it means that you're in your best shape; you've never been stronger, never been sharper. With the band, I really think we're in our prime time now. We never worked that hard for a project and it's starting to pay off. 2019 is our year and we're about to turn Europe upside down. Let's fucking go!"


-Jonathan Bisson (vocals)
European tour summer 2019:
25/6 Montréal, CA @ Bar Le Ritz PDB
28/6 Lyon, FR @ Bar Des Capucins *
29/6 Marseille, FR @ Le Molotov *
30/6 Toulouse, FR @ La Cave À Rock *
1/7 Bordeaux, FR @ Le Fiacre *
2/7 Tours, FR @ Canadian Café *
3/7 Nantes, FR @ La Scène Michelet
4/7 Antwerp, BE @ Rocking Bull-Bar
5/7 Heerlen, NL @ Cafe Bluff
6/7 Ieper, BE @ Ieper Fest
7/7 Rennes, FR @ Superbowl Of Hardcore
8/7 Zurich, CH @ Dynamo
9/7 Pilsen, CZ @ PinkPanther
10/7 Berlin, DE @ Köpi

* w/Self-Esteem
Enjoy this post? Donate to CVLT Nation to help keep us going!