Exclusive Full Stream: ISENORDAL / VOID OMNIA 12″ Split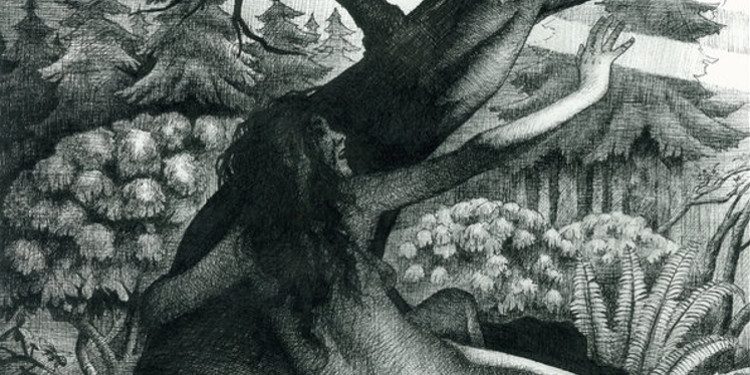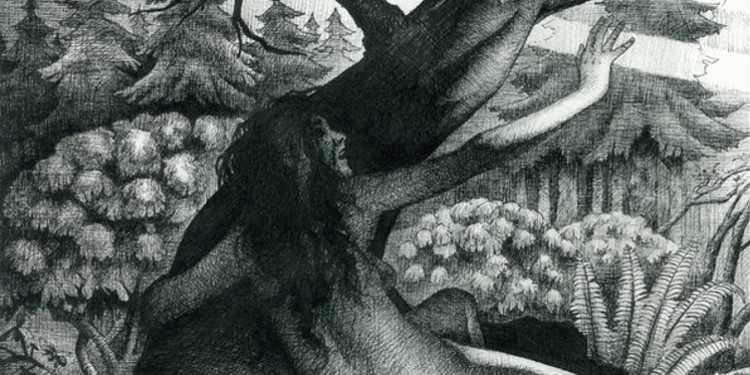 Pacific North West blackened doom-folk unit Isenordal, and Oakland CA-based cosmic black metal heathens Void Omnia prepare to release a 12″ split in the next few days, and the effort is steeped with some of the best output seen from both bands to this point.
Seattle's Isenordal pack in a staggering fifteen minutes of shapeshifting folk-tinged black doom into a single track – summoning grandiose and desolate soundscapes that conjure the same melancholy and majesty of bands like Agalloch, My Dying Bride, Greyceon, Subrosa, Drudkh, Katatonia and Panopticon. Their solemn and slow moving dirge of blackened spleen covers much ground and makes the mind wander and lose itself as the music masterfully builds, punctuated by swirls of cellos, violas, chanted vocals, and organs set against a magmatic backdrop of miserable distortion.
Void Omnia on the other hand thrust fourth 3 songs for about 18 minutes of their signature cosmic black metal chaos. Once again channeling the same frenetic and restless assault of bands like Dissection, Emperor, WITTR etc.  into an obsidian chasm of melody and misery, Void Omnia prove to be once again one of the rising stars in West Coast black metal and one of USBM's best kept secrets.
The 12″ split will be available June 1oth on vinyl from Vendetta Records and on tape from Eternal Warfare or can be pre-ordered digitally from the bands here or here.
Cassettes from Eternal Warfare Records will be available at these dates via the bands . Vinyl will be available late 2018 via Vendetta Records.
Monday 6/4 Spokane WA – Mootsy's *#
Tuesday 6/5 Bozeman, MT – Zebra Lounge *#
Wednesday 6/6 Cheyenne, WY – Crown bar *#
Thursday 6/7 Denver, CO – Hi-Dive#
Friday 6/8 Colorado Springs, CO – 71 Grind #
Saturday 6/9 Colorado Springs, CO – 71 Grind #
Sunday 6/10 Laramie, WY – Buckhorn #
Monday 6/11 Salt Lake, UT – Urban Lounge #
Tuesday 6/12 Reno, NV – Shea's Tavern #
Wednesday 6/13 Sacramento, CA – Press Club #
Thursday 6/14 Oakland, CA – Golden Bull #
Friday 6/15 Eureka, CA – Siren's Song #
Saturday 6/16 Eugene, OR – Old Nick's #
Sunday 6/17 Portland, OR – Tonic Lounge #
Monday 6/18 Seattle, WA – Black Lodge #
Tuesday 6/19 Tacoma, WA – The Valley
Wednesday 6/20 Olympia, WA – Cryptatropa
Thursday 6/21 Pe Ell, WA – Thirst for Light
Saturday 6/23 Rapid City, SD – Stygian Rites
Sunday 6/24 Minneapolis, MN – Lee's Liquor Lounge
Monday 6/25 Madison, WI – Wisco
Tuesday 6/26 Milwaukee, WI – High Dive MKE
Wednesday 6/27 Chicago, IL – Subterranean
Thursday 6/28 Detroit, MI – Sanctuary
Friday 6/29 Pittsburgh, PA – Brillobox
Saturday 6/30 New York, NY – Holo
Sunday 7/1 Philadelphia, PA – Kung Fu Necktie
Monday 7/2 Baltimore, MD – The Depot
Tuesday 7/3 Richmond, VA – Strange Matter
Wednesday 7/4 Asheville, NC – Odditorium
Thursday 7/5 Nashville, TN – Springwater
Friday 7/6 New Orleans, LA – Santos
Saturday 7/7 Dallas, TX – Renos Chop Shop
Sunday 7/8 Austin, TX – The Lost Well
Monday 7/9 Santa Fe, NM – The Cave
Tuesday 7/10 Tempe, AZ – Yucca Tap Room
Wednesday 7/11 Las Vegas, NV – Cornish Pastry Co
* no Void Omnia
# with Addaura
Enjoy this post? Donate to CVLT Nation to help keep us going!