This feature was created by Serena Mazzini Black Letter Press
If there is something that has always been part of man life since the dawn of time, that is the search for understanding the secrets of nature, knowing their meaning and raising the veil of Isis. The impressive thing is that this process took place everywhere in the world for centuries.
Those who under the guidance of different influences have deciphered the unknown, form links in a chain.
The power that churchmen call "God", philosophers "laws", moralists "precepts" and scientists "nature", is described by occultists as "intuition" or "understanding". For all those who search for the answer within themselves, the principle is always the same: study the microcosm, man, in order to understand the secrets of macrocosm, the universe.
Centuries of experiments, suggestions, errors, beliefs and rituals, have brought us premonitions sometimes astonishing.
Having worked for years in a museum of the history of anatomical science, I was able to experience historical volumes that amaze for the extraordinary passion put by scholars like Vesalius in their research. What is even more surprising is the beauty of those large volumes, those aesthetically fascinating drawings, the fonts and the quality of prints, that makes them immortal, although their observations were erroneous. I have always wanted to have some of these insanely interesting volumes in my library but I've never been able to afford an original copy and the economic editions did not have that "poetry".
Now this is possible thanks to a small publishing house born in Turin: Black Letter Press.
They are specialize on the revive of unusual, old and rare books on a broad range of topics, like the sciences and the history of science, poetry, occult philosophy, art, curious and peculiar novels and more.
Although born only 10 months ago, they have already published many books, whose beauty has kidnapped me.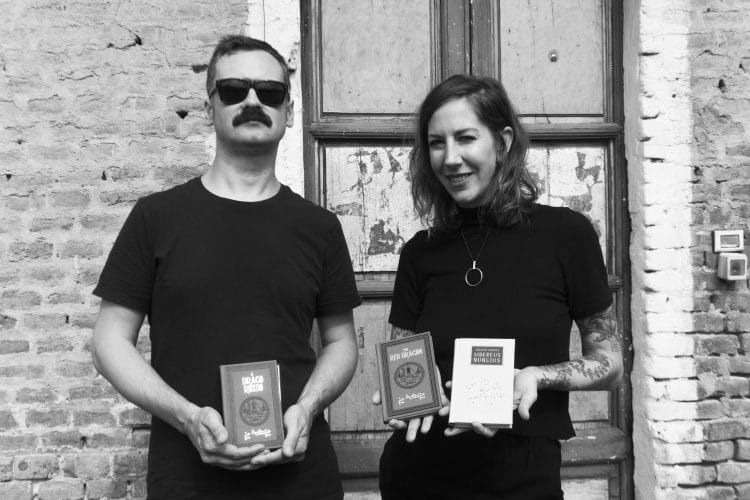 I meet Alice Winkler and her companion Claudio Rocchetti in their home, a few days before they move to Germany. Among boxes full of books and old paintings, I immediately understand that I have before me two people who are profoundly prepared and passionate about the subject.
Their artistic background and the deep emotional bond that binds them is the heart of this project: Alice, in fact, is a trained book binder and editorial designer who has worked for years in publishing houses while Claudio is a sound artist and musician who studied philosophy and literature.
The project was born almost by accident. "We met in Berlin and then we decided to move to Italy to start a family. I don't speak Italian well and this was turning my professional life into a nightmare, I couldn't find a job for a year. I already created editions of books for me, especially at that time I was working on "The Satanic Bible" by LaVey. I had such a bad edition! Just then my sister and her boyfriend came to visit us and they told me that I could finance this passion with a crownfunding. So we did it. ", said Alice.
The first book published is the huge edition of Giambattista della Porta's most famous work "Magicia Naturalis" (Natural Magick) from 1558, limited to 250 hand numbered copies.
The work done on the opus was enormous: research, translation, proofreading, all involving translators and artist friends for the illustrations, such as Andrei Bouzikov and Lea Pieper.
An important first step, with a considerable return that allowed them to start working on the second book, "The Red Dragon", also known as Il Grande Grimorio, one of the most famous texts of black magic, with unknown and mysterious origins.
Also in this case the realization process was very hard and, above all, meticulous: Claudio read all the existing translations of the text, in Italian, English and French, and then he realized a new, complete one, which brought to light several obscure passages, making this edition a real must have for all the fans, so much so that this one too went immediately sold out.
We could almost call them "investigators of the ancient": for each book they try to put together the pieces, to find the best translations, to have the most beautiful and complete illustrations and, if these are missing, they realize them from scratch. As in the case of Galileo's "Siderus Nuncius", in which the original illustrations have been completely restored.
Not only that: what makes their books so special is also the careful research work on materials, so much so that, not wanting to leave anything to chance, they will begin to collaborate with historical printmakers, where the press was born: Germany and Italy. An example is the Venetian "Grafiche Veneziane", a print shop that has its headquartersthe in the city that gave birth to one of the most important masters of this art: Aldo Manuzio. Considered among the major publishers of all time, among the first publishers in the modern sense in Europe. He introduced the italic print font and the eighth format. With his numerous innovations he marked the history of publishing and promoted advances in typography unsurpassed to the present day. So important that, probably, Claudio and Alice will start working on a book about him.
Their work is therefore highly crafted, with a special quality, which makes the book an important aesthetic object, durable in time "Whoever turns to us is a passionate, patient person who knows that work is of the highest level but completely DIY: we related to extraordinary people in this sense, who continue to support us in every way.What we want to bring out is that we can't think of preserving history only on digital media, which is always evolving but which maybe one day they will stop working. A carefully crafted book, bound with quality materials, is a product that can last forever. We want their value to be eternal. "
This is faced with complex issues such as the history of science, occultism and esotericism, it is easy to stumble over strangeness and curiosity, to realize how the "magic" was once a widespread habit so that some books speak of "spells to have white teeth "or things like that. But it is also easy to come across very troubling political instances. As Alice told me "We are anti-fascists and so our project is anti-fascist. We found ourselves in front of books that seemed interesting but that in a deeper analysis contained racist theories, especially against the Jews. In this case, we immediately stop working on it , we do not want to support this kind of idea in any way ".
Among the wonderful editions that you can find on their website, books like "Three Books of Occult Philosophy" by Henry C. Agrippa will soon be published. In the future "We want to work more on incredible characters like Giordano Bruno and focus on women writers, find important works made by them", Alice told me.
Meanwhile, you can pre-order two wonderful books that shouldn't be missing from your shelves: Moon Lore by Timothy Harley and the Black Pullet.