TEN – TRIBULATION The Children of the Night
Tribulation are a Swedish band, and The Children Of The Night is their third studio full-length. I already wrote a lot about the band's backstory and their evolution, and you can find that here. In that same space, I said that The Children Of The Night was an early frontrunner for my Album Of The Year pick. I wrote those words in February — a few weeks after getting my hands on an advance of the record — and here we are in April, the album is finally available to everyone, and my feelings haven't changed. The Children Of The Night is still the best record I've heard in 2015. It might be the best record I've heard in the past two years. It's an actual masterpiece; the type of thing that will stick around for the next few decades. And even though it's 100% genuine-article capital-M Metal, it doesn't follow any rules or bow to any masters. There are generous influences from numerous genres deemed unacceptable by Metal Archives — namely classic rock, progressive rock, psychedelic rock, occult rock, hard rock, and gothic rock — but it would be impossible to mistake this for anything other than The Real Thing.
Read the full review…By Michael Nelson via Stereogum
NINE – ELDER Lore
Those who worshiped at the altar of Dead Roots Stirring might be surprised on first listen at just how clean Lore sounds, the beginning guitar taps of "Compendium" a clarion both of the proggier feel that pervades and of the clarity of the production that follows suit. It's not, however, as simple as the band jumping ship from one style to another — much of DiSalvo's style of riffing remains the same, and Donovan's basslines still circle around the guitar only to land back at the root just at the right moment, and Couto's swing and crash is as prevalent as ever — it's just what they do with these signature elements that results in the impression of growth. In "Compendium"'s airy midsection, in the snare work under the guitar solo in the second half of "Legend," in "Lore"'s post-break Mellotron-inclusive triumphant swell of crash cymbal, guitar and bass, and in the energetic, circular riffing to which it leads, in "Deadweight"'s atmospheric opening and more straightforward, linear framework, and in the running acoustic lines that begin "Spirit at Aphelion," one finds some standout factor or moment in each of Lore's individual pieces, but the evolution of the band is as evident in how well songs feed into each other as it is in the songs themselves. On a linear format (CD, digital), Lore is an encompassing front-to-back listen, and while the side-flips of a 2LP allow for more focus on each track — not to mention a fuller, frame-worthy view of Adrian Dexter's stunning artwork — being carried along the record's sundry builds and cascades uninterrupted is a markedly satisfying way to experience it. The ground they cover across "Compendium," the shiver-down-the-spine launch and turns of "Legend" and "Lore" — each longer than the last until the 16-minute title-track takes hold as the centerpiece and most expansive inclusion — would be enough for most full-lengths on its own, let alone the building riffs of "Deadweight" and some of the leftover Colour Haze influence they show in that track, or the stomping pre-fadeout finale "Spirit at Aphelion" provides, its deep-mixed keyboard line (that might be plucked guitar) the theme holding it all together.
Read the full review…By JJ Koczan via The Obelisk
EIGHT – SUNN O))) Kannon
As was always the case with Sunn O))), everything is built around the bass and guitars of O'Malley and Anderson. The progression of the musical structures follows the glacial pace that the band has been associated with since their inception, crafting soundscapes of imposing quality and gaping voids of darkness. In "Kannon 2" and "Kannon 3," the band completely embraces the circular motions of the music rather than trying to break away from them, leading into some of the most punishing parts we have heard from them in a while.
There is an almost ritualistic essence that surrenders "Kannon 2," a more focused and destructive tone that comes forth. "Kannon 3" is of a similar mind frame, however it slowly unveils an epic ambiance, with the soundscapes of the track becoming overwhelming with their towering manifestation. These two tracks are contained in a more solid form than the opening track, "Kannon 1," is. This is also the moment where Sunn O))) allows their more abstract self to rise to the surface from the very start, with the slithering feedback rising and the guitars appearing through the dark. The guitar sound also leans towards more experimental domains, again reminiscent of Monoliths & Dimensions. The track itself is an intense, disturbing psychological beat-down, with the riffs giving the notion of a static experience, while the vocals and effects making the track more organic and alive.
Read the full review HERE…
SEVEN – BELL WITCH Four Phantoms
Suffering and despair are emotions that each and every one of us has dealt with – either in the past, or in the present – and Four Phantoms succinctly creates the atmosphere of dread and solitude that sadness often brings. Bell Witch already have a stunning record in their catalogue, Longing, yet Four Phantoms takes everything that that record has and increases it tenfold. Longing was heavy, it was weighted in grief in and anguish and it spoke to the heart and its failings. Four Phantoms steps further into doomed territory and lays utter honesty down for all to see. Bell Witch bare their souls and the fear and dread that is found within is terribly beautiful.
The simple progressions are borne from naught but bass, drums and voices, and the horror that is expelled through Bell Witch's members is difficult to comprehend at times. Dylan Desmond and Adrian Guerra create music that is cloaked in shadows, that casts out all light and strikes at the very core of your humanity. Despondency is the key emotion here, and Bell Witch filter that through gorgeous, sorrowful bass leads that wrap the heart in a constantly tightening grip that delivers pain and suffering and darkness. First track, "Suffocation, A Burial: I – Awoken (Breathing Teeth)," bears all the hallmarks of Bell Witch – gorgeous movement from heavy passages to more solemn, quieter moments; vocals that writhe with hurt; and agonizing, soaring bass lines that become almost unbearable in their haunting elegance.
Read the full review HERE…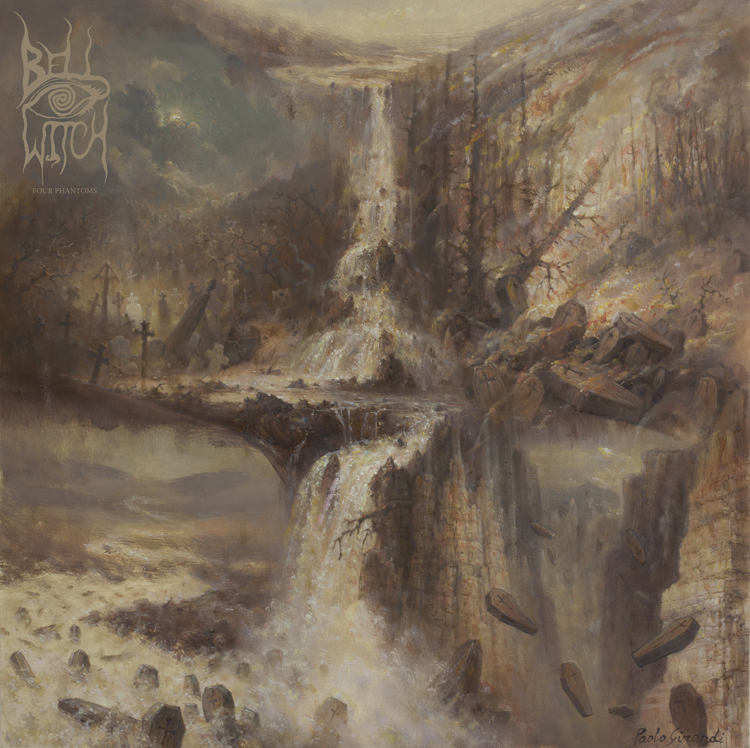 SIX – DEAFHEAVEN New Bermuda 
"Brought to the Water" and "Luna" are Deafheaven at their elegantly bombastic best, but there is a fervor here not present on Sunbather. George Clarke opens New Bermuda with a phantasmal croak, a haunted entity lurking behind the riffs' wavering shine and the drums' restrained calamity. Where his vocals were forlorn and longing before, here they are soaked with venomous urgency. On earlier releases, their tracks could be bisected between the "ugly" and "pretty" parts. On this collection, they challenge that notion, painting a five song spiral that intertwines their deepest blacks with their hottest pinks. "Brought to the Water" heralds its arrival with church bells, with that calm set ablaze within seconds, pausing at its midsection to marvel at its own inferno with a Mogwai-inspired solo. "Come Back" starts gently before exploding into a breathless gallop that exhibits Deafheaven at their heaviest, which can be said of New Bermuda entirely. Where Sunbather coated its riffs in clouds, New Bermuda armors them, with Kerry McCoy sharpening his chords with traces of thrash and death metal. This is most evident on opener "Brought to the Water," "Luna" and the earliest moments of "Come Back," with the latter segueing into outright Explosion in the Sky territory for its last four minutes. "Luna" is Deafheaven at their most formulaic and impressive, notably at the two minute mark, where the song – along with all its moving parts – inhales for a microsecond and then exhales with hurricane-level power. The "pretty" and "ugly" aren't able to be discerned here, instead they dance manically with each other, a performance that permeates the album. This all reaches its muted crescendo on "Gifts for the Earth," where Clarke's snarl lingers while the rest of the band ventures into a near metal-less post rock dreamland. Drummer Daniel Tracy peppers most of New Bermuda with rapid-fire, but there are moments where his talents are best shown the slower the tracks are, with his contribution on "Gifts for the Earth" threading through the track like a gently fleeting pulse. It's this mastery of tonal juxtapositions that unites each of Deafheaven's five parts into the familiar, cohesive whole.
Read the full review HERE…
FIVE – HIGH ON FIRE Luminiferous
My rule is cool riffs alone don't make a good song, but these guys are capable of bending that rule with the the chug to "The Falconist," which takes on a Thin Lizzy-like swagger in the vocals department. At times I begin to wonder if this more streamlined and accessible song with an emphasis placed on the vocals is their stab at following in Mastodon's footsteps.
After a few listens I didn't come up with an answer to that speculation, but I can hear that what this band does best is fully realized on "The Dark Side of the Compass." The riff is big and driving, but it works well for the song to form around it. The chorus has grit, but also tangible melody. The drummer pulls all of this together with his best playing to date.
They pull a surprisingly melodic song out of nowhere with "The Cave," one that sounds like Neurosis playing an upbeat version of "Planet Caravan." The dynamics are just right. While some of their older fans might balk at this, there is no denying this is a good song.
The album improves as it progresses. The drums come in with sweeping tom rolls on the title track. They bring the album to an end with the more Sabbath-like doom of "The Lethal Chamber," which finds its way into a more Celtic Frost groove, with some cool yet tasteful effects that show up to coat the vocals from time to time.
With Luminiferous, High On Fire have taken another ballsy step forward and continue to earn their place in the hallowed halls of metal history.
Read the full review…By Wil Cifer via No Clean Singing
FOUR – WIEGEDOOD De Dodden Hebben Het Goed
When Gilles Demolder (Oathbreaker), Wim (Rise and Fall) and Levy Seynaeve (Amenra, Hessian) decided to collaborate on a new project, the product of their union was never going to sit quietly at the back of the room; the common denominator here being the undulating, blighted aural landscapes fashioned by these already-established acts, each carving their unique perspective upon the scorched earth with harsh and unforgiving hands. Wiegedood (Dutch for Sudden Infant Death Syndrome) is a name that evokes incredibly powerful imagery, yet the unmitigated powerlessness implied by such a word becomes the foundation of the band's sound; a broiling mass of hopelessness and disconsolation that is incredibly naturalistic and equally austere, creating an immersive wave of cold, atmospheric black metal that is more frequently associated with the Pacific Northwest and yet fundamentally rooted within Europe's finest.
They may be an entity devoid of the intrinsic characteristics of their other projects, yet the black sun of Amenra casts its baleful shadow tenuously over De Doden Hebben het Goed; the downtrodden fury of opener 'Svanesang' as thick and impenetrable as much as it is breathtakingly paced, and even when the landscape becomes a place of near silence – a lonesome, mournful guitar note the only thing to break the uneasy silence – the atmosphere still speaks of desolation and futility that is as provocative as it is crippling.
Read the full review HERE…
THREE – PRURIENT Frozen Niagara Falls
Despite being such a seemingly cold and mechanical genre at times, one of the things that noise music does best – and one of the things that originally drew me to the art form – is it's uncanny ability to force you to feel things. It creates and sustains a mood through sound, shaping and controlling it as it goes. Prurient's Frozen Niagara Falls is a wonderful example of this quality. From start to finish, the range of emotions one feels by immersing themselves in this dense and diverse album is unfathomable. Fernow deftly crafts his story without you needing to read or even be able to understand the words, you just feel it and know.
The beauty, pain, horror, loss, and resignation of Frozen Niagara Falls is a journey that may feel comfortably familiar at first, but it is certainly one you have never taken before. As bold of a claim as it may be to make, I truly believe that this full length release is probably the best release of Fernow's career, at the very least his career as Prurient. While that is quite a statement to make given the quality of all of his releases in the past, Frozen Niagara Fallssimply showcases everything that makes Prurient the master of the genre and simultaneously showcases everything that I personally love about the genre. Take a journey down the frozen Niagara Falls.
Read the full review HERE…
TWO – MGLA Exercises in Futility
For those who may be new to Mgła, the band (whose name means "fog" in Polish) was started in 2000 and now consists of guitarist/bassist/vocalist Mikołaj "M." Żentara (who is also a member of the fantastic Kriegsmaschine) and drummer Maciej "Darkside" Kowalski. Their last album was 2012's With Hearts Toward None, which was tremendously good — but I do think Exercises In Futility is their crowning achievement (to date).
Those lyrics I think you should read first are almost unbearably bleak and despairing. They speak of "the desert within ourselves", we who are "disciples of Oedipus… led by stray dogs", surrounded by failures, misery, filth, discord, and horror. They speak of prophets and rulers constructing edifices of deceit, convincing others to spend a lifetime connecting the dots, when there is no pattern, "as if everything was to be made right one day":
"As if all this was something more
Than another footnote on a postcard from nowhere
Another chapter in the handbook for exercises in futility"
The songs are numbered like chapters, and otherwise have no names. They are as grim as the lyrics, yet through them beats the steady pulse of intense emotion, and the melodies, though undeniably bleak, are tremendously memorable and often sweepingly beautiful in their own forlorn way.
Read the full review…By Islander via No Clean Singing
ONE – CHELSEA WOLFE Abyss
The ritualistic vibe is one of the key aspect of Abyss. Even though that was part of Wolfe's previous works, it has really has blossomed in this record. The aura that most of the songs transmit has that heavy veil of ancient, ceremonial liturgy. The pace helps greatly with that, as does the heavy, distorted rhythm section, creating craters with each passing hit. From the hallucinogenic opening of "Carrion Flowers" to the calmer moments of "Iron Moon" and the upbeat parts of "Grey Days," the album retains its towering approach. The synthetic percussion shows the affection of Wolfe for electronic offerings, something that becomes apparent in other moments of Abyss as well, as is the case with parts of "After The Fall."
What ties in greatly with the ritual that Wolfe conducts is the dense background that accompanies it. The construction of the ambiance is key to achieve that result. The opening track manages to bind the darkness perfectly with its heavy atmosphere, and the unbelievable craftsmanship of "Grey Days" awakes a dreamlike aura. There are then some quite diverse moments, with the calmer and more surreal "Maw" and "Survive," while "Simple Death" takes things to another level in terms of its elusive appearance and stunning beauty. The melancholy is overflowing, reaching new heights of darkness.
Read the full review HERE…