CVLT Nation Streaming:
Criminal Code "Days End" + Tour News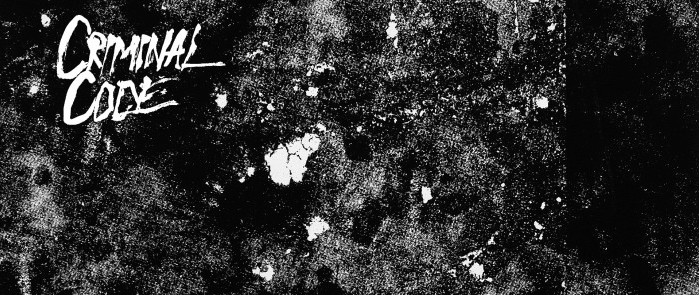 Tacoma, Washington's Criminal Code are set to release a new, 2-song EP Solitude on Forward Records in May, just in time for their upcoming tour with the Nervosas. Below is the b-side, "Days End," given exclusively to CVLT Nation to stream.
Criminal Code's 2014 LP No Device was a masterful blend of punk-oriented styles that teetered alternately to the side of postpunk, hardcore, post-hardcore, and gothic rock, always with an underlying hardcore punk ferocity. Each track on No Device surprised with a different take on the genre – sometimes a mid-tempo track would feature flanged out, watery guitars and remind of a doomy band like Part 1 or Rudimentary Peni. The 4 piece was often compared favorably to Husker Du and Saccharine Trust. "Days End," below, leans more to the side of goth punk/dark punk; it's a good mid-tempo slab of dirgey gloom that nonetheless retains enough sheer snarling punk energy to merit a fist pump or two, or ten. Shades of Texas band Institute, too. "[A] tightly wound psychedelic nightmare, as if My Bloody Valentine grew up playing Middle Class covers," their band page at Deranged says – not inaccurately.
The Solitude EP will come out on Forward Records. Criminal Code have a Bandcamp page here and their blog is here.
Check it out!
Criminal Code June, 2016 tour dates with Nervosas:
June 9 Thursday- Columbus @ Spacebar
June 10 Friday – Chicago @ Chop Shop (all ages)
June 11 Saturday- Minneapolis
June 12 Sunday – Milwaukee @ the Lucky Cat (art space)
June 13 Monday – Grand Rapids
June 14 Tues – Detroit
June 15 Wed – Toronto
June 16 Thurs – Ottawa @ Ottawa Explosion
June 17 Friday- Montreal @ La Vitriola
June 18 Saturday – Brooklyn @ Acheron
June 19 Sunday – Philly @ Second Empire
Enjoy this post? Donate to CVLT Nation to help keep us going!