Creeping Death crawl out of the crypt and simply slam your face into the concrete over and over again on this, their first full-length album. This is some old-school, pit-refined, groovy Death Metal. Add some thrash, season liberally with some black, and you get this classic slab of crushing death.
Hailing from Texas, Creeping Death previously released the excellent EP "Specter of War" in 2018, showing great promise in a scene choked with thousands of imitators. For real, it's kind of hard to stand out amongst the crowd when there are so many good bands out there. You really have to notch it up to get noticed and even then, there's a lot of luck involved. Well, this is your head's up, don't miss this, because if you're a fan of Death Metal at all, this is your jam. It will live in your headspace for months to come, maybe even years.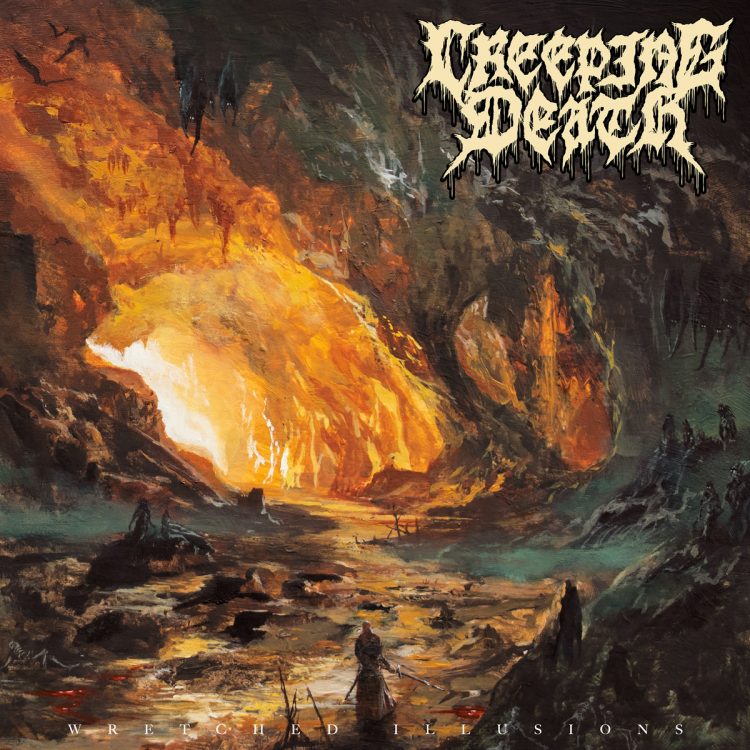 Chunky, filled with riffs, ever shifting dynamics, pummeling drums and solid, deep bass, not to mention those guttural, greasy, grave-dirt choked vocals, Creeping Death deliver the goods. Lots of melodicism in here, as well. I really think their ultimate strength is that pocket groove that they slip into so effortlessly. It's like they were born in the pocket and don't know anything else. This one will have you banging your head, shaking your fist, and growling like a demon. Songs like "World Decay" are so epic. Heavy and massive, lumbering almost, and yet still propelling forward with reckless, smoking abandon. "Bloodlust Contamination" will get the pit whirling, bodies flying, and hair whipping. The gallop in this one alone is worth the price of admission to the whole show. And songs like "Dawn of Time" deliver an almost perfect sludge of Death Doom. So massive.
If Death Metal is your thing, Creeping Death have brought to you a platter of goodies ready to worm their way into your ears and make that sore neck bang some more. They're a band to watch, already sounding more mature than their age belies, these guys are old souls when it comes to death. Dive in and enjoy the ride.