COMA WALL Video // UNDERSMILE Tour dates!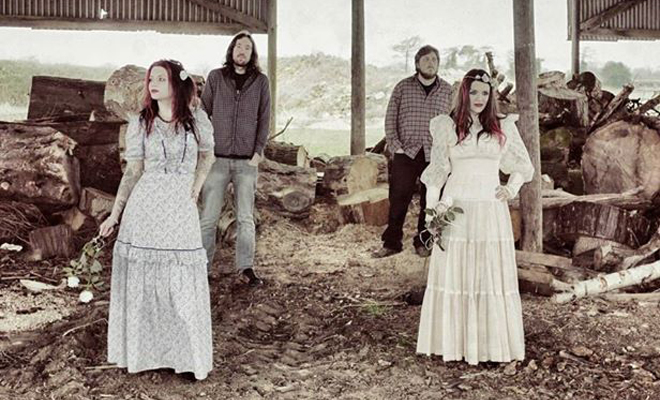 UNDERSMILE came to our full attention when they collaborated with Bongripper on their cover of 'The Haunting' for our most recent CVLT Nation Sessions project, Master of Reality. Now we have had our eyes opened to their acoustic alter ego, COMA WALL, with whom they just did a split, Wood & Wire, out now via Shaman Recordings. They just released a video for the opening track off the split, 'Summer,' directed by Chris Purdie, and the visuals capture perfectly their folk drone. Plus, UNDERSMILE announced some upcoming dates alongside the likes of Napalm Death and Dopethrone, so check those out below!
I just tried to capture the essence of both Wood & Wire's sleeve imagery and the recorded sounds using a combination of stock footage mixed with bits I shot myself. The aim was to create a film that looked warm, but felt cold. Inviting, yet dangerous. In a way, it's a continuation for the video I put together for Thine which was also comprised of stock. The process is more involving because when you begin putting a video like this together, you really don't have any idea of where to start or what footage you can use. The process of finding the perfect combination of imagery for the sounds can take time, but you earn a greater understanding for both mediums through the process. I try to take this approach with all my film/music work, that's just how my brain works, I guess. – Chris Purdie, director
UNDERSMILE Gig Dates:
25/03/2014: The Wheatsheaf, Oxford w/ Beehoover & Caravan of Whores
29/04/2014: The Cellar, Oxford w/ Girl Power
02/05/2014: 'Kin Hell Fest, Leeds w/ Napalm Death, Lock-Up, Necro Deathmort & more
25/06/2014: The Underworld, Camden w/ Dopethrone & Gurt
02/08/2014: The Rigger, Stoke w/ Space Witch & Trollkraft
Enjoy this post? Donate to CVLT Nation to help keep us going!