All good death metal begins with a "BLEGH." That's exactly what New Orleans death metal/hardcore group BRAT does on their debut EP, Mean Is What We Aim For. With bass-laden breakdowns that invite two-stepping in the pit and riffs that are more Florida OSDM than NYHC, the foursome stand out from the sludge that The Crescent City is known for. 
Formed over the COVID lockdown of 2020, BRAT was the product of a fateful night of karaoke. Vocalist Liz Selfish remembers, "Brenner (guitar) and I always wanted to have a project together and it wasn't until a nostalgic A Day to Remember karaoke moment that I realized I could do somewhat decent lows. And then everything shut down and we had plenty of time to start writing!"
Over the four tracks, recorded at Hightower Studio in New Orleans by James Whitten (Thou, Eyehategod, PEARS), BRAT delivers catchy metal that you will think about for days, from the "BLEGH" that introduces "Bought The Farm" to the EP's closing lyrics, "and when the world stops turning, our souls are still burning." With the obvious thrash, death, and powerviolence influences added to their hardcore roots, Mean Is What We Aim For is a debut that feels like the work of a well-established group. Everything is in its place and the group wastes no time over their 7 minutes and 11 seconds. In each song, there is space for spin kicks and headbangs; BRAT is a band that feels made for a live setting.
On top of melding genres, BRAT brings a refreshing look to the scene; there won't be any hellish skulls or Cannibal Corpse imagery in their future. Selfish says, "I used to do pageants which kind of gels with our aesthetic. In 2016, I was runner-up at Miss Louisiana State and won Miss Congeniality at the Miss South Louisiana pageant. As dark as the music and lyrics are, we try to juxtapose that with somewhat bright and feminine things that harken back to the 90s/00s, like the colors that we use and the pop samples we include playing live."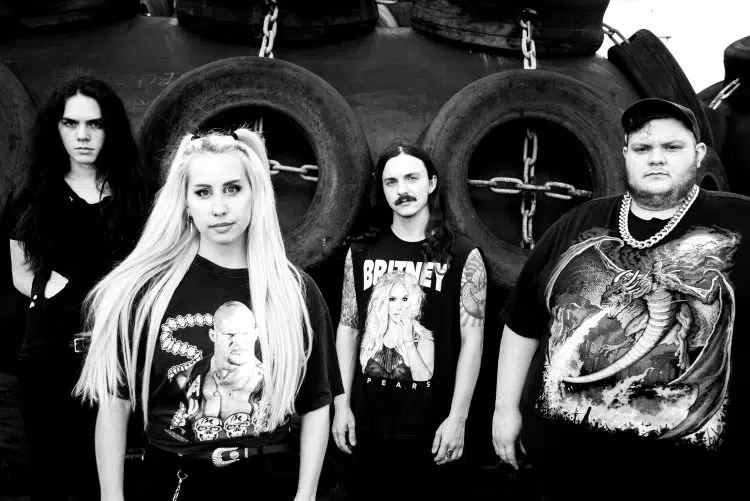 Sharing members with local prog rockers The Ivory Sons, post-punk goths Missing and sludgy doom outfit Cikada, BRAT is exactly what many of us hoped would come from months of isolation. Equal parts nihilistic and dark, but with hints of humor and vitality. Britney Spear and N*SYNC samples in between blast beats and breakdowns — could any of us ask for more?!
You can listen to Mean Is What We Aim For now on all streaming platforms. Follow BRAT on Instagram and Facebook.