Due to their 1983 MTV hit "I Melt With You," Modern English are usually thought of as a new wave dance band along the lines of Soft Cell ("Tainted Love") and Human League ("Don't You Want Me"). In reality, the band's early career on 4AD alongside labelmates Bauhaus, The Birthday Party, and Cocteau Twins reveals a series of impressive dark postpunk singles and EPs, culminating in 1981's darkly magnificent Mesh and Lace LP. (The MTV stuff came later.) The band recently announced they would be touring North America, playing songs exclusively from their early dark postpunk days. Below, I got to talk to singer Robbie Grey about this tour and what lies ahead.
Started in 1979 in Colchester, Essex, England, the band that would come to be known as Modern English actually began as a punk band called The Lepers. A friend of the band, Mike Marsh, had started his own small label, Limp, which had just put out a release by another punk band (The Deep Throats' "Rock and Roll Discharge"). The Lepers added two members, changed their name to Modern English, streamlined their sound a bit, and the band's first single, "Drowning Man," came out on Limp before the year's end.
The DIY "Drowning Man" single attracted the attention of the newly formed 4AD record label, which is where Modern English's career and notoriety would be made. 4AD was already the home of bands like Bauhaus and Rema Rema; later, after releasing singles by Modern English, 4AD would add bands like The Birthday Party, Dead Can Dance, Cocteau Twins, and This Mortal Coil to its influential roster. John Peel recruited Modern English for a Peel Session in late 1980 and by 1981 4AD had released their debut LP, the claustrophobic, moody, and experimentally gothic Mesh and Lace.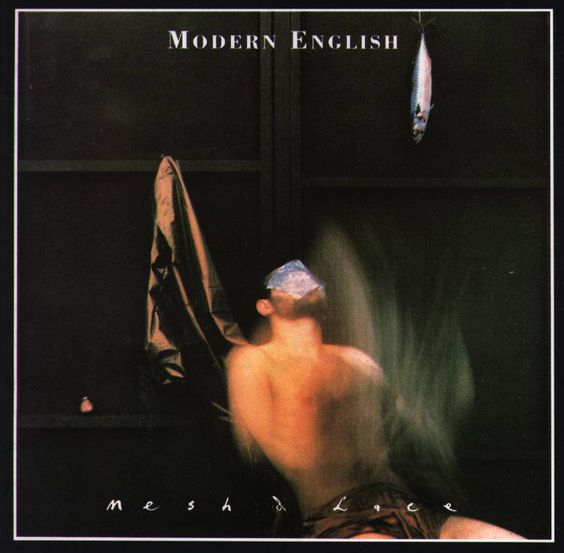 Nowadays regarded as a postpunk classic, sonically along the lines of Bauhaus' Mask, in 1981 reaction to "Mesh and Lace" was mixed. The band's own webpage says the LP "show[ed] a strong Joy Division influence," which is true, and in a 1982 interview with NME singer Robbie Grey described the LP as a "barren landscape, [with] heavy drumming, distorted guitar, and wailing vocals…." On the Mesh and Lace LP, the powerful drumming by Richard Brown was put to the fore and propels the listener forward on stomping tracks like the tribal/positive punk-ish "Just a Thought" and the bleak "16 Days." The excellently gothic "Black Houses" simultaneously reminds of Wire, Killing Joke, and UK Decay, but with a spin at the time that is entirely Modern English's own. (Indeed, below, Grey cites Wire as a prime influence on the band.)
In 1982, singer Robbie Grey told another writer, "with Mesh and Lace, people could have said 'It's a bit like Bauhaus, a bit like Killing Joke'" but he insisted "we're not one of the 4AD doomy bands." Trouser Press's Ira Robbins had the cheek to call the band's first album "a load of monotonous droning and shouting by a precious art band oppressively weighed down by its self-conscious 4AD pretensions." Whatever the case, time has treated the band's debut LP very well; in retrospect, it holds its own against any other postpunk LP released between 1978 and 1981. In fact, it's a lot better than a lot of them.
Ironically, 1981's shadowy Mesh and Lace LP does not contain the song "I Melt With You," which is the song that features the "mesh and lace" lyric. And there was a 1981 EP on 4AD Records, "Smiles and Laughter," by Modern English, whose b-side contained a song called "Mesh and Lace." It wasn't until 1982's After the Snow LP came out that the breakaway song "I Melt With You" was released – and which has the lyrics "mesh and lace" in it. Confusing? Undoubtedly this is purposefully so. Furthermore: Despite popular belief, "I Melt With You" was never a Top 40 hit in the US, and became "popular" only after its appearance on the Valley Girl movie soundtrack in 1983. According to Robbie Grey on the Valley Girl 20th anniversary DVD in 2003, "the song is about a couple having sex as nuclear bombs fall."
Billboard writer Michael Sutton wrote that "'I Melt with You' was actually an anomaly in Modern English's early discography." Indeed, early Modern English EPs like "Swans on Glass" and the band's shows with acts like Theatre of Hate and The Birthday Party only cemented Modern English's early reputation as a strange, surreal, proto-gothic rock sort of band.
It was the band's second album, 1982's After the Snow, that saw the band radically change course and enter the arenas of new wave dance of the then-new synthpop genre. Modern English's subsequent musical excursions would merit comparison more to acts like Simple Minds and Duran Duran than UK Decay or Killing Joke. Thanks to recent reappraisals of postpunk's early days, however, Modern English's place as an important pioneering postpunk group has been critically reestablished.
Most of the original members have gotten back together to crowdfund a new LP; the financial goal of this LP has been met. Modern English are now reasserting their place in postpunk history by launching a "Mesh and Lace" tour that will focus primarily on their earlier, dark, gothy, postpunk stuff. US tour dates show them playing shows with the likes of Shadow Age, Pleasure Leftists, and other dark postpunk/dark punk revivalist type acts, connecting the older generation with the new.
Singer Robbie Grey of Modern English was interviewed by Oliver in March, 2016.
Modern English have recently gotten critical reevaluation as an important postpunk band, and this dovetails with what some have called a new generation of "postpunk revivalist"-styled bands. What are your thoughts on this development?
Robbie: I have to say that the amount of dumbing down of music over the last 10 years has probably had the effect that kids are looking back to the era we started in to find inspiration. Nowadays it seems like there's nothing but cliched rock and Top 40-type shit to listen to. How can that inspire a young person who is a bit leftfield, and unsure of themselves in the big bad world we all live in? These people are the ones who make music worth listening to. That's where Modern English were at back late 1970s and early 80s. We were in the same position as those young people are today.
Do you feel happy being part of the legacy of 4AD Records and the subsequent genre breakdown that included shoegaze, and postpunk, or darkwave, etc?
If there is a 4AD legacy and it helps people to create art and music, well, I am very happy about that. All these labels, though…. None of the bands, like the Cocteau Twins and Modern English, thought of themselves as existing in specific genres. They were just individuals making music. It's great if we have been a help to new bands. I like that.
When Modern English formed in Colchester, Essex, in 1979, what were the primary motivating influences for the band then? Was it what was going on in the worlds of punk and postpunk at the time? What was the main goal of the band at that point?
Robbie: Our influences were, in short, David Bowie, Roxy Music…. Those were all the post punk bands' influences then. David Bowie above all else. Also – Lou Reed and Iggy Pop, of course. Then, moving on to other bands – Wire were a big influence for us, both in music and in words. Gang of Four. There were a few.

You all performed your first Peel Session before your first LP, "Mesh and Lace" came out on 4AD in 1981. How do you think John Peel had heard of you all and how did performing that recording/broadcast come about?
Robbie: The first John Peel session came about when our label, 4AD were approached by John Peel, and we were asked if we would do it. Obviously, we did!
Although many are familiar with your radio hits, a lot are surprised to hear the rest of the early singles and 4AD stuff, which has a darker, and to some even a "gothy" feel. Are you happy to claim any sort of influence on subsequent dark postpunk or gothy type bands, and when you were writing material like, say, "Gathering Dust," was it a conscious effort to explore darker sonic or aesthetic territory?
Robbie: I suppose there was something in the water in that era. I don't think bands in that time period were copying each other or anything – it was the sound of experimentation. Most bands had played through the punk revolution and were now stretching their wings. Guitarists found new foot pedals and echos to play with; vocalists stopped shouting and got more relaxed. It all became a bit more art-orientated. And hence you have the artwork at 4AD, or at Factory Records, and at Mute Records, etc.
It was a pleasure to be amongst all of this at that time, and not a weight. We always composed just what we wanted. It really was just all about expressing yourself. No one was really "musical," so the sound was effect-driven. You can hear that across all of the post punk sound of that time period. All the similarities, the "postpunk sound," came from that, really.
Who came up with the label name "Limp Records" in 1979 or 1980, and what were you all intending to do with that label? What did the name mean?
Robbie: Limp Records was Mike Marsh's label. He thought of the name. We were the only release, as far as I know. He paid for the record to be made and he brought the sandwiches to the studio! Good man. The whole purpose of that was simply to put music out. Mike thought we were going to make it in the big time.
You all tend to get lumped in with the retro/nostalgia/80s new wave phenomenon that goes on nowadays, along with bands like Human League, and I wonder how many people have really heard a lot of your earlier stuff (again, also like Human league, I suppose). Does it bother you to see yourselves presented that way, or maybe conversely you're proud to have a dedicated fanbase…? I guess I'm wondering how you feel about Modern English's legacy so far, and do you feel like it's a finished legacy, or is still being created?
Robbie: We don't like being lumped in with the 80s New Romantic thing, or the Goth thing, for that matter. We are, of course, known for "I Melt With You," but there's a lot more. You mention Human League. Well, their song "Being Boiled" is brilliant! I wonder when they last played that?
On this tour, we will be playing all of our material from our early period in May through June in the States. Then we will go home and start playing our new album. Our new LP continues our legacy. We also have some really new music which I have to say is darker, again. And that's what it's all about — not standing still.
——————————
Modern English's "Mesh and Lace" North American tour Facebook page is here.
MODERN ENGLISH "Mesh and Lace" Tour Dates
:: May :::
10th – Vancouver, BC
11th – Seattle, WA – Neumos
12th – Portland, OR – Star Theater
14th – Oakland, CA
15th – Los Angeles, CA – Echoplex
17th – San Diego, CA
18th – Phoenix, AZ – Rhythm Room
20th – San Antonio, TX
21st – Austin, TX…
22nd – Dallas, TX – Granada Theater
23rd – New Orleans, LA
25th – Florida
26th – Florida
27th – Atlanta, GA
28th – Nashville, TN
30th – Indianapolis
31st – Chicago, IL – Empty Bottle
::: June :::
1st – Detroit, MI
3rd – Ohio
4th – Baltimore, MD
5th – New York, NY
7th – Boston, MA – The Middle East Downstairs