It's hard to believe only three guys are behind making such a sophisticated, suffocating sound.  Straight out of Minnesota, Suffering Hour really delivers on their second release, toning back a bit on the technical chaos of previous offerings and increasing the atmosphere and drama to excellent effect.  Don't fear, though, this thing is heavy, a heaping dose of cosmic horror and blackened death that will please both old fans and new.
"Strongholds of Awakening" begins things with some twisted guitar work, the band immediately layering in the new, more atmospheric touches.  Before you know it, they're off and running.  I really love the melodic, blackened bits with the guitar, accenting the groove, adding to it, layering more depth with what feels like a very organic touch.  The vocals, of course, are devastatingly heavy.  "Transcending Antecedent Visions" starts off with an almost Viking-like, epic feel, and then they start bending those guitar strings in that trademark way that Suffering Hour has perfected.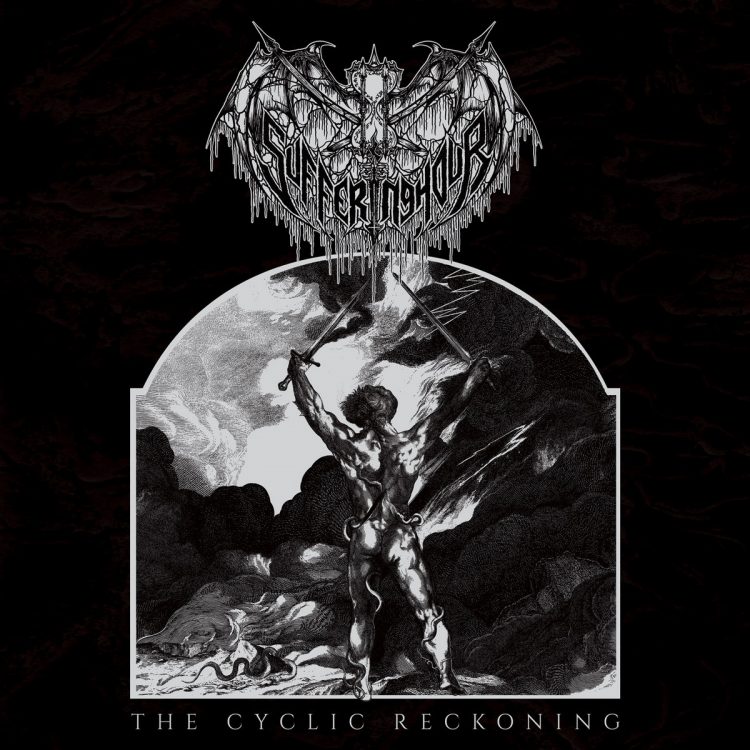 Everything is immediately warped and turned on its head.  Still epic, still weird, somehow it all meshes into something that borders on unique.  Waves and waves of it crash over the listener, threatening to drown you in its morbid power.  "The Abrasive Black Dust Part II" comes next and it's a real testament to that whole "building atmosphere" thing.  Lots of layered melodics, some almost jazzy drumming, and a meandering heaviness carry the beginning.  It's not long before it starts to pick up steam, but it never really goes full-blitzkrieg mode up until the very end, where the chaos returns.  I love the heads-down drive, and the relentless push forward of the song.  "Obscuration" is the next to last track and it comes right at you, fists swinging.  It's got those warped and wonderful guitar licks and the drums are pummeling and vicious.  As with the other songs here, it settles into a sweet, blackened death groove, finding its notch and sliding in quite nicely.  And what is there to say about the final track, "The Foundations of Servitude" except to say it's kind of prog and totally massive, a real monster of a tune.  Clocking in at 16 ½ minutes, it runs the gamut of emotions and the entire spectrum of what "heavy" really means.  Plenty of blackened riffs and picking, crashing cymbals, and rumbling menace.  It speeds up, it slows down, it gives you everything.  There's a real mystical feel to this song, tapping into some sort of primal, ancient occultic religion.  I can't put my finger on it but it feels authentic, in the same way, a band like Nile feels authentic (although they sound nothing like Nile).  In any case, it's a real doozy, and it will test the limits of your endurance.  Don't read that as a criticism, but more of an observation.
 I would love to see them do this one live. These guys have really created an impressive album.  It is firmly entrenched in the blackened death world, but they add their own flourishes and touches, as well as more than enough atmosphere to make them stand out.  I think this is an excellent release, and it grows on me with each successive listen.  Lots of hidden stuff in here to be discovered, making it well worth your time and your dime. 
Suffering Hour: The Cyclic Reckoning Vinyl LP Order HERE via Profound Lore