You're Fucked, Tough Luck. Dopethrone "Transcanadian Anger" Review + Stream + Footage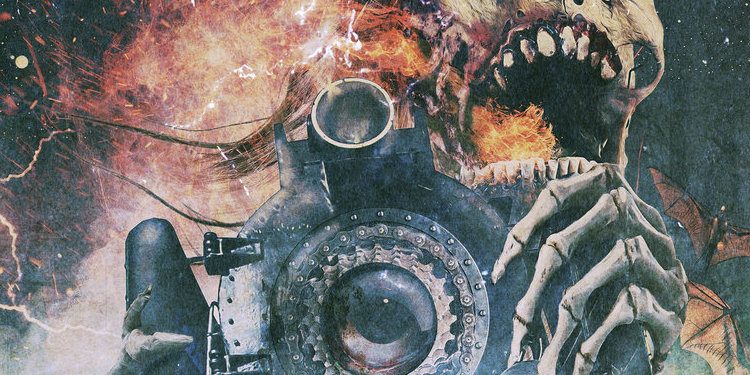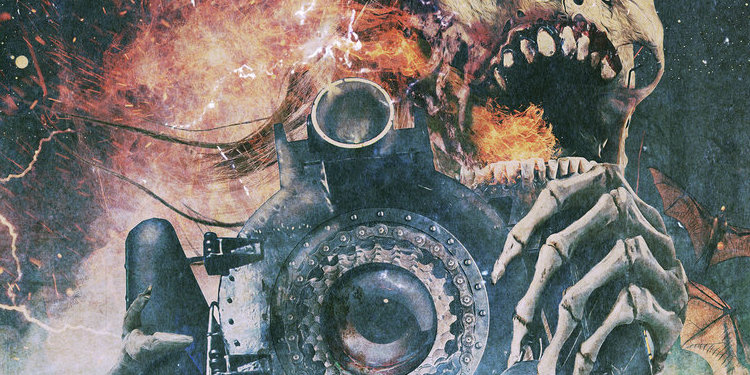 Dopethrone – who started as a joke – have been steadily on the rise over the last ten years. Their music is generally dark and abrasive, but with a sort of sarcastic and funny undertone that has led them to the front of the pack. The threesome has been breaking shit and setting it on fire since 2009, with Demonsmoke, then a hiatus till Dark Foil in 2011, III in 2012, then a further 3 years for them to release 2015's Hochelaga. Their latest effort is album number five. It's called Transcanadian Anger, and it's the best Dopethrone album to date. As a matter of fact – it's one of the raddest releases of the year so far.
Many people think the band came up with their name from the legendary Electric Wizard's classic album, but the true story is the cross between their admiration for pot and the Norwegian band Darkthrone.
The lyrics on the new album are nothing new for their listener. It's, as usual, about Anger, Drugs, Misery, Toxic People, Demons and Bad Decisions in general. The music can be described as a foul mix of Canadian snow, crackhead diarrhea, blood, tears, broken dreams, dirty needles and something that died.
The main feature of this album is the bone-hard, heavyweight riffs. It's like being trampled on by a heard of stoned elephants. The band's latest album is even nastier and more evil than 2015's effort Hochelaga. Transcanadian Anger takes the listener back and forth from hell without losing their trademark sting. If you're familiar with the band, you know what you can expect. A 45 minute bonanza with churning grooves and sardonic snarling. The music runs over you like a locomotive. But the thing I find the most amazing about this pit of madness and heaviness is that you just can't listen to this album without having a grin on your face.
The vocals sound like they've been drenched in gasoline and then rehydrated with some liquor and greased with wax. In another way, the voice reminds me of the evil one lurking in the shadows of the campfire. It's simply amazing.
The Drummer is a mean machine behind the drum kit. He's pounding the shit out of them like there's no tomorrow. He uses his cymbals perfectly, adding an epic proportion and feeling of depth to the band's sound. Vyk, the bassplayer, is one of my favorite bassman in the genre.
My highlight from this album is the opener, "Planet Meth," simply because the opening riff gives the feeling of being rushed over by a stoned ox and the bridge makes you feel like you wanna wreck something and then crawl in a hole.
To wrap this up, Dopethrone are the best at doing what they do. They balance the mean,  the fog, the tragedy and the foul-heartedness of sludge metal with the groovy, party essence of stoner metal.
As the band says: You're Fucked, Tough Luck.
Transcanadian Anger is out now on Totem Cat.
06.22 – HELLFEST OPEN AIR (FR)
06.23 – BRUSSELS (BE), Magasin 4
06.24 – KÖLN (DE), Jungle
06.25 – EINDHOVEN (NL), Effenaar
06.26 – BRIGHTON (UK), Green Door State
06.27 – BRISTOL (UK), The Fleece
06.28 – BIRMINGHAM (UK), Asylum 2
06.29 – EDINBURGH (UK), La Belle Angèle
06.30 – MANCHESTER (UK), Rebellion Club
07.01 – LONDON (UK), The Underworld
07.02 – UTRECHT (NL), Tivoli De Helling
07.03 – DEVENTER (NL), Burgerweeshuis
07.04 – WIESBADEN (DE), Schlachthof
07.05 – ROSTOCK (DE), M.A.U
07.06 – STOCKHOLM (SWE), Kraken
07.07 – GÖTEBORG (SWE), Truckstop Alaska
07.08 – OSLO (NOR), Blitz
07.09 – MALMÖ (SWE), Klubb Malfunction
07.10 – COPENHAGEN (DK), KB18
07.11 – HAMBURG (DE), Hafenklang
07.12 – BERLIN (DE), Cassiopeia
07.13 – RED SMOKE FESTIVAL (PL)
07.14 – STONED FROM THE UNDERGROUND (DE)
07.15 – BREGENZ (AT), The Between

Enjoy this post? Donate to CVLT Nation to help keep us going!