After my mom's death in 2017, I began to do research into what's broadly known as "spirituality." I'm interested in metaphysics and electromagnetism. I research astrology, ancient belief systems, and long-lost ways of life. What attracts me is the emphasis on developing characteristics that our power structures of religion, capitalism, government, white supremacy, and patriarchy have spent many centuries trying to deprogram us of: self-worth, self-reflection, healthy boundaries, following your own unique life path, and acknowledging your energetic connection to all life in the universe–and therefore your responsibility to honor it. Basically, the exact opposite of the rigid hierarchy and slavish subservience many organized religions and cult leaders expect from their followers in exchange for a savior. Cult leaders like Amy Carlson, the 19 billion-year-old founder of the Love Has Won group, known as "Mother God" or just "Mom" to her devotees. So yeah–God is a woman; and apparently an angry, abusive drunk. I hope She has a sense of humor.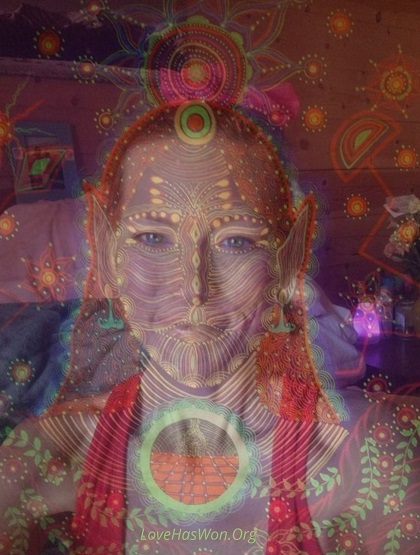 You are either with me or against me. The experiment of Free Will has been declared a failure!!! It is VOID, everything exists under Divine Will once more. THANK GOD LOL


– Mother God
In the VICE documentary Cult Leader, Abuser Or Goddess? Meet 'Mother God', reporter Josh Osbourne spotlights the bizarre world she's created. Her followers live in cult-like circumstances, following rigid rules around how long they can sleep (4 hours) and spending their days live streaming on Youtube to recruit new followers and perform psychic surgery for cancerous tumors. According to her followers, lazy people are the ones who don't like the "no sleeping" rule. She's got a real drinking problem but excuses it by saying, "Alcohol is organic, and a natural pain killer," so it's better than opiates, which are about as organic as alcohol. I guess alcohol does temporarily increase your self-worth, but drinking pretty quickly devolves into self-punishment. She claims to be Donald Trump's daughter from another lifetime–and I'm sorry, but no actual God would ever link themselves to the Trump family, spiritually or genetically, in any lifetime. And she's had a string of "Father Gods" join her to co-rule her weird little domain, with the latest one being a total fucking psycho. I guess there are some stories about God acting kinda psycho, but I don't believe those either. Anyway, you should watch this mini-doc and see how bizarre things can get when you look anywhere outside of yourself for acceptance, validation, and purpose.