What did you say? Cvlt Nation introduces Deaf Club..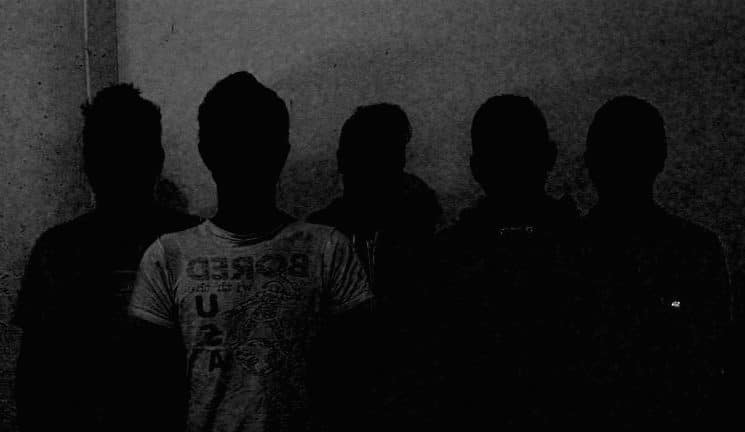 Catching hints over social media for the past month or so and piecing together the puzzle, the cat is finally out of the bag on a brand new project consisting of the amalgamation of two of my all time favorite projects. Deaf Club have assembled a blistering all-star cast set to full scale decibel peak. Their debut EP 'Contemporary Sickness' will be released digitally and limited edition vinyl via the ever eclectic Three One G roster. The debut music video for 'Bright Side of Death' was directed by Rogelio Lopez and edited by Lucas Takano. Be sure to follow the band on their internet platforms, check out the video below and delve into the blurb of their bio on your way…
Deaf Club is a savage sound bath dripping with sardonicism: a blastbeat-centric hardcore punk assault channeling crust, thrash, and grind (un)sensibilities. Succinct pauses, surreal frequencies and effects, breakneck pace and sharply hurled vocals characterize the band's aesthetic, which seems as though it is rooted in a sort of nasty-sound-meets-highbrow-message ethos. Fueled by the onslaught of society's insanity and driven mad by tinnitus, Justin Pearson (The Locust, Dead Cross, Planet B), Brian Amalfitano (ACxDC), Scott Osment (Weak Flesh),Jason Klein (Run With The Hunted), and Leo Ulfelder (Fissure) approach music as an opportunity to confront our collective sicknesses. We've got to try to listen, lest we all frolic headfirst towards the bright side of death, dragging this pillaged planet down with us. So whether you think the music is a radical disruption to the airwaves or just headache-inducing noise, you can feel free to tell them the brutal truth– they can't hear you anyway.
Enjoy this post? Donate to CVLT Nation to help keep us going!