Watch this odd and surprising video for o13 "Thirty Echoes"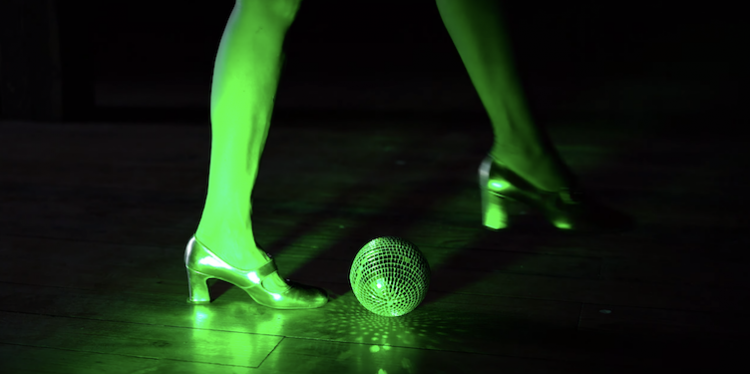 1980s NYC noise-rock band LIVE SKULL founder/frontman Mark C and bassist Kent Heine have created something new and special, a dark electronic project called o13. On first listen, it is odd and surprising, it causes conflicting emotions in me, and then all of a sudden I'm sucked into a quirky universe where their sound is a pinball ricocheting around my brain setting off all my synapses. It's no surprise that it comes from creators who count Sonic Youth and Swans amongst their peers. You'll see what I mean when you hit play on our premiere of their video for "Thirty Echoes," directed by Mark C and starring Jennifer Jaffe, shot in 4k. It's a track off their forthcoming album The Wild Child Takes Charge, which will be released some time this year, as will Live Skull's first album in 30 years, as the band has reunited after disbanding in 1989. Right now, hit play on "Thirty Echos," and wait for the bright lights to flash on the backs of your retinas…
Thirty Echoes is a response to a news report, of a crimes against humanity trial in which the defendant was found guilty on multiple counts, the word guilty echoing out thirty times in the court room. It's our attempt to counter balance the weight of the moment by composing music and communing with nature. The video was filmed upstate on an old apple farm in Hudson, New York, and in Montauk, Long Island – locations where the magic and drama of nature are still very much at play.

– Mark C.
Since completing 'The Wild Child Takes Charge,' o13 has taken time off from performing live in order to join in on the recording of a new Live Skull album for Bronson Recordings, to be released later this year. The core band on the recording is Rich Hutchins on drums and percussion, Mark C on guitars, vocals and synths, and new bassist Kent Heine. Live Skull members Marnie Greenholz and Thalia Zedek both appear on the record too. The record takes off from where Live Skull was headed when we abruptly disbanded in 1989. Both, o13's 'The Wild Child Takes Charge,' and the new Live Skull album take their cue from the current political climate. They both lean toward protest art while exalting in the cathartic power of music, and the collaborative process of playing in a band.

– Mark C.
Enjoy this post? Donate to CVLT Nation to help keep us going!