Watch the Majestic new video from TEMPLE OF ANGELS "Cerise Dream"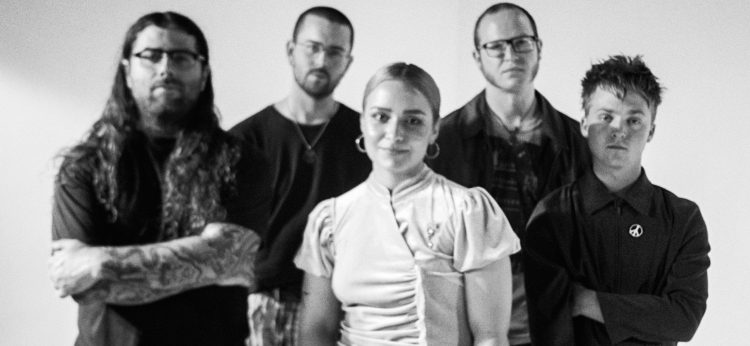 Today is a very special day in music, because TEMPLE OF ANGELS are releasing their new 7 inch via the always on point Funeral Party Records! The two majestic tunes are called "Cerise Dream"/"Breathless" and with each listen I feel an overwhelming sense of happiness wash over me. Bre Morell's vocals are otherworldly, and the band's new sound only makes it shine brighter! I got a chance to see them live last year, and knew that I was witnessing something very special – from that day forward, we have played their tape at least once a week. TEMPLE OF ANGELS create angelic post punk that is kissed by the ethereal spirit of the Cocteau Twins as they glide on the wings of My Bloody Valentine. Today CVLT Nation is so fucking happy to be sharing their new video for their song "Cerise Dream" that was directed and edited by vocalist Bre Morell in collaboration with director of photography, Erynn Patrick. TEMPLE OF ANGELS will be touring all over the States and Canada starting on July 10th, and if I was you, I would not miss them! They'll be in Vancouver on July 25th performing at the Astoria. I know for a fact this 7 inch is only the beginning of a new glorious chapter for the band (pre-order in effect HERE!).
I studied film in college and always dreamed of making music videos one day, so was really excited when we decided to make one ourselves. I love 80s/90s unplugged performance-style music videos and since we were doing "Cerise Dream" I wanted it to have a very colorful, dream-like quality to it as well, which my friend and incredibly talented Director of Photography, Erynn Patrick, was able to execute so beautifully on 8mm film. I'm really proud of how it turned out and thrilled for everyone to finally see it! – Bre Morell
Funeral Party Records Instagram
Weds July 10: Austin, TX – Hotel Vegas
Thurs July 11: Houston, TX – Rudyard's
Fri July 12: New Orleans, LA – Circle Bar
Sat July 13: Birmingham, AL – The Firehouse
Sun July 14: Athens, GA – TBA
Mon July 15: Charlotte, NC – The Milestone
Tues July 16: Richmond, VA – Lovejail
Thurs July 18: Philadelphia, PA – Cousin Danny's
Fri July 19: NYC – Knitting Factory
Sat July 20: Cambridge, MA – The Democracy Center
Sun July 21: Montreal, QC – Casa Del Popolo
Mon July 22: Toronto, ON – The Baby G
Weds July 24: Chicago, IL – Empty Bottle
Thurs July 25: Louisville, KY – Art Sanctuary
Sat Aug 17: Los Angeles, CA – Zebulon
Sun Aug 18: San Diego, CA – The Whistle Stop
Tues Aug 20: Bakersfield, CA – Going Underground Records
Weds Aug 21: Oakland, CA – Elbo Room
Fri Aug 23: Portland, OR – Black Water
Sat Aug 24: Vancouver, BC – TBA
Sun Aug 25: Seattle, WA – Black Lodge
Enjoy this post? Donate to CVLT Nation to help keep us going!