The Ultra Cosmic Art of Robert Venosa vs. 11PARANOIAS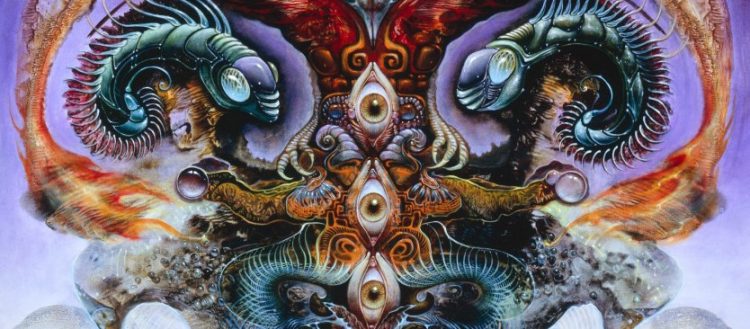 Lately, I have been listening to loads of HEAVY PSYCH, including the new 11 Paranoias album Reliquary For A Dreamed Of World ! This form of music tends to make me think about the world in a different way. When I combine the art of Robert Venosa and HEAVY PSYCH, my mind begins to melt in all of the right directions. Robert's visuals cause a natural high in the viewer, and once you start gazing at them, it's hard to look away! Now it's your turn to step into the beyond epic world of Robert Venosa…For the perfect soundtrack to these visuals, stay tuned for the new 11 Paranoias Reliquary For A Dreamed Of World coming out via Ritual Productions on 28 October 2016.
If the most exciting art-making one can hope to encounter is an exploration of the furthest realities of the imagination, then Robert Venosa must surely rank among the luminaries of our era. His unique approach to Visionary art is nothing less than a fascinating scrutinization of the mysterious realms of being. Venosa's imagery enfolds us with its magical power – truly a mythology for our times. NEVILL DRURY
via DOP
Enjoy this post? Donate to CVLT Nation to help keep us going!