Ever since Sepultura's Roots was unleashed on the unsuspecting world of Metal, I have wondered when more bands would pick up the native sounds and inspirations of their various cultures and bring them to heavy music. There's been a bit here and there, with Soulfly of course a prime example, but the sound hasn't flourished as much as I hoped. Along comes this upstart Death/Doom band called Tzompantli (meaning: a rack used to display the skulls of enemies and sacrifices in many Mesoamerican civilizations), a practical one-man-band composed of Huey Itztekwanotl o))) on vocals and guitars, with a certain G-Bone on bass. They have stepped into the gap and have, with the assistance of 20 Buck Spin and some friends, delivered a crushing and walloping debut album called Tlazcaltiliztli.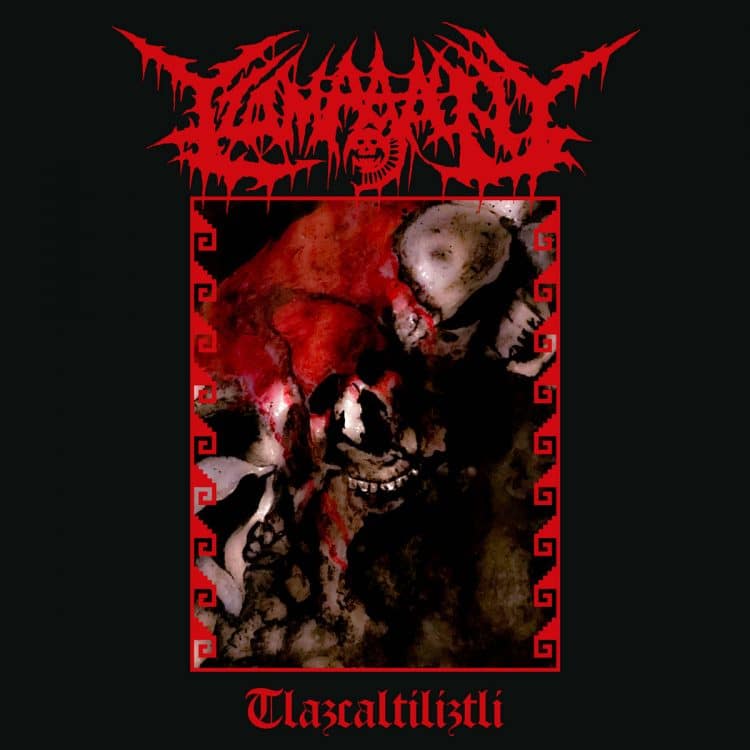 The opening track is called "Yaohuehuetl" and functions as a prelude, offering native drums and setting the table for what is to come. It is a ritualistic piece to put the listener into the mindset of the coming storm of blood and fire, a moment to pause and ready yourself. This segues right into "Tlatzintilli" which is pretty straight-up Death/Doom. Growled vocals, crushing, monolithic riffs, glacial pace. It's all there, executed with prime precision and grit. The song grinds and smashes, finding a groove about 2:30 in, adding some melancholic melody to the mix to keep it all interesting.
Track three is another grinder, a slow march towards ruin and destruction, called "Tlazcaltiliztli." Savage and full of anguish, this competes with anything the underground has to offer when it comes to Death/Doom. It knows instinctively when to pick up the pace and when to back off, giving space to breathe a bit.
"Eltequi" pulls the native roots right back up to the front, utilizing the Huehuetl Drum Circle, teponaztli drum, death whistles, shells, and shakers, performed by Mateotl Gonzalez, G-bone, and Huey Itztekwanotl o))). Mix that in with some powerful chants, and some Death guitar, and you got yourself an interesting mix of past, present, and (hopefully) future sounds that melt into a powerful concoction. This is great stuff and I hope the band explores more of this in future releases.
"Ohtlatocopailcahualuztli" comes next and pretty much takes us right back into pure Death/Doom territory, with bludgeoning riffs and guttural grunts from Hell itself.
"Tlamanalli" is another offering of Death/Doom, this one a bit faster than most of the rest of the songs on the album, tumbling right out of the gate with some double bass and merciless riffing. Like a thunderstorm full of lightning, this one strikes fast and hard.
Album closer is "Yaotiacahuanetzli," and it's the "epic" of the album. It starts out almost droney, with lots of melancholy guitars ringing and crunching. It crawls slowly, a march towards death, before kicking in with some prime and tasty Death. Rolling, steaming, spitting venom at every turn, the band chooses to go out on a high note, with a blistering tune that puts to rest any hope in the beating hearts of men.


Tlazcaltiliztli translates to "nourishing the fire and sun with blood," and that's a pretty goddamned great description of what the band has brought to offer here with their first full-length. There's plenty of fire here, and oh yes, bountiful bits of blood. The band says that this record is dedicated to the indigenous peoples, nations, and tribes of the North, South, East, and West of the American continents. It is a unique and powerful offering, to say the least. They prove their Death/Doom bonafides here, while peppering the songs with plenty of native and indigenous music. I would like to see them go more down this specific route in the future, bringing these items more to the fore, but for right now, Tzompantli has gifted us with a very fine album that will bring joy and sorrow in equal measures.