This is a list that isn't for the faint of heart. While some of these records are dreamy and beguiling, others hit you like a psychological freight train and leave your head filled with nothing but splattered pulp. It also includes one of our favorite bands of the decade, whom should be obvious if you've been a reader for the past eight and a half years. This encompasses many styles and genres of music that are difficult to define, so we're calling them "avant garde." Make sure to support all these bands on their bandcamp and at their shows!
FOURTEEN – MIDNIGHT CLIMAX, Power Of Pain
Dark and brooding drone overlays pulsating techno beats that will have you moving even if you didn't want to. And the album cover rules.
THIRTEEN – PETBRICK, I
Are you ready to have your mind melted? PETBRICK will do the trick. These warriors of all things Industrial Left-Field released a very special record this year entitled I via Rocket Recordings and Closed Casket Activities, and we love it.
TWELVE – CONSTELLATIA, The Language of Limbs
What if Cocteau Twins and Cult of Luna got together? Their output might sound something like CONSTELLATIA – this South African band has paired dreamy, overwhelming soundscapes with driving percussion and guttural vocals to create an epic and gorgeous record in The Language of Limbs. I am seriously blown away by this record; it takes so many twists and turns, but it's a seamless and utterly captivating listen. The Language of Limbs is a must-have for anyone into post metal.
ELEVEN – A-SUN AMISSA, For Burdened and Bright Light
Most music is something that exists outside of you. Even though it enters you through your ear canals, it just dances around the space you give it, never crossing the threshold of your energetic body. But there is music that pierces you in a thousand places until it floods your system with pain and pleasure and causes total catharsis. This is what A-SUN AMISSA have created with their new album For Burdened and Bright Light. It's not something you can easily digest and move on from. It's a composition that lives with you until it you have accepted what it has brought to you.
TEN – DIS FIG, Purge
Dis Fig put out a masterfully emotive celebration of noise and fear in PURGE. "Unleash" is the single that we premiered a few weeks ago, and it hits like a death knoll. Coming in with panicked, palpitating beat and beautifully harrowing vocals, "Unleash" showcases Dis Fig's genius in creating stark and captivating compositions. And it's just the beginning of the weird and wonderful world of PURGE.
NINE – ENOLA GAY, S​/​T EP
This is a record that's been on repeat since we got it. The fact that it comes in at number 9 is a testament to how much genre-fluid music came out this year, because this is a number 1 for me. "Running" is an anthem. "Remember" makes me cry. "Losing to Berlin" makes me dance. If you don't already have this record in your collection wtf is wrong with your life?
EIGHT – HAVE A NICE LIFE, Sea of Worry
Have A Nice Life stand at a strange place. On one hand they are enamoured by the idealistic side of post-punk, the immediacy and straightforward attitude of the genre with all its melodic overtures and catchy choruses. Yet, on the other end Macuga and Barrett display an obsession with the experimental edge of heavy music. The energy of improvisation, the static power of noise and the subliminal messages that can only be passed through ambient pipelines. This dichotomy has always defined Have A Nice Live, and in Sea of Worry it is at its most pronounced.
– Spyros, CVLT Nation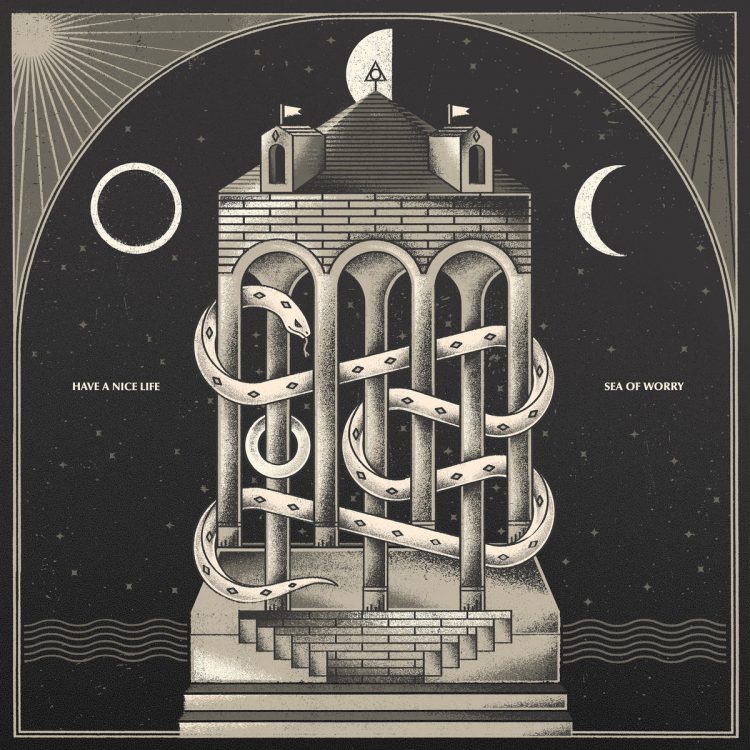 SEVEN – WITCH TRAIL, The Sun Has Left the Hill
WITCH TRAIL (not to be mistake for Witch Trial) are one of the most interesting and exciting bands to come out of Belgium, which is saying a lot. Their soon to be released album The Sun Has Left the Hill will prove my point when you hear it. This band's creates their own sonic universe where there is only one rule, and that rule is that there are no rules. Once you start blasting their record, you won't be able to stop. Each track is dripping with passion and originality and it's totally infectious. Respect due to both Babylon Doom Cult Records & Consouling Sounds for releasing The Sun Has Left the Hill this year.
SIX – LUNACY, Age of Truth
Over the course of the past 4 years we have covered LUNACY many times, and watched this project morph into soundscapes that can't be captured simply by the written form. When you hear this music, you realize the true power of sound and how something fluid and fragile can be so heavy. LUNACY is sonic art that is truly transcendental. Age of Truth is the debut album that we have all been waiting for. LUNACY has created an outergalatic collection of mind-melting hymns that might not be understood for decades to come.
– Sean Reveron, CVLT Nation
FIVE – PHARMAKON, Devour
Margaret Chardier, with her Pharmakon project, has been awakening this animalistic essence through noise, power electronics and industrial applications for well over a decade now. Here return now with Devour finds Chardiet doubling down on the most aggressive aspects of her project, and in recording the new album live with Ben Greenberg of Uniform as the recording engineer, has brought out the energy of her live shows in a compact studio work. This is something that is apparent from the narrative of this work, as the tracks do not feel as individual, stand alone pieces, but rather as parts of the same grand scheme.
– Spyros, CVLT Nation
FOUR – PACT INFERNAL, The Gehenna Odyssey
With The Gehenna Odyssey, Pact Infernal have created something that's far from easy listening. It's too fear-inducing; it's too profound to be a record that you throw on as background music. You need to play this with ritual and intention, and listen. It builds an atmosphere that can't be ignored.
THREE – CHASMS, The Mirage
This CHASMS record is perfect. It creates an intoxicating atmosphere; when I'm listening to The Mirage I feel like I've walked into a holodeck programmed with the Northern Lights. I feel surrounded, enclosed, blanketed with music that washes over me, sometimes warm and sometimes cold.
TWO – RAKTA, FALHA COMUM
Forget comparisons, forget Xmal Deutschland, forget post-punk, death rock, goth and experimental music.
Rakta are one of a kind and the only inhabitant of their native planet where the ambient sound is the jubilation of black witches gathering, dancing to the roar of a collapsing world. On the new record Falha Comum, they sound just like you would expect them to sound after putting out a bunch of out-of-this-world records and saying that is like saying nothing at all, because you never know what you're going to get with Rakta.
– Hugo Felipe Lopes, CVLT Nation
ONE – DEAFKIDS, METAPROGRAMAÇÃO
There are some bands that understand the value of crossing over between genres to deliver the most extreme blow, such as Brazilian outcasts DEAFKIDS.
With their new work DEAFKIDS do not rest on their laurels, and they do not attempt to simply rehash their previous work. What they do in this instance shedding light on a darker corner of their sonic vision. While previous works featured noise and some electronic elements, those are now more pronounced in Metaprogramacao, fitting alongside the band's trademark piercing guitar sound and bombastic rhythmic frenzy. But, what remains here as the constant presence is a bitter psychedelic twist, inducing an unearthly hallucinatory state.
– Spyros, CVLT Nation