Spencer Chamberlain aka Reality_Filter: Website | IG
How old were you when you first picked up a camera?
I can't recall exactly when it happened, but I have specific memories of my grandfather being the one to first put a camera in my hands when I was little. It was some sort of family event, and essentially he instructed me to take pictures of whatever I wanted over the course of the day with his 35mm SLR and return it to him at the end, and we'd see what I got. He was a career chemical engineer, but also an obsessive documentarian and archivist who was never without a camera and spent years archiving a lifetime of what he found important to him.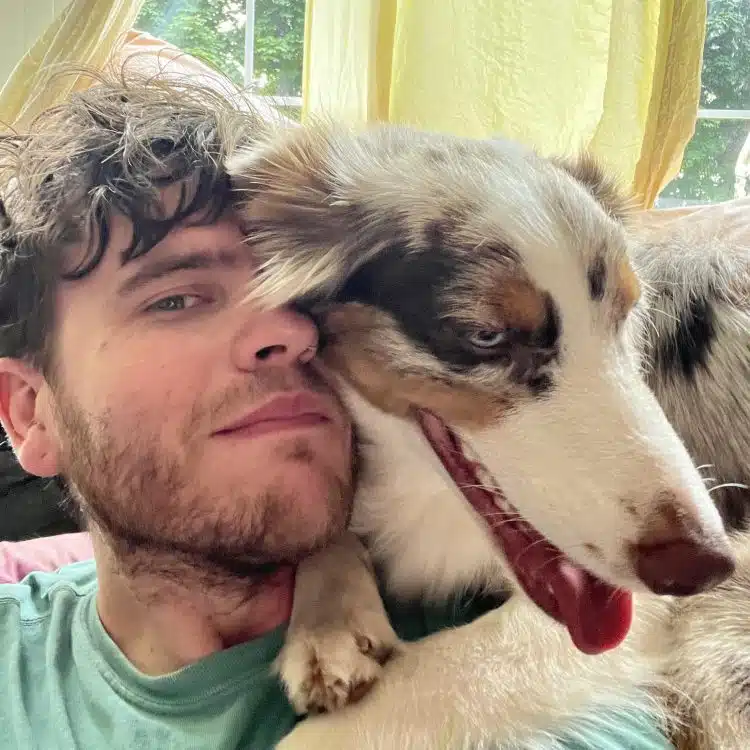 What drew you into the world of live music photography?
The straightforward answer is really just the intersection of two hobbies, which is what I'd assume most people would also say. But aside from loving photography, along with hardcore/punk and the atmosphere of being at shows, documenting music with photos was a good way of dealing with the occasional unease I'd feel going to events alone – essentially creating a task for myself. It gave me a sense of fulfillment knowing that not only was I contributing something that I, and hopefully others, would find value in, but I was helping to preserve and document moments and bands that are meaningful to me.
Do you have a favorite band that you like to shoot, and why?
I have a few that I've shot more than I can count at this point, One Step Closer and Anxious, and I'd have to say they're my personal favorites. I've done several tours with each band, and they're both great live performers and musicians. Being energetic and engaging as a performer makes photographing any band fun, but honestly, they're some of my favorite people in this world and I really just love the people in these bands so much. It brings me a lot of joy to have been able to document so much of what they've done to this point, and I think as far as music photography goes, documenting friends' bands will always be the most rewarding work for me. That being said, I should mention another band that I used to absolutely love shooting when they were active, Druse (Alex from Undeath's band prior to Undeath going nuclear mode). They're local friends from Rochester, NY, and I swear they used to play what seemed like at least a few times a month in the area, and I don't think I missed more than a handful of shows they ever played. They were one of the bands that inspired me to shoot music on a more consistent basis at that time, and they're all great people, so I owe them a debt of gratitude for that.
Is there one show you shot that's defined your style to date?
I don't think there's a specific show that I'd say is the one for me, but there are a few that stand out as being memorable because I found a particular feeling from them that worked really well for me on the day, or I just happened to feed off the environment. If I had to choose one, the first would have to be this Sunami gig from just over a year ago.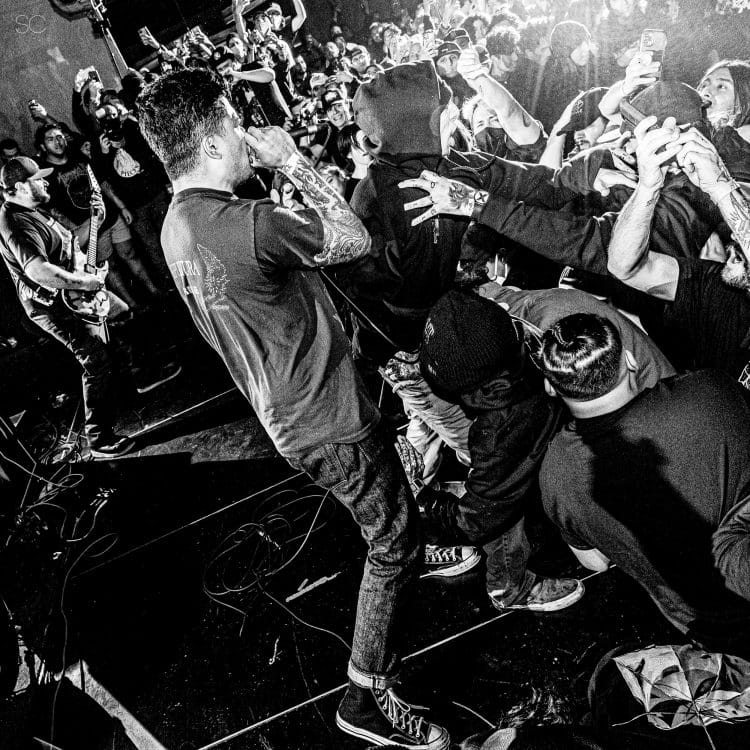 Braindead put this show on at 1720 in LA and it was pretty much wild for every band. To anyone unfamiliar it's essentially a repurposed warehouse, industrial looking space — one of those venues where it looks much larger than it is when it's empty, and I was convinced there was no way it would fill up, but obviously, it did. Every band had crazy reactions, and at the time I'd never seen Sunami. This was a few months removed from the RBS show and I know they've gotten bigger since, but at the time there was at the time a very much palpable buzz around them. Being that it was a California show, I knew their set was going to be ridiculous, but it felt like watching one of those "holy shit," type fest headlining sets. Every single person in the room was singing, everyone diving, some kid in a burlap sack head covering and no shirt swinging from the rafters ten feet above the floor – just madness everywhere. A perfect show for me to shoot the way I like simply because there was so much going on. I love shooting when I feel like I'm swept up in what's happening and focusing more on that than exclusively on the act of taking pictures. I think that's where the good stuff comes from because you can convey what it's like to be in that particular moment in time, in an honest, unsanitized way.
How do you capture the emotion and energy of the band and the audience?
The best way is just by making sure I'm present, mentally. The energy and emotion have to be there in the room, but it's easiest for me when I'm interested in what I'm doing at that moment. It's hard to fake the intensity of a crazy live show, but it's also easy to miss those moments if you're slow or just not totally paying attention. The crowd is the most crucial element to having a great atmosphere at a show, so I try to always keep that in mind when shooting, especially at smaller or DIY spots where you can have some really cool, close-quarters moments with a lot going on.
Before isolation, do you think that you took going to shows for granted?
100 percent, yes, I think mostly in the way that one just accepts something as their norm. In 2020, between January and mid-March when the pandemic struck, I think I'd shot something like 45+ shows, and had no reason to think it wouldn't continue, because until then, there'd always been a show, or a tour, or something in the works, until suddenly there wasn't. We become accustomed to our routines, the things we like to do, what we love — and assume they'll always be, simply because they are and have been. It's a hard thing to recognize, but eventually, they may not be there, even if it's not the result of a global catastrophe, so it's important to hold some appreciation and perspective about the privileges we might take for granted in this life.
Could you share three photos that mean the world to you and the story behind them?
Connor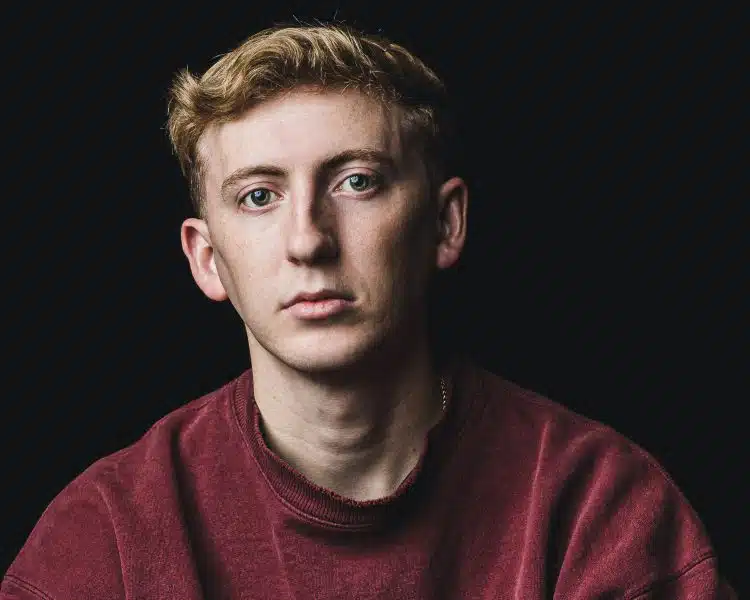 Connor is a phenomenal drummer, and plays in Magnitude, in my opinion, the definitive straight-edge band of the current generation. I started doing a photo project a few months ago focused on getting very limited timeframe celebrity-style portraits of any willing participant from tours I go on. I had him sit for this as part of that project, and this is one of my favorite images to come from it so far. A few days before I took this, I cracked my head open by stupidly injuring myself, and had to go to the ER. Connor stayed with me overnight for 12 hours, drove everyone else to the next city on the tour only when it became obvious I wouldn't be released in time to make our load in time, and then drove back several hours that night to pick me up from the hospital. That tells everything you need to know about him, and as much as I think this is a genuinely cool photo, it's the feeling from that memory I get whenever I look at this that gives it meaning to me.
Ross and Jonny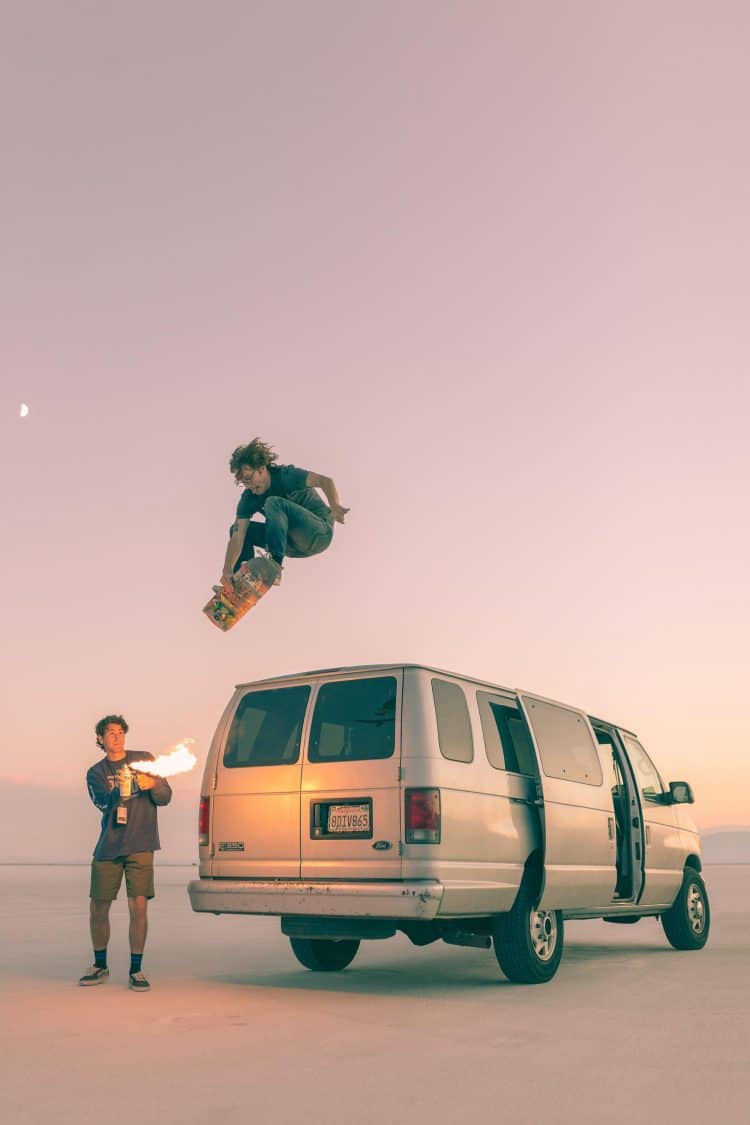 Two of my absolute favorite people in the world. Ross plays guitar in One Step Closer, and has a knack for creativity and design unlike anyone I know. One Step Closer always have cool merch with very cohesive and thoughtful direction behind it, and I think that's largely thanks to his brain. Jonny plays in Anxious, and like Connor, is another incredible drummer. He's a beautiful friend and a person you can't help but love, and has gone above and beyond to be there for me in some pretty trying times. Anyway, this picture is from the dying moments of daylight in Utah at the Salt Flats in September 2021 during a tour with Terror, Drain, One Step Closer, and Dare (their van featured here). I've never seen anything quite like the colors in the sky here, or really a scene like this in general with a seemingly infinite stretch of salt flats that appear from nothing when you arrive. It was the first extended tour for all of us since the beginning of the pandemic and was generally just pretty ridiculous all around. Jonny and Dante from Anxious both came along for the tour, along with myself in addition to OSC, and the tour started with a 30-hour drive from Chicago to Arizona that at one point included someone, Ross I believe, successfully passing a popsicle from the passenger window of our van at 75 mph into the window of a willing stranger's car. That kind of set the tone for the tour and I think this image of Ross jumping over Jonny not only reflects that, but also the elements of each of their individual personalities that I love so much. 
Sam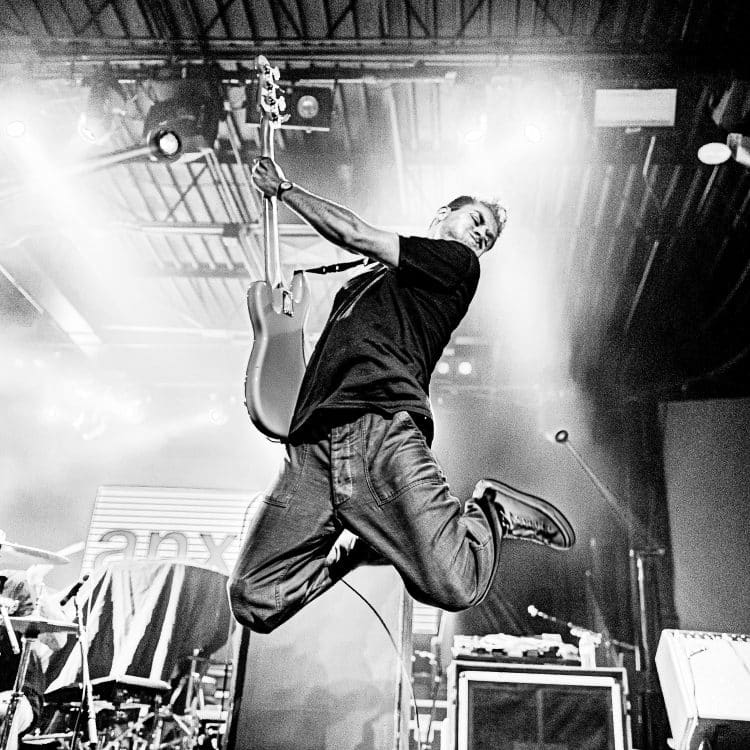 This was my personal favorite live shot of 2022, and it's of my friend Sam, who plays bass in Anxious, and sings in two of my other favorite bands, G.I. Bill, and End on End. Sam is a really thoughtful, smart, argumentative person whom I love dearly. He channels something very cool while he's playing bass and makes it uniquely him, and it makes him one of my favorite people to photograph. I can't remember exactly where I took this, somewhere in the midwest, but it's from a tour with Thrice and Bayside that I did with Anxious in June. I find large "concert" type venues to be a challenge for me personally because they remove so much of what I love about shooting hardcore shows, and sanitize the experience in a way that I find somewhat dull by comparison. That being said, seeing friends get to the point where they're playing in large venues like this makes me really happy, and also allows for really cool moments like this photo to happen.