How old were you when you first picked up a camera?
Around 15 yrs old. I used to really like camera phones, and I loved taking photos and editing them to look like they were taken on a film camera. When I first made my IG profile, it was mostly street photography and photos of friends edited to look like 35mm film photos. It was my first brush with photography.
One day I saw one of my favorite photographers (shout out to Lauren Lepore aka @35mm.mistress) had posted saying she was selling a bunch of point-and-shoot 35mm film cameras. I hit her up, and she sold me my first one for $12. I don't think I'd be shooting film nowadays if it wasn't for her.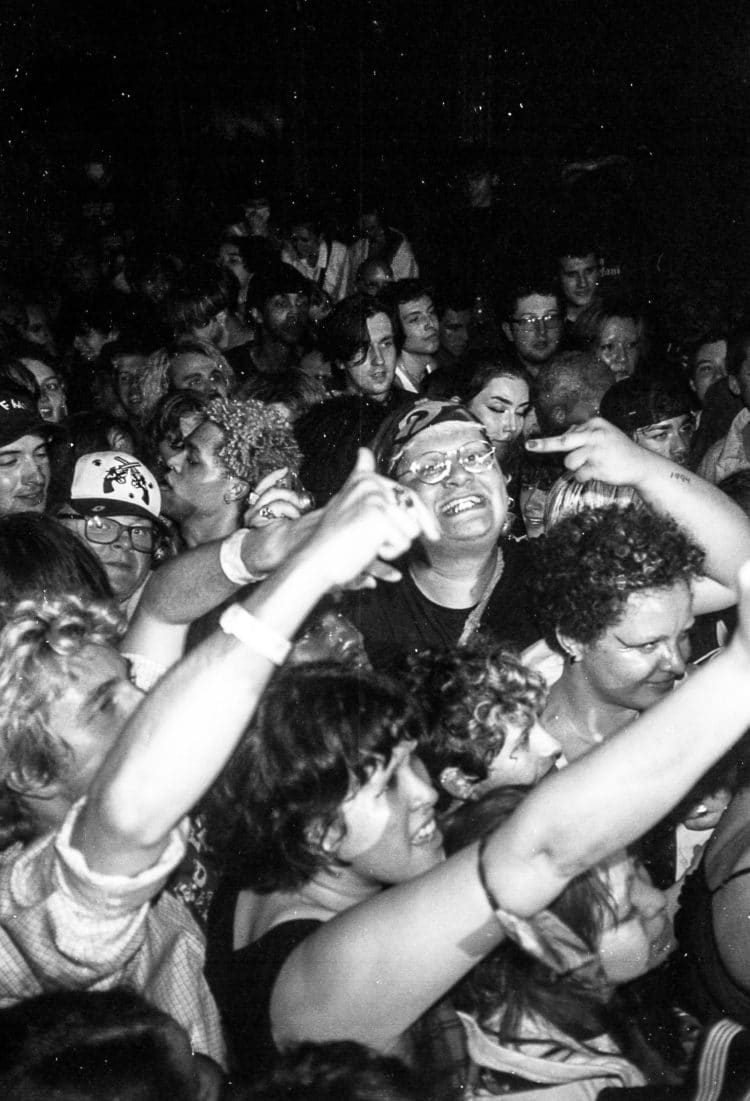 What drew you into the world of live music photography?
Going to shows has always been my favorite pastime. I don't really go to bars, clubs, or raves that much, but something about live music has always attracted me and made me happy. I remember seeing Jessica Lehrman (@jessierocks) at almost every Flatbush Zombies show I went to back in the day, in the moshpit with her big ass DSLR camera with a big smile on her face, even though she's getting tossed about everywhere. I thought she was so dope, and I'd always see the photos the next day on Instagram. I wanted to be just like her, but I grew up pretty poor and didn't have money for a cool camera like hers, so I bought that $12 point-and-shoot film cam and started bringing that to shows instead. I realized it was the perfect tool to stay inconspicuous and not worry about breaking an expensive camera. Plus it's more personal, 35mm point-and-shoots were pretty much made for you to shoot family and friends, so it gives you that "I was there" feeling instead of the highly processed and techy feel you get from DSLRs.
For about 2 years, I was somehow paying to get into shows almost every day and shooting local musicians' shows for free just so I could practice, have content to grow my page, and to help out the local scene by working for free. I would post at least once, sometimes even 3 times a day for about 2 years. I became obsessed with all the weird shit and people I'd see at shows and just wanted to take pictures of everyone I met so I could show what it's like to live in my city as a youngin nowadays.
Is there one show you shot that's defined your style to date?
Oh absolutely! I've noticed that a lot of my style has to do with bright saturated colors and portrait photos instead of landscape like most concert photographers do. 
@angertv had a fashion show a couple of years ago at Superchief Gallery. He invited me to come shoot, and I decided to go to the backroom and take photos of the models getting ready. There was one model who was stretching his arms up into the air and the only way I could capture that was by turning my camera sideways and taking a portrait photo. I liked how it came out so I kept doing that at every show I went to, and I realized that it translated well with shooting small concerts. Other than that, all the weird shows I shot at The Glove (RIP) influenced the style of photography I have nowadays.
Do you have favorite bands to shoot, and why?
Deli Girls, Lustsickpuppy, Show Me The Body, Prolaps, Surfbort. They always have crazy explosive energy and are hella expressive when they perform, which is what I look for. 
How do you capture the emotion and energy of the band and the audience?
It's a lot of patience, especially with using a point-and-shoot film camera. I can't just shoot 'n spray and hope that one photo came out good, like most digital photographers do. I have max 36 photos on a roll which makes me kinda slow down and examine the performer's expressions before pressing the shutter button. I usually wait around for a while until I see them make a certain face or like an expressive pose. I also actually get INSIDE the moshpits at shows and shoot from the perspective of the audience, just so I can give the viewer the feeling of actually being there themselves, instead of sitting on the side of the stage like I see most photographers doing.
How important is the venue for your photos? What's your favorite venue to shoot bands at?
It's not as important as you think but it does add to the photos you're taking. I personally love when shows happen in like, gritty grimy environments; I feel like the photos just come out more gross and dirty looking which I love so much. I love a venue with a great textured floor especially when the performer throws themselves on the floor. I also like venues that have cool lights because most of the time it'll add eerie-looking effects to your photos 
Favorite venues to shoot: Trans-Pecos, Bohemian Grove, Saint Vitus, The Glove (RIP) oh, and this cool new venue called Chaos Computer!
Before Isolation, do you think that you took going to shows for granted?
I don't think I've ever taken the privilege of being able to go to shows for granted per se, but it was a very big shock to me. I had a whole zine release show/gallery viewing scheduled in March of 2020 that never got to happen because of the COVID lockdown here in NYC. It had me super depressed for a while… But that also was what got me to leave NY and stay out in L.A. to document the scene out there for almost 4 months. It was like a blessing in disguise. I was ecstatic once shows started popping up again in NYC, went to so many during that first wave of loosening restrictions.
Did you find another creative outlet during isolation?
Oh absolutely, I fell back in love with playing guitar. I've played since I was like 14 yrs old, but ever since picking up a camera I had brushed it off to the side for a while. Isolation and boredom brought it back out and I started playing again, I've been considering starting to make music soon, too…
Could you share three photos that mean the world to you and the story behind them?
besomethingsoft
This was probably one of my favorite photos I've ever taken. It was during a performance at The Glove, the artist @besomethingsoft walked into the crowd and slowly handed everyone paintbrushes, and without uttering a word everyone just started painting their body. They laid down on the dirty grimey floor and started rolling around. I thought it was so fucking cool, and I remember staring at this damn photo for so long when I got my film developed the next day. This photo influenced me into looking for as much gross, sweaty, dingy, musty (haha, punny) shows I could find to shoot.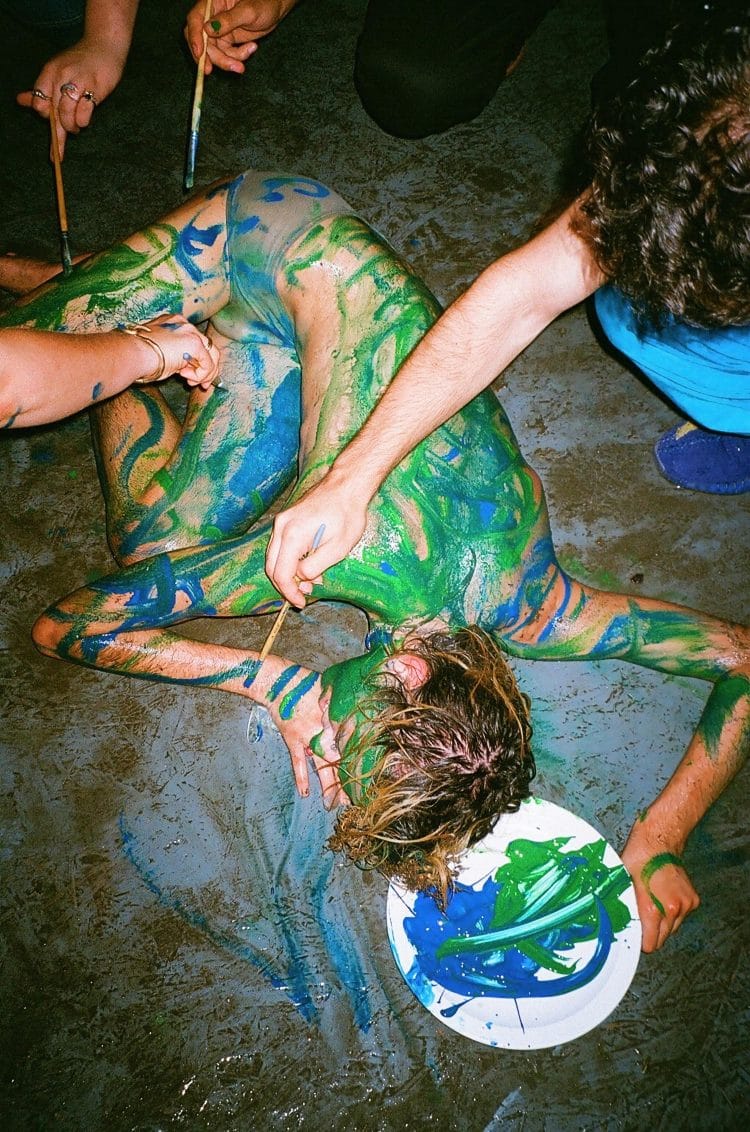 Zillakami
This is another photo that means alot to me. It's one of the only times a musician has used a photo I've taken for cover art on a song of theirs. It's a photo I took of Zillakami, it was taken at an abandoned mental asylum out in Long Island that me and him broke into. I had alot of fun shooting it and he told me a bunch of cool stories about all the times he's been there and shit that's happened in the building and surrounding area (he's a LI local)
He ended up using the photo for the cover art on his song called "Not Worth It"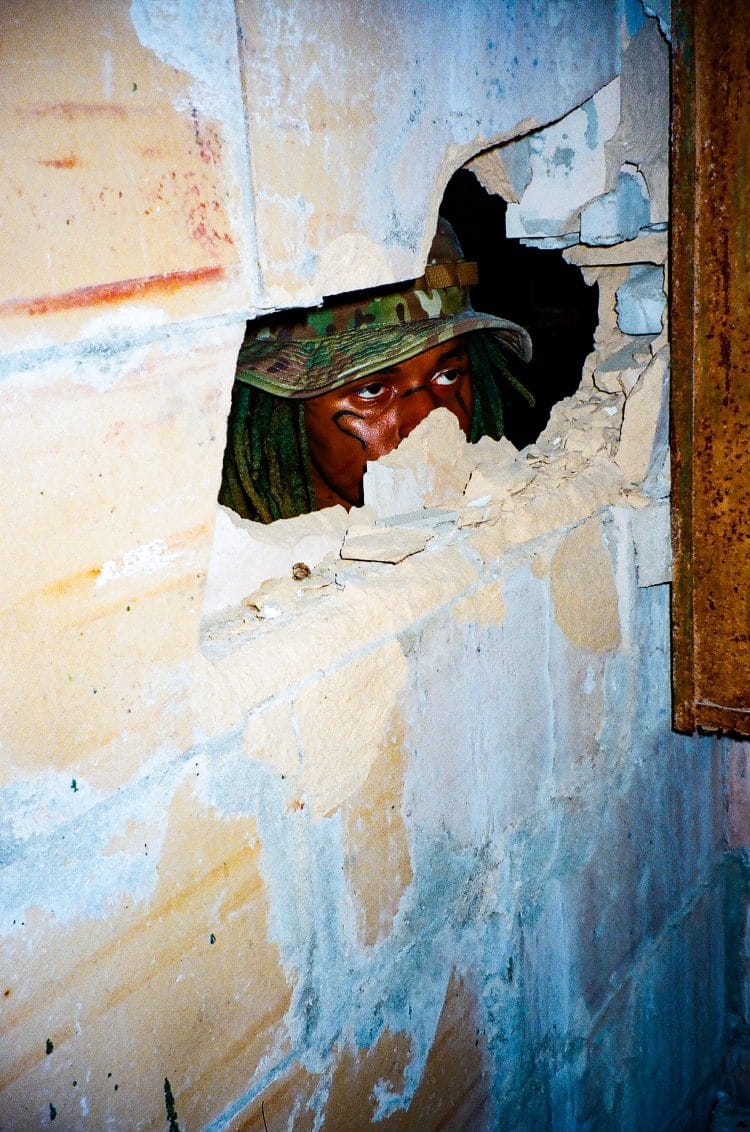 Melissa
This one is one of my favorites I've ever taken. It was of this band called Melissa, of which the singer is also a super talented photographer (@jane____pain) I wasn't planning on going to this show that day, I had been going through a bout of depression and had been kinda becoming a shut in again and staying home alot and becoming disillusioned with being a photographer anymore. I was rlly broke that week because I live off of my website (where I sell prints and zines and other stuff) and hadn't been having a very good week, so I didn't really have money for film or a ticket, and I hadn't asked anyone to list me for the show that night. A friend of mine was kind enough to gift me a roll of film and I snuck into the show. I took a few shots of Melissa performing, and ended up capturing this moment here. It ended up being my most liked post EVER on Instagram.