How old were you when you first picked up a camera?
I was around ten years old when my parents gifted me my first 'Nikon Coolpix' which is this little teal blue point-and-shoot camera I still whip out to this day. My favourite thing to do was take photos of any cool-looking plant that caught my eye. When I was seventeen, I got the DLSR I use at gigs today for a high school photography class. In all honesty, I enrolled in the class to fulfill an obligatory arts requirement. I did not take the class seriously (my sincerest apologies to Ms. C) and I put my photography on hold to pursue post-secondary goals. Years after high school I started to prioritize my mental wellbeing and got involved with art therapy. It wasn't until 2022 that I picked my camera up again and haven't been able to put it down.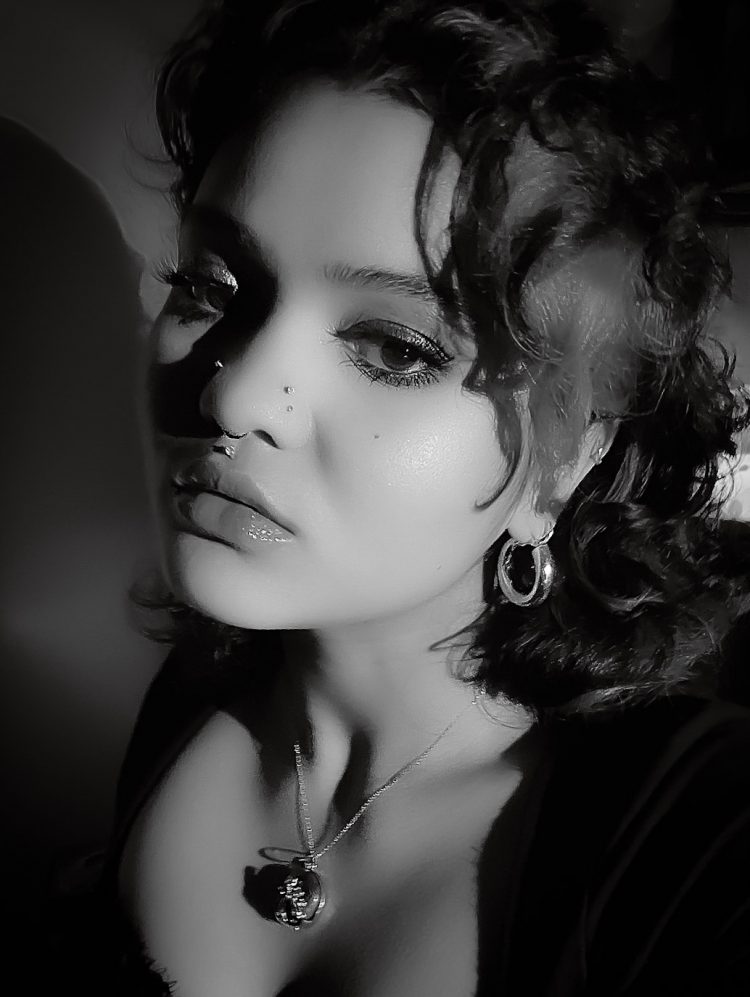 What drew you into the world of live music photography?
In July of 2022, I flew out to Toronto, Ontario to visit friends and on a whim, took my camera to New Friends Festival. Previously, I had only shot a handful of gigs but thought it would simply be a fun activity for my summer trip. What I didn't expect, was the overwhelming sense of comradery I experienced within the hardcore music scene that drew me to want to find and support my local scene in the Pacific Northwest.
When I flew back to Vancouver, the first gig I shot was one of my favourite bands Angel Du$t. Between the high-energy music, dodging stage divers, and the adrenaline rush I was hooked. At this point, I was exclusively posting my work to Tumblr. Shoutout to Vancouver Hardcore local Laura, who found my old blog and not only encouraged me to start sharing my work on Instagram but helped me find the underground venues I adore now. If it wasn't for the support of the entire Vancouver Hardcore scene I truly do not know where my camera and I would be today.
Do you have a favorite band that you like to shoot, and why?
My favourite band to shoot is Insecure, a hardcore band from Tacoma, Washington. When I was starting out with hardcore gig photography, I was running into issues with convincing venue security to let me in with all my equipment. It got to the point where I was contemplating if gig photography was worth the stress. Insecure, helped me tremendously when they put their trust in me and allowed me to shoot one of their Seattle gigs. Getting to see Insecure play live is an experience. The band never fails to wake up a lethargic crowd and always gives me that same comradery feeling I got shooting in Toronto. Whenever I see Insecure's name on a bill I know it is going to be a killer show.
Is there one show you shot that's defined your style to date?
Ever since I started art therapy, I've noticed how my mood affects my shots and edits. As a neurodivergent person, it's important for me to honor the way I'm feeling and how that presents itself in my body, meaning my style of shooting is dependent on accommodations I make for myself at each gig. Sometimes I am too overstimulated to shoot from the mosh pit and so I will find a "quiet" spot in the back to shoot from influencing the style of the picture. So, no there is not a singular show I've shot that has defined my style to date. Defining my "style" has always been a difficult question to answer for me. I like to work with an adaptive mindset that embraces knowledge gaps and learning new techniques to apply to my work during shooting and editing.
How do you capture the emotion and energy of the band and the audience?
My favourite way to capture the emotion and energy of the gig is obviously shooting from the pit when I can. Sometimes I'll throw on a fisheye lens leaning towards a "POV" aesthetic. I find learning about what the bands and artists I shoot stand for helps me more accurately capture them embodying those emotions in their performances and work. Over time you learn to predict movements and learn the "crowd-favourite" sections of songs which helps. Although, high-energy crowds and bands, like those from the Vancouver Hardcore scene, make my job of capturing their infectious emotion and energy feel effortless.
Before Isolation, do you think that you took going to shows for granted?
Before Isolation, I may not have been actively shooting gigs, but I love attending live music events just as much now as I did then. Pre-Isolation, my best friends and I would road-trip to every gig we possibly could. Thank you to my mom, Tania, who always drove us (and put up with our playlists) before I had my license. I believe that Isolation helped highlight what was most important about the live music scene to me, the community aspect.
Could you share three photos that mean the world to you and the story behind them?
JESUS PIECE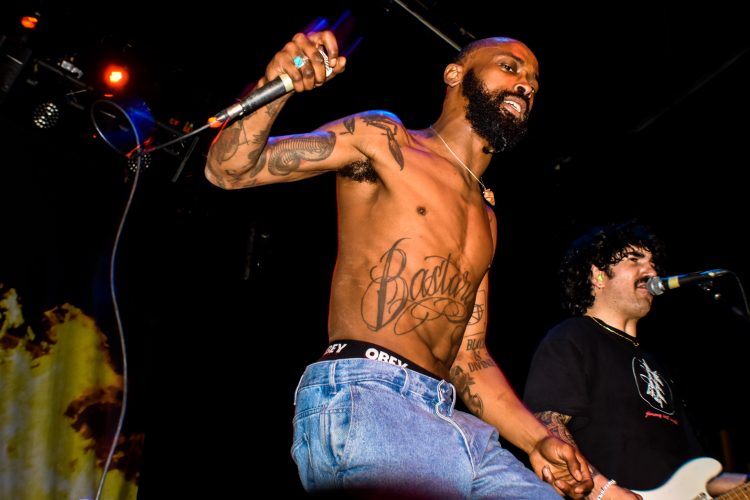 Jesus Piece @ Rickshaw Theatre | March 2023
This show sent me to the hospital (I was shooting from the pit) but reminded me that the relationship I have with the community I care so deeply for is reciprocal.
Denial of Life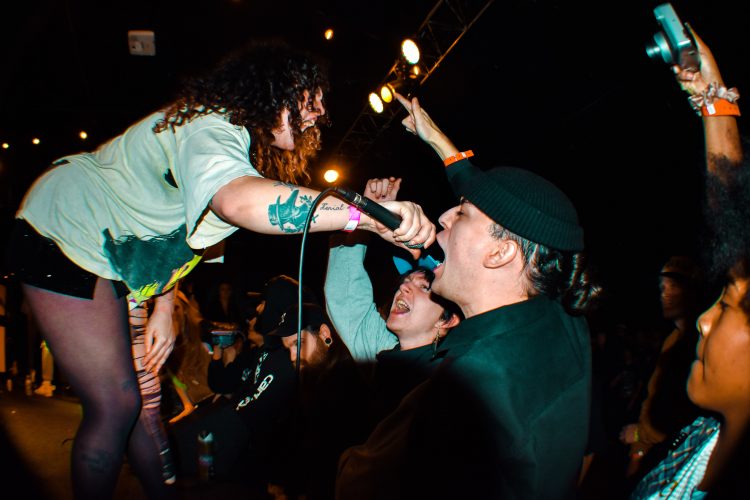 Denial of Life @ Just Another Gig | February 2023
Here I met other photographers who shared their perspectives on new photographers entering the hardcore music scene. @blacclightning from Instagram (pictured holding a camera on the right) mentioned that even if we are all shooting the same event everyone has their unique perspective that will come through. That conversation helped squash a lot of my insecurities as an artist.
Seattle's Hardcore Scene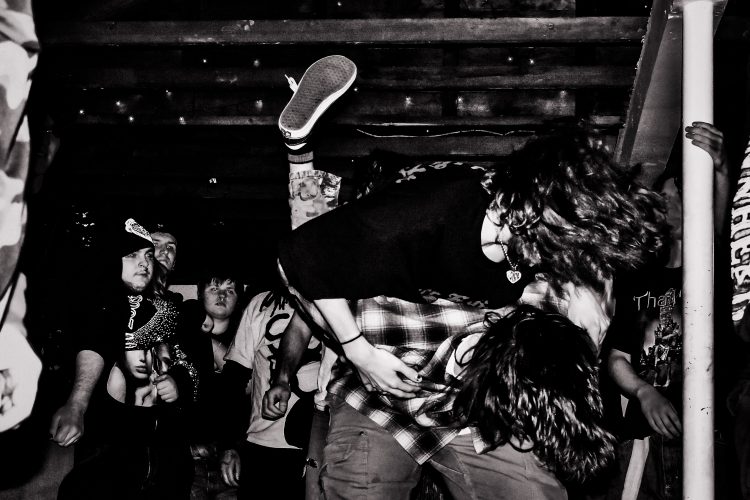 This is one of my personal favourite shots and it is also one of my good friend Hope's favourites too. Hope is a friend I am grateful for as she continues to support my work and has helped me continue to show up to shoot gigs while attending university.