How old were you when you first picked up a camera?
I am not sure. My mother was an amateur photographer, so there was always a camera around when I was a child in the 80s. She encouraged my sisters and me to play around with it, so when I first took a photo class in high school, f-stops, and shutter speeds already kind of made sense to me.
What drew you into the world of live music photography?
I was a hardcore kid without any musical ability, and when I was starting to go to shows in the early 90s, there was a real sense that, unless people participated, hardcore could cease to exist like disco had. I already had an interest in photography, so it seemed like a way I could do my part.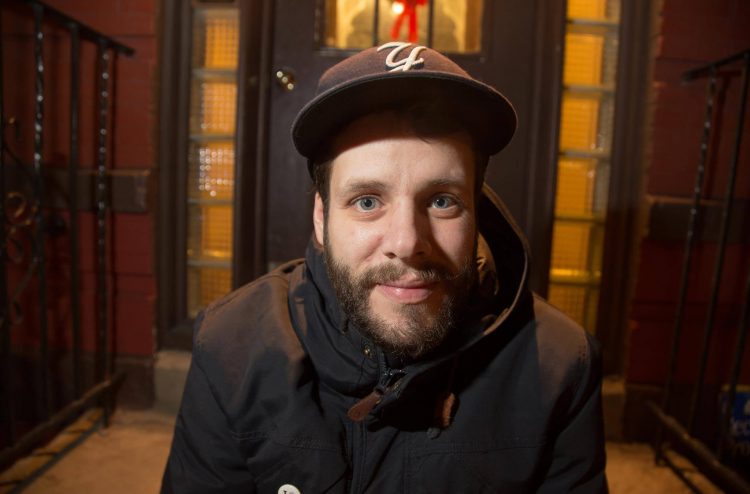 Is there one show you shot that's defined your style to date?
Huh, I am not sure there was one show, but how I make pictures has certainly changed over the years. It was such a gradual thing that nothing jumps out to me as the one point where I was consciously trying to change what I was doing.
Certainly, other photographers have defined my style. Getting Intermission Fanzine by Justine DeMetrick did clarify my desire to be a hardcore photographer. As a photographer, Justine tended to focus more on the interaction of the band and the crowd while creating a clear background, so you got a sense of the venue. As a viewer, it made me feel like I was there.
Dave Mandel's photos in Indecision Fanzine (before it became a label) were which was a big thing in the '90s, hardcore-photo wise. I thought it was gimmicky, so I did my best to avoid that.
Robbie Redcheeks in Philly would aggressively shoot from the crowd no matter how rowdy, creating some beautiful pictures with an overwhelming amount of chaos. I had phases when I tried that, but I always found I wasn't cut out to take that amount of punishment. Still, I do try to get as close as I can to things in a safe manner.
Angela Owens uses a tight lens from a little behind the front of the stage, the opposite of everything I've done. But she gets so much action into that tight frame and will work in a stray mic stand or an extra guitar as a formal device to make things more interesting. Now when I find myself with a weird angle on stage or with an obstructed view, I ask myself, what would Angela Owens do? 

Do you have favorite bands or people to shoot, and why?
I am just generally just hoping people will move around, the crowd will be rowdy and maybe there will be some colorful stage lights. But Blind Justice and Krust tend to be a good show. I probably have more favorite places than bands, for instance, Jason and Avery from Never Again have created a great vibe in Copa de Oro, and so has Core Clientele at Gold Sound. Both put on high-energy shows that are a little violent but generally good-natured.

How do you capture the emotion and energy of the band and the audience?
Well, I think most of it is just getting a good spot on stage, as forward as possible, and dragging your flash a little to fill in the shadows. I guess it helps to know what songs people generally go off for and who the better stage divers are. And with that, you can kind of see stuff about to happen. But again, a good angle on stage and a shutter-stop under 1/60 with a flash is most of it.

How important is the venue for your photos? What's your favorite venue to shoot bands at?
Good question. I think the venue is a big part of how good your pictures come out. I shoot in color, so I am a fan of a venue with a light show. Saint Vitus with its lights and smoke machine is lots of fun for me to shoot. Having a stage that isn't too long, high, or shallow helps a lot. I think the stage size at Gold Sounds is perfect, but at the end of the day, if it is a difficult setup, it's just another thing to have to figure out and keep you on your toes. I've gotta say that being on the floor in the chaos of a poorly lit VFW hall on the floor is a lot of fun.

Before Isolation, do you think that you took going to shows for granted?
No, I am old enough that I had my years where I was in grad school or life just got in the way and I wasn't going to shows as much. The two or three years going into the pandemic, I was already back in, full on going to more shows than I was in my teens. So, I was pretty psyched on going to shows. 
During the pandemic, I spent a lot of time listening to records, a lot more than I usually do, because I was around the house so much. I spent a lot of time organizing all my hoarding of flyers, scanning, and organizing my old negatives. Everyone seemed to have a fanzine all of the sudden or were releasing stuff from the 90s. And there was a lot of demand for pictures, so weirdly I felt pretty connected to hardcore during lockdown despite not going to shows.

Did you find another creative outlet during isolation?
I worked on a book project of pictures from shows and indie wrestling, so a lot of printing workprints at home, editing, and sequencing. When full-on lockdown was lifted but before shows were happening, I was back to making pictures of folks on the street in downtown Brooklyn, a project I've been doing for a while now, so the lockdown was productive. But I don't have children, I was able to work from home and into hanging out with my wife, so it was all good on my end.

Could you share three photos that mean the world to you and the story behind them?
It's weird to think of a picture meaning the world to me, it's usually the music or the people I know at the show that mean more than the pictures. The question did make me start to worry that maybe I am not quite capturing what I should be in my pictures.
Fiddlehead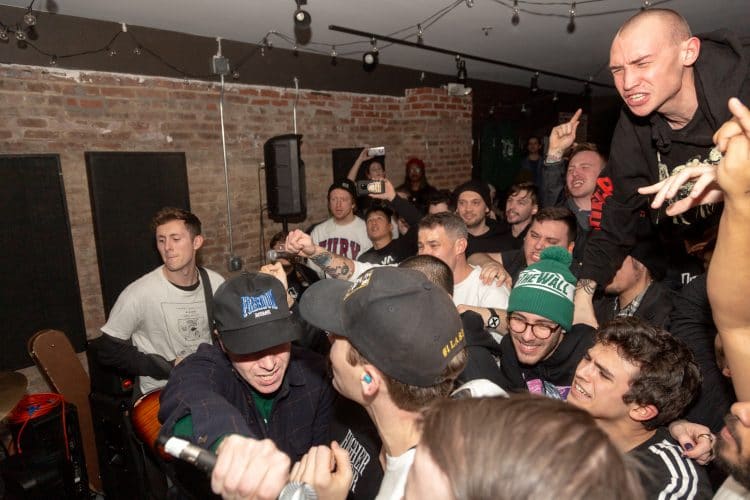 But with that said, Fiddlehead has meant a lot to me musically, especially that last record that came out, after the first break in Covid pre-omicron. Things were looking up, Trump was out of office, and my wife had gone through some very serious medical stuff so that record hit me real hard. It is also something my wife likes a lot, so their record means the world to me, and here is a picture of them.
Dave Murphy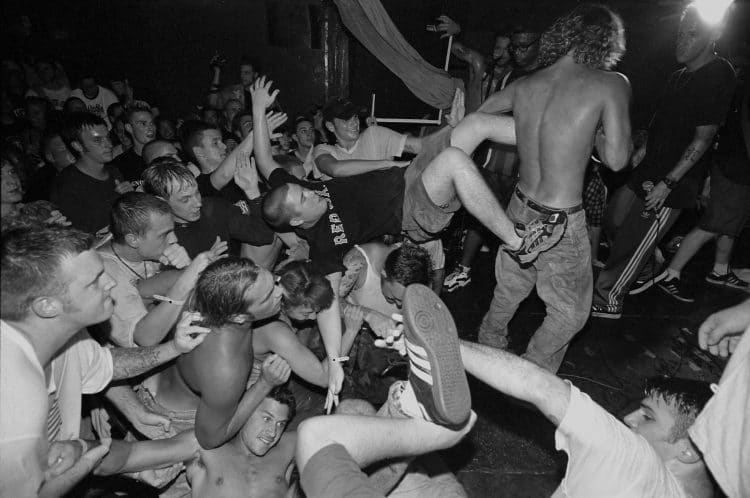 This is a picture of Dave Murphy on top of the crowd. He was the first older kid to turn me on to hardcore bands when we were in high school. We have been friends through hardcore for almost 30 years now, so Dave certainly means the world to me. I hope my feelings about these things are in the pictures somewhere, but whatever emotional residue might have made it into the picture isn't nearly as much as I feel in my heart.
Brooklyn Bazaar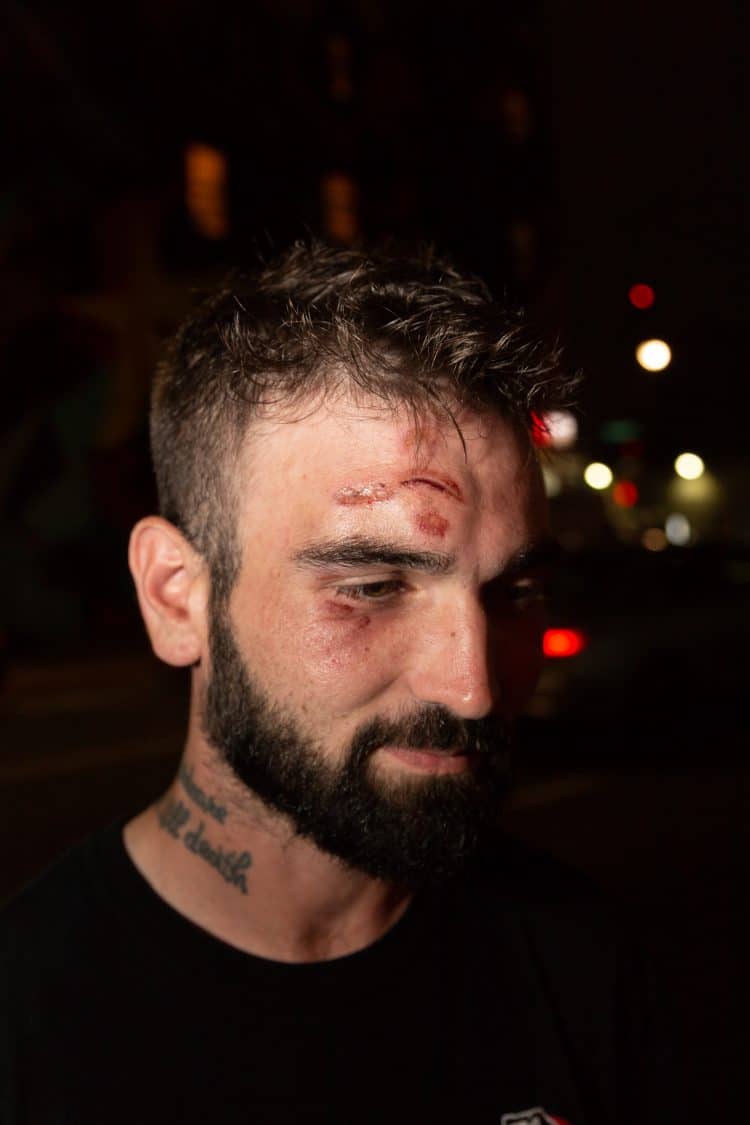 Of late I've been trying to make portraits. I find it tough to ask people if I can take their picture. I still feel a little like an outsider, and that I'm imposing on folks, but really, it's just my own social awkwardness. So, I'm always excited when I build up the nerve and even more excited when something good comes of it. This is a picture of a person with a head injury outside of Brooklyn Bazaar.
Luis Aponte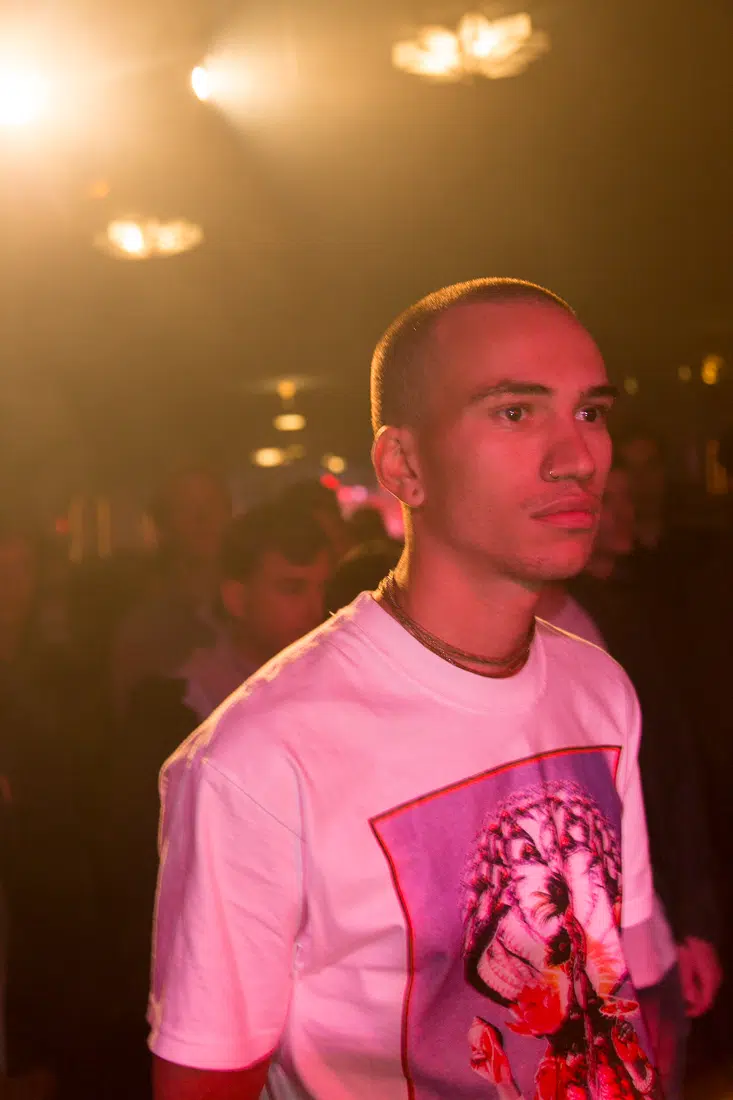 Dead City East River