Maggot Stomp has managed to establish a reputation as a taste-maker in modern American death metal. In no time at all, Scott Magrath, the man behind the curtain at Maggot Stomp, built a label so well-curated that it has arguably done more than any other label to define the sound of this generation of metal maniacs. Until recently, excellent bands like Tomb Mold, Gatecreeper, and Outer Heaven were put into the sometimes reductive "old school death metal" box, whereas bands on Maggot Stomp's impeccable roster are ushering in a style of death metal that, in ten years or fewer, may very well be described as the "Maggot Stomp sound."
One of the newest bands on the label will certainly have a powerful hand in defining and refining that sound. Sacramento's Abysmalist, a band who pays due homage to its stylistic predecessors while also carving its own niche in the genre, masterfully blends black metal, death metal, doom, and even ribbons of symphonic metal to create a sound too robust and innovative for most large groups, let alone trios. The musicians in Abysmalist are old hands, having spent years writing and performing in various genres and especially honing their craft with the spectrum of styles between hardcore and metal. Their experience shows, as the horror-infused songs on Vile Possession, their debut LP, are tight, dynamic, and fearless.
Opening track, "Possession," opens with John Carpenter-style 80's horror synth before erupting into a magmatic death 'n' roll reminiscent of peak Entombed, Gorefest, and Pungent Stench, punctuated by heavy-and-slow death-doom interludes. Throughout, the suffocating, netherworld vocals of Fred Avila recall early Mortician, mixed in a way that has them echoing through a mausoleum in the listener's mind. By weaving circle-pitting thrash and occasional melodic clean tones into the overall death and doom, this track alone celebrates so many styles that it has Abysmalist covering more creative ground by the end of track one than most bands dare to do over the course of an album, which is especially evident in the brave choice to end "Possession" in an echoey, glistening, major-key solo guitar arpeggiation.
"The Redeemer" is a riff-driven, galloping death track that gets in one's ear the way that classic USDM like tracks on Tomb of the Mutilated do. The alternating pacing on this track is brilliant, made for moshpits that swarm like bees before stampeding like pachyderms. Never sacrificing heaviness for speed or speed for heaviness, these three musicians manage to keep an enviable balance of all that makes metal songs powerful while experimenting with structure and venturing outside of the implied boundaries of certain styles. What Abysmalist manages to do well where other bands fall short is to make catchy death metal that never feels unserious. "The Redeemer" is an instant favorite and would also be an excellent entry point for someone who is interested in learning to love death metal.
"Euthanasian Benediction" is, for the most part, the type of mid-tempo boot-stomper that has made "caveman riffs" generally and Maggot Stomp bands specifically such a beloved style these last few years, but this band is too good to get lost in a roster, even one as prestigious as that of Maggot Stomp's bands. This track, full of dive-bombs and squeals, highlights the consummate musicianship of this trio of artists. With only three members, there is nowhere to hide, and this works in Abysmalist's favor, as the listener is easily able to discern each instruments part of the brilliant whole. Jeremy Meier, on drums, serving as the skeleton upon which all else is built and on which everything relies, is fast, adaptable, fluid, natural, and understated. Often the best musicians, especially with drummers, are the one's whose skill is only noticed by drummers, so entwined is their playing with the overall sound of the songs. With such dynamic changes that rely so heavily on tempo, drum and cymbal choice, and rhythmic sensibility, Meier is a vital piece to this fantastic, stripped down unit of heavy metal mastery.
"Therapeutic Exhumation" is a particularly good track to spotlight bassist Bailey Lupo's contributions. With rapidfire tremolo-picking a la To Mega Therion and Deicide, Lupo effortlessly doubles Avila's speeding guitars to build a special fullness with provocative atmosphere that evokes hellish and magisterial imagery. Where Lupo especially shines, though, is when the bass diverges from the primary guitar line, adding harmonic depth and counterpoint to the main melodic line. This song also features perhaps the most hardcore-friendly breakdown in the album, one that should make fans of Dying Fetus-style slam and Kruelty-style beatdown eager to engage with this newer band.
"Deeper Wounds" is an innovative, boundary-busting that uses thoughtful voicings and open chords to set a mood of dark reflection, invoking the harmonies of self-titled era Alice in Chains before breaking into the hurtling cavalry sounds of classic death like one used to hear on Morta Skuld's Dying Remains and Death's Scream Bloody Gore. The combination of thematic darkness and pummeling blasts on this track create a sonic depth and complexity that is hard to come by despite death metal's current prominence in the music world. The band's willingness to explore melodic and harmonic lines without losing grasp of their very true-to-the-ancestors brand of death is admirable, and with any luck, it will influence more death metal bands to explore more musical territory.
The closing track, "The Change," is not only a potent testament to their exploratory spirit, but it is also perhaps the most innovative track on the album. Throwing caution to the wind, the band composed a track that evades categorization, drawing on the folk-symphonic metal of Opeth's Blackwater Park, the art-death of diSEMBOWELMENT's Transcendence Into The Peripheral, and the post-metal soundwall of Isis' Oceanic. With otherworldly, tortured vocals and found sounds that invite comparison to the maddening, discomforting sounds of The Residents and Godspeed You! Black Emperor, respectively, and with an apocalyptic, marching doom tempo, this track is a fitting end to an album of violence and chaos, as this song winds it all down with a tenor of desolation, of waste, of ruin.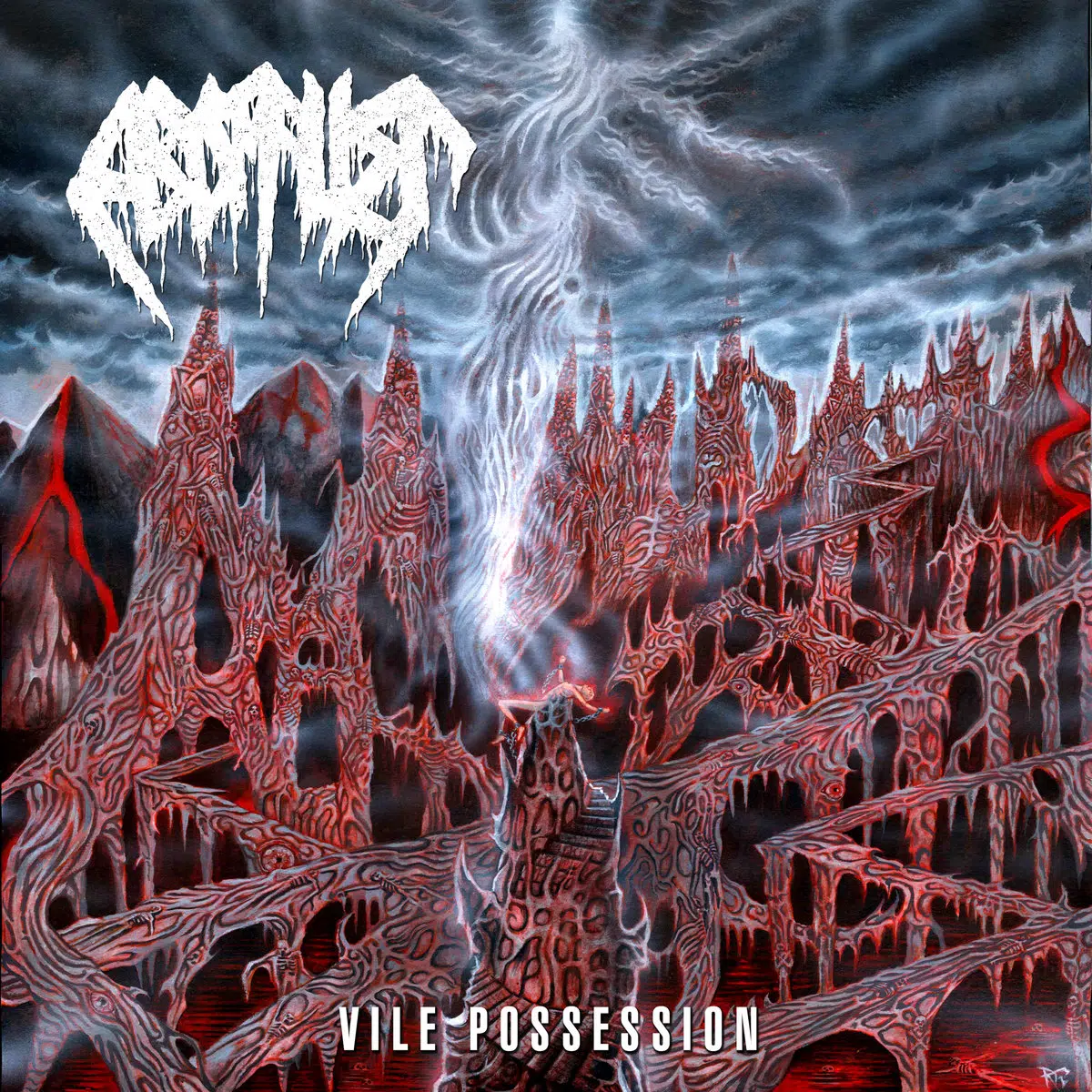 While this album should be considered one of the greatest death metal releases of the year, it is much more than that. It expands on the genre; it moves it forward. In the spirit of the innovators who paved the way for death metal to be the industry giant that it is today, Abysmalist is pushing the stylistic envelope in a way that the musical world may not fully appreciate for years to come.
Abysmalist guitarist/vocalist Fred Avila shared some thoughts with Cvlt Nation about Vile Possession.
First, can you introduce the members of the band and any other projects they're a part of?
My name is Fred Avila (guitar/vocals). Currently I play in Unurnment, Defective Chain, and Profile. Bailey Lupo (bass) plays in Scowl, Try The Pie, The Can't Hardlys, and Mangled Form. Jeremy Meier (drums) plays in Veruta, M.O.A.B., and a new as yet unnamed death metal band. Those are the important ones at least. There's always some new shit in the works.
This is the band's first release since 2019's Reflections of Horror. How have the last few years influenced the band and the music you're making?
I don't know how much the pandemic has influenced us as a band but it definitely has inspired each of us to try new things. We each have at least 1 band that started during the pandemic. For me, the most exciting part of playing in bands is always recording and putting music out for the first time. Now I've got a bunch of projects that were started over the last 2 years that are just now starting to see the light of day. For Abysmalist, it's been a bumpy ride. A lot of false starts and speed bumps since playing our first show in Feb. 2020. We spent the winter of 2019/2020 getting ready to play live and then the pandemic just shut everything down immediately after we got started. Jeremy moved to Seattle in mid 2021, which slowed things down a little more, then we had to cancel our record release weekend this past April due to a covid infection. Now I'm about to become a dad, so that takes us out of commission for a little while longer. We do hope to get back out there after the summer and play live again in spite of the hex that's been placed on us.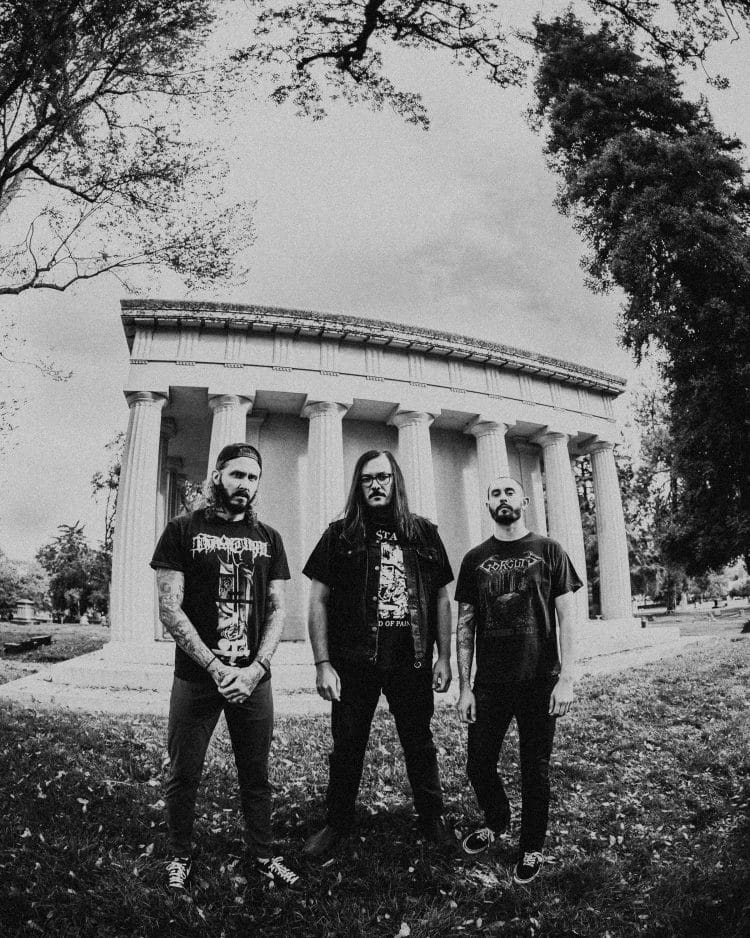 Can you describe the writing process for Vile Possession? Also, what were some of the major musical influences? What about lyrical influences?
The record was written by Jeremy and I at our practice space (The Bludgeon Dungeon) in Sacramento. We had just put our demo out through Caligari Records and weren't really sure if we should start work on an Abysmalist record or a Primal Rite record. Primal Rite being the band that Jeremy and I played in in the years leading up to Abysmalist. Primal Rite seemed to be winding down at the time so we opted to work on the Abyz record. We just did what "normal" bands do. Meet up once a week, talk shit, and jam out until the songs start coming together.
Musically, we're all very into old Finnish and British death metal bands like Adramelech, Bolt Thrower, early Peaceville Records stuff, modern bands like Krypts and Vastum, along the dum dum style of Obituary and Autopsy. Lyrically, I try and take influence from things I've read. I'm really into horror short fiction that reflects the darker side of humanity. Stuff by Thomas Ligotti, Clive Barker, and the like.
Maggot Stomp has become, arguably, the most exciting new label in death metal. How did you connect with them, and what has it been like working with them?
Working with Scott has been great. My solo death metal project, Unurnment, has worked with Maggot Stomp or a few years now and Scott's become a good friend. I really appreciate how hands on he is with everything. It really feels like we made this record together. I teased Scott for over a year about how I was eventually going to ask him to put out an Abysmalist record. I sent him the final mix once it was was complete and he was into it. Easy peasy.
The Bay Area has mostly received publicity these last couple years because of its hardcore scene. Can you describe the death metal scene there, and who are some bands more people should listen to?
Well right now the members of Abysmalist are spread out between Sacramento, San Jose, and Seattle, so while I wouldn't call us a bay area band, we did at one time all live in the bay area and we all have a long history of involvement in bay area hardcore, punk, and metal. There's tons of great death metal coming out of the Bay Area and Sacramento regions. Some of our current favorites from Northern California are… Mortuous, Evulse, Vastum, Necrot, Snuffed On Sight, Socioclast, Spinebreaker, Abhorrency, Mutate, Sepsis, and Cartilage.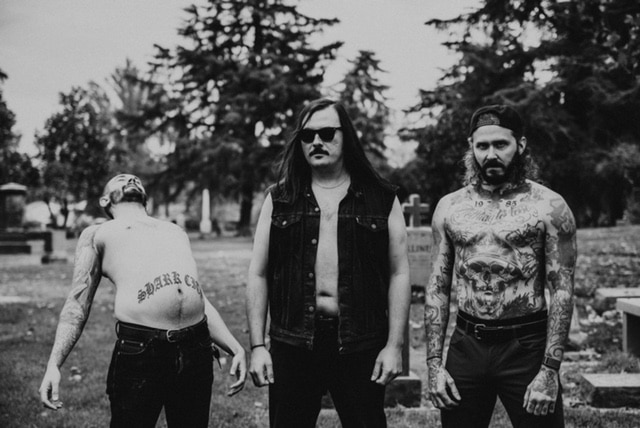 Death metal has been experiencing a real Renaissance lately. Why do you think it has suddenly been gaining such a wider audience?
I don't know. It probably has something to do with the more recent crossover between death metal and hardcore. Hardcore has always been a little more focused on having fun, and people like to have fun. I just watched the footage of 200 Stab Wounds playing at LDB Fest in Louisville, KY and it looked bad ass. All those people going off, stagediving for a sick ass death metal band in a way that you typically don't see at straight metal shows. I dig it.
What do you love about heavy music right now? What should change?
I love to see young people getting into really obscure stuff that would have taken years of digging to discover before the internet. Nowadays everything is just out there and relatively easy for kids to find. Do you know how long teenage me had to pretend like I knew how sick Excruciating Terror was before I even actually heard them? Now that shit's on Spotify. It's fucking wild.
What should change? I don't know. I'm not going to be that 'old man yells at cloud' guy who tells kids what is and isn't death metal. Freak what you feel. Play music with your friends. Have fun. I do have one question though. What's with the headless guitars?
What should people know about Abysmalist? About Vile Possession?
I know Abysmalist is viewed as a relatively new band but the 3 of us have been friends for a long ass time and and we've been playing in bands, touring, and putting out records for literal decades. We're old as fuck.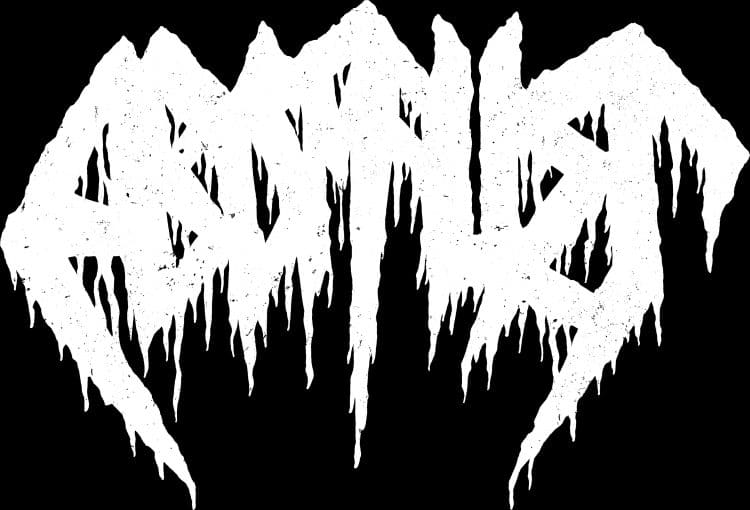 Vile Possession was recorded and mixed by Fred Avila at The Bludgeon Dungeon.
It was mastered by Brad Boatright at Audiosiege.
Cover Art is by Raul González.
It was released through Maggot Stomp.