"This means war." I've always found that line to be classy as hell and a great catchphrase, though I never had the occasion to use it properly until now. Let me take you back to a few days prior: I'm sitting in a chair, trying to wrap my mind around some book I'm reading when I suddenly hear a sound. This sound is telling me that I should check my emails to endure yet another round of spam junk forcing me to buy shit I don't need (oh boy, was I wrong). While my eyes were rapidly dilating due to the sudden light of my computer screen, a creepy grin showed up on my face as I witnessed four words: "Kaotoxin Records" and "promo material."
Damn, did that felt good, I hadn't seen one of those in months, and it really got me going. Then I saw what said material was about. The Negation. Now we can connect to the start of this – incredibly compelling – story with the words that I thought at that specific moment: This. Means. Fucking. War.
I'm not going to talk much about Kaotoxin Records, because it's probably going to feature in a label spotlight, but just keep their name in mind and go check them out, as they have many bands in their roster as great as The Negation from Paris.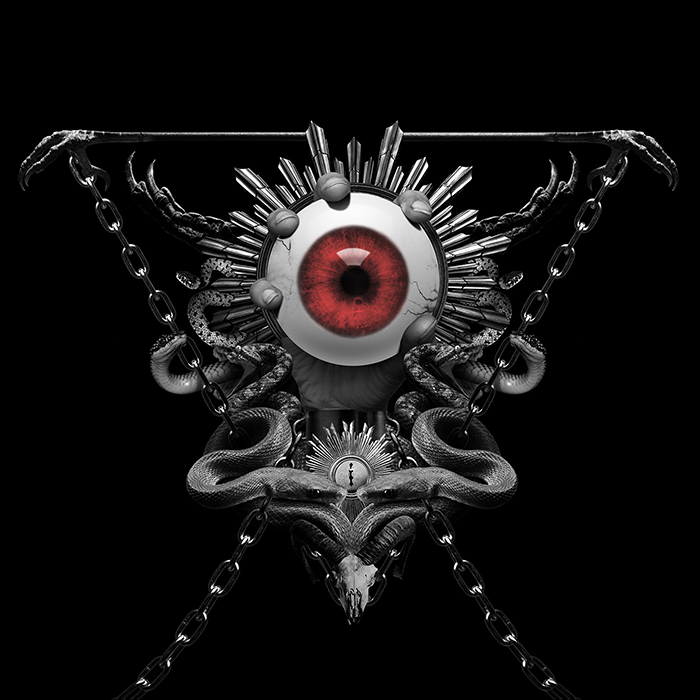 A couple of months ago, a friend made me listen to their first album Paths of Obedience and I loved it. A little rough and abrupt, but irreverent and brutally pleasurable (it's basically war in your ears). I was eager to see what they had coming next. The answer? An awesome album.
Memento Mori is a well-put-together concept revolving around revolution, the worst side of humanity, the return to our state of nature and the hopeless times that made us turn to death instead of life. The booklet is also filled with quotes (from Charles de Gaulle, Chateaubriand and Shakespeare) and images of genocide, war, riots and other bloody events. Looking at them while listening to Memento Mori really helped to soak in the atmosphere.
I personally got deep into "Résistance," a track that sampled a WWII speech by Charles de Gaulle and written in French. This very interesting subject benefits from the best-written lyrics of the album. What I liked about each song was that you could read the text without the music, they just made sense on their own, and I think some of them could even be recited as spoken-word poetry. But I digress.
Overall, the lyrics are pretty negative, like there are no dreams of hope and all that's left on earth is chaos. I guess that's what nihilistic black metal is all about, because there are several ways to look at nihilism, especially with bands. While nihilism is not specifically something bad or inherently depressing, to me, theirs refers to the fact that the only thing we can believe in right now is death, or extinction (as it is often referenced throughout the album), and to believe in death is to believe in the nothingness. Assuming that all sort of existence stops at the moment of death, to believe that the only logical solution we have left is to aim for the absence of life, could be considered nihilistic. I would personally say that the album is more pessimistic than nihilistic, but I'll allow it.
It is basically a wake up call for "mediocre" human beings that let themselves be used by society's evil spawn, that's why you get criticism about war, violence, religions, false idols and some other stuff that I don't really agree with, but I still strongly recommend that you read all of the text accompanying the album to get the full experience. One thing that I liked was the fact that the writer (or the character talking) doesn't reject the possibility of hope, he was just forced to abandon it: "If you are still alive answer me, or I will embrace nihility" ("Faith in God's Corps") .
I don't know if I really need to say this, but the album atmosphere and music is pretty dark. Just by looking at the tracklist, you can see words like "enemy," "sacrifice," "parasite," "kill," "end," "doom" and you know it's not going to be a fun ride. It's a relentless black metal assault that will not give you a break, and you will feel it in your guts for days. It's a perfect continuation of their first record, since they took what made it good and just made it better. It's not my favorite kind of black metal – I like when bands include some atmospheric touches here and there, but I really really enjoyed this album for what it was, and with the whole concept I had a blast exploring it beyond the music only.
I would just ask you to remember one thing: you're going to die.