The Most Feral & Vicious
Band You Will Hear This Week!
BODDICKER "Crime Upheaval" Streaming Now!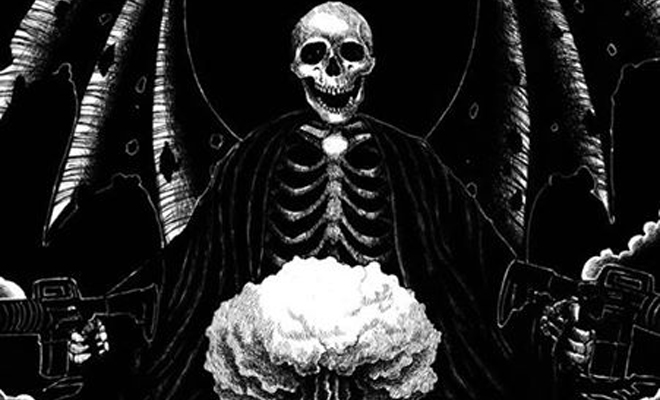 I have drunk a huge cup of raging homicide juice and I feel like I could head bang myself to death! Actually, I'm blasting the most brutal tape created so far this year by our comrades in filth BODDICKER entitled Crime Upheaval. All I can say is that this band brings the fucking pain non-stop and will have you bouncing off walls! Every freaking moment of this tape will be a feral party of audio chaos happening between your ears…BODDICKER and their brothers in noise NUCLEAR HELLFROST hit the road on June 12th. Make sure if they come to your town to tell them that CVLT Nation sent you, and fucking head bang until you DIE! Right now turn the HELL UP and press on the insane stream of Crime Upheaval that is taking place below…All hail BODDICKER & NUCLEAR HELLFROST!

6/12/2014 Indianapolis, IN
6/13/2014 Fowlerville, MI
6/14/2014 Appleton, WI
6/15/2014 Chicago, IL
6/16/2014 Milwaukee, WI
6/17/2014 Minneapolis, MN
6/18/2014 Nebraska
6/19/2014 Des Moines, IA
6/20/2014 Kansas City, MO
6/21/2014 St Louis, MO
6/22/2014 Denton, TX
6/23/2014 Austin, TX
6/24/2014 San Antonio, TX
6/25/2014 Houston, TX
6/26/2014 New Orleans, LA
6/27/2014 Tallahassee, FL
6/28/2014 Tampa, FL
6/29/2014 Miami, FL
6/30/2014 Orlando, FL
7/1/2014 Jacksonville, FL
7/2/2014 South Carolina
7/3/2014 Ashevlle, NC
7/4/2014 Baltimore, MD
7/5/2014 Harrisonburg, VA
7/6/2014 Allentown, PA
7/7/2014 Philadelphia, PA
7/8/2014 New York, NY
7/9/2014 Buffalo, NY
7/10/2014 Cleveland, OH
7/11/2014 Bowling Green, OH
7/12/2014 Indianapolis, IN
Enjoy this post? Donate to CVLT Nation to help keep us going!