How old were you when you first got knowledge of self, and how do you feel that impacts your lyrical content?
Peace, I was about 14 or 15 years old when my older brother had introduced me to the 5% nation. Wasn't heavy on lessons or the lifestyle as I am now that I'm older. It helps with my music a lot. I can express pain while giving a lesson hoping the fan or supporter can receive.
You seem to have a love and respect for soul that comes through in your music. Talk to us about the soul artists you get hyped on and why? Did your parents and grandparents expose you to mad soul when you were young?
Oh, definitely a soul baby. I was raised listening to nothing but the finest of R&B, Neo Soul, and what is now Pop music. My mother and her Sisters (R.I.P. God bless them all) would blast music every weekend playing games, cooking, and just partying the night away. Some of the artists and bands I'm influenced by, several to name, I'll drop a few: Luther Vandross, Michael Jackson, Prince, Minnie Riperton, Marvin Gaye, The Isley Brothers, Curtis Mayfield, Jill Scott, Erykah Badu, George Clinton.
I feel like there's a renaissance happening in Hip Hop right now, and it reminds me of the Harlem Renaissance in many ways. It's interesting that a lot of the record labels releasing vinyl are based in Europe and not America. Paul Robeson, Josephine Baker, Miles Davis, Quincy Jones, and many more had to go to Europe to be appreciated before their art was valued in the States. Do you see the comparisons with the past, and how do you see what's taking place in Hip Hop right now?
Dope comparison–as I'm writing this I'm doing the knowledge. I would say overseas appreciates the art more and the hip hop we're bringing, the sound that once ruled and reigned. How I see Hip Hop today–many ways, me personally, I like what's going on. From young to old, I see and hear stories of how rappers are blessed to come out of past situations by expressing themselves on tracks–that's dope to me.
CAMOFLAUGE MONK & SAUCE HEIST Sauce Monk III out now via FXCK RXP
Drop available 10/12/20 at 6PM CET, 12PM EST, 1AM JST.
200 black (25 hand-stamped & hand-numbered), 100 beige and 100 beige/black marbled copies will be available, only on FXCK RXP
Do you and V DON have any plans on locking in and doing a full project?
That's my boy, of course, we have a few tracks tucked and will be building on in the future. Be on the lookout.
How did your relationship with FXCK RXP come about?
It was weird and funny at first, but I learned the business and presented an album that was strong enough to get released under his vinyl label, which I'm happy about.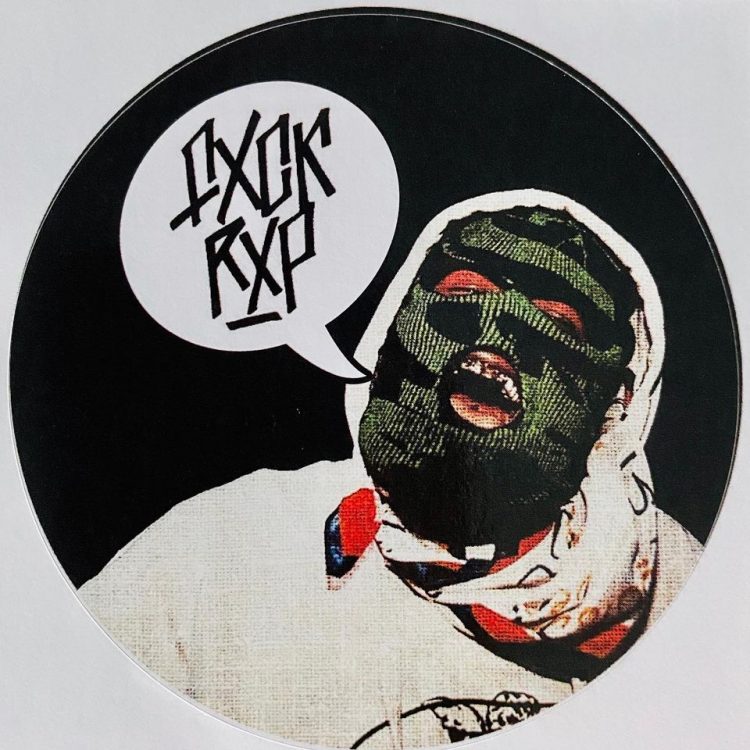 How did you and Camoflauge Monk come up with the art direction for 'Sauce Monk 3'?
Restless Nights in the city (lol). Hmm… to be honest, I just wanted a drawing from HidjiWorld. From there Hidji and his young apprentice Human bounced off my ideas. (#THENICELIFE Luxury glitz & glamour)
First drop (limited to 150 clear copies, artwork designed by Hidji & Humansuncut)
How did you approach creating 'Sauce Monk 3' differently than your other projects?
Vol3 is much different because you hear my growth. I went out to Buffalo this time around, bringing my New York flare and swag. We got 6 songs done during my stay in "the Lo"–mind you this was at the hype of the coronavirus. I didn't want to settle for less, I wanted to bring that funk and pain I've been holding on to. Which made Monk come to the City to add more tracks. When me and Monk collab we always have a star-studded feature line up. It's an honor to work with some of my peers. "Steel sharpen steel" to we all Sharp. I feel this is some of my best work yet. I poured a lot of emotions on these tracks giving the listeners a piece of me behind.
What weed strain sparks the sickest flows and lyrics for you while you're in the studio?
Big Fat Blunt of designer and some Tiger bone (lol). It used to be Platinum Kush ,though we had to stop that. Lol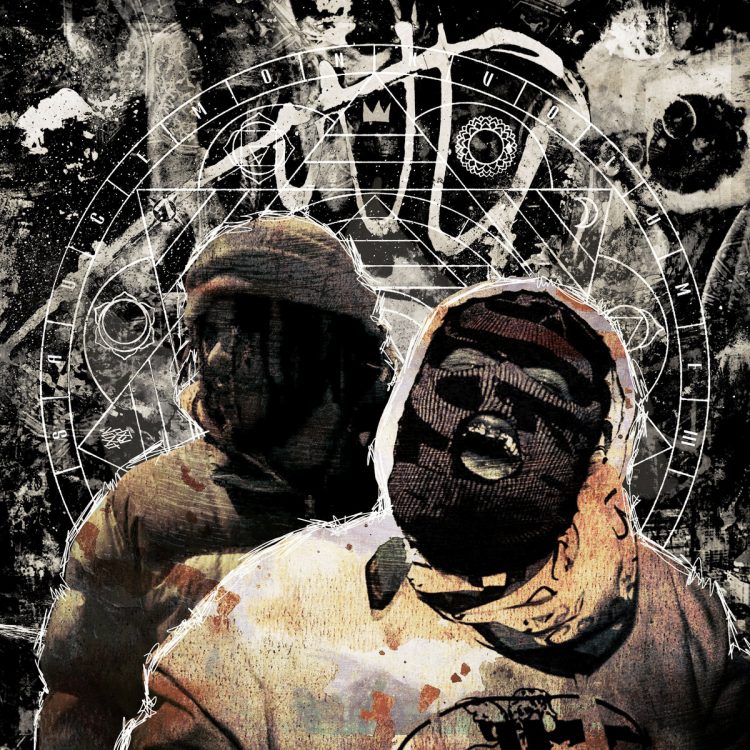 CAMOFLAUGE MONK & SAUCE HEIST Sauce Monk III out now via FXCK RXP
Is NYC pop culture important to your word play and how you convey your vision?
But of course, a major role in how I write, blended with my daily lifestyle. When you walk the streets of NYC, you see some of the illest shit out (pardon my language) that sparks ideas from poetry to painting.
In the song "Asolos" you drop the line "My Life Like KIDS everything Supreme" – I love that you draw on the connection between KIDS and Supreme! What other connections does KIDS as a film have to your life?
I once was a skater, well I tried to be in my younger days (Lol). Also, it just reminds me of my teenage years: sex, drugs, and petty thieving (lol). Living young, wild, and Free.
Another line that stands out to me is "My Momma was a Leo linked with the Ox and Tito," it makes me think about the film Belly and the Yardman OX. Can you break down the meaning behind this line for us?
Lol nah nah it has nothing to do with Belly. What I actually said was "Linked w the Ocks n titos." In NYC you have Arab stores, and bodegas which are owned by the Latin community. So it goes, "Linked with the ocks n the titos the work by the Doritos how we play corners."
If you could put together your ultimate posse cut with present day MC's, who would it be and who would produce it? Also what Golden Era posse cut do you think you would kill it on?
We already have an ultimate posse cut called "1000 shots." Check it out don't want to spoil it by telling the names, but if I had to do it again… Ty Da Dale, Baby Maine, Al-Doe, Rome Streetz, Bub Rock, Jamal Gasol, Da Cloth, Griselda, 38 Spesh, Hus, and Eto. For the golden era: Mob Deep, Nas, The whole WU, Biggie, Big L, and Jay Z.
What are your thoughts on how Black people are preyed on by the injustice system, and how the criminalization of Black people is traded on the New York Stock Exchange in the form of private prisons?
I'll leave that for the politicians. If I could change it all myself I would, that's all I have to say.
Living in NYC can be challenging at the best of times, but right now the city is a crazy place. So I wanted to know – what tactics do you employ to keep your mental health on point?
Good question, I do many things to keep the mind and body active. I like to read, spend time with my daughter. Mostly I like to stay out the way, hit the juice bar, lock in at a studio.
It seems like the circle you create within has loyalty and respect for one another. Can you talk about the importance of the Brotherhood and Sisterhood between the lyricists and producers in the renaissance of Hip Hop, and how it's helping the movement flourish?
I feel we all want to see each other win, we building a strong platform for the Underground scene. It's producers like Bass Reevez, Spanish Ran, V Don and Camo Monk that loves making the artist sound their best by studying their sound before collaborating. To me, it's important to have a bond with your producer–they the ones that see the true potential in yourself.
Who is the unsung person that holds the Heist Life Movement down?
We all hold Heist Life down. Me, Ty Da Dale and Baby Maine. The Nice Life. We're god brothers who grew up with each other pushing and grinding for the same goals. No unsung member, but if I had to say one I'll say Bass Reevez–he truly want to see us win.
What are some Black-owned NYC businesses you want to give a shout out to?
Peace to Total Body Supplements & Juice Bar (Brooklyn)
Peace To Reggae Sun Delights (Harlem)
Peace to Cea Los (The Bronx)
Peace to Charles Pan (Harlem)
Peace to Jah Seal (the Bronx/Harlem)
And Peace to all other Black businesses I can't name off the top of my head.