Give us the science behind the title of your new album, Why Look Up, God's In The Mirror?
There's a couple sciences to it. The first one is a personal thing, you know. I've been through so much good and bad. So whenever I look in the mirror I remind self, you are the creator of your world and all that's good in it, but you are also a curator of your own destruction. It's a self-awareness or knowledge of self-statement or affirmation if you will.
The other science to it is for the listener, and although the message is simple, the path and task can be hard. It can be hard and scary to look at oneself and accept who and what you are. Despite the fear, the fact is, you are the ONE! You are god, you can make things work for self if you really put your mind to it. Mind and spirit is God. And my thing is, the situation you're in and continue to allow yourself to be in is your own doing. No matter the circumstance, we manifest our own destiny and futures. And just like the energy you put in that allows yourself to settle or that mindset that keeps you stagnant. Try flipping that same energy and mindset, and make it a powerful, positive, and strong force to succeed. The title is a challenge to self-betterment.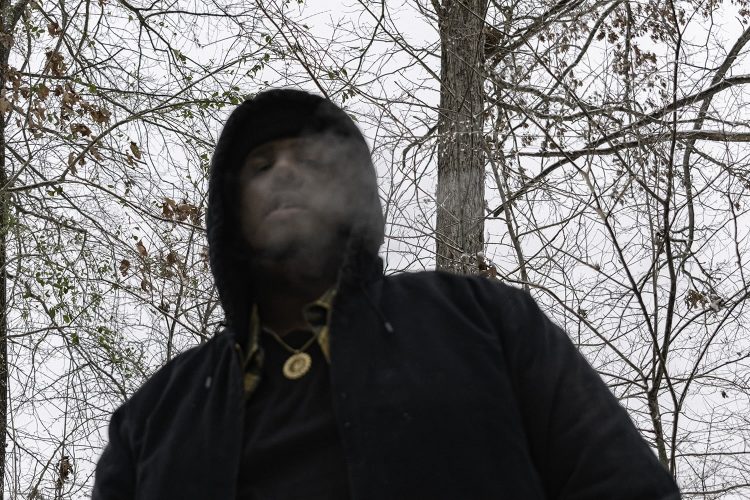 If you could put three of your songs from the new album in a time capsule to be opened by your sons ten years from now, what songs would you put in there, and why? 
The first one will be "The Seine." I choose this one because it's me at my highest in every fashion. It's how I became who I am. So my two boys, and yes I have another seed on the way. They will be able to hear a song that's breaking down a quick history of my beginning and my now.
The second would be "Stygian." This song is one of my favorites because it's the after-effect of the song titled "Glasshouses." I have lines in "Stygian" that say, "You see them glasshouses never make it. You throw a stone or a brick then that bitch breaking.  Remember staring at the ceiling while the structure shaking. Back in the hood where mama use to tell me I would make it." Those 4 lines tell a large story in itself. In the song "Glasshouses," I let the truths and stories of my neighborhood be heard and seen. Fast forward to "Stygian," even though the ills in the prior song are/were strong, damaging, and prevalent, I was still being told I could and would make it out of this. So GOD, meaning mind in this case, was being born and trained right there in South Memphis. So with that song, my boys will know what people say is impossible is really achievable and most certainly possible.
My third song will be "Colored One." My sons will hear this song and will learn the inward struggles of Man. They will be able to hear and see the behaviors that are passed down through generations. They will learn about generational traumas. They will hear about the curses we've been trying to overcome for hundreds of years. And with them hearing and seeing this, and the knowledge and teachings I provide them outside of my music, I can only hope that they take what's being said and taught and apply the information properly so they can succeed.
Take us back to your childhood—what music did you hear around your home or at family cookouts? What music do you play for your son?
Mane with that question it's broad. I was in multiple music worlds growing up. Let me paint the picture for you. My moms would be playing Michael Jackson, Prince, Ella Fitzgerald, and a lot of 90's and 80's r&b and pop music. But moms would also play some Dr. Dre, DMX, Snoop, Heavy D, Slick Rick, & Kid N Play. In the next room, my aunt played Busta Rhymes, Mystikal, Pastor Troy, Play Fly, 8ball and MJG, Three 6 Mafia, and more 90s r&b. In the next room, my other aunt was bumping Bone Thugs and more 80's and 90's music but mostly rock. Boom I'm in the whip with my granny and she is bumping gospel, Billie Holiday, Aretha Franklin, Gladys, etc… Next thing you know I'm in the car with my pops and he is bumping Geto Boys, Scarface, and Pac. Oh shit now I'm chilling with my uncle Fathom 9 (R.I.P) and he bumping Organize Confusion, Redman, Leaders Of The New School, and Tribe. Now take you to Chicago. I'm there for the summer. My uncle HB Sol sits me down and puts me on Nas, Wu-Tang, M.O.P, Common, Roots, Boot Camp Click, Jazz music, and more. Going back home, let's hop in the whip, now I'm with my uncle Trap and he is bumping nothing but Project Pat, 3 6, No Limit, Cash Money, and shit.  Now I'm with my grandad and he plays nothing but Motown and Stax music.  So I would literally hear everything at all times. And as a youth, this was home for me being with these different family members, you know. And my wife and I create that same musical experience for our son and will do the same for the newest addition. The wife is a huge music head as well.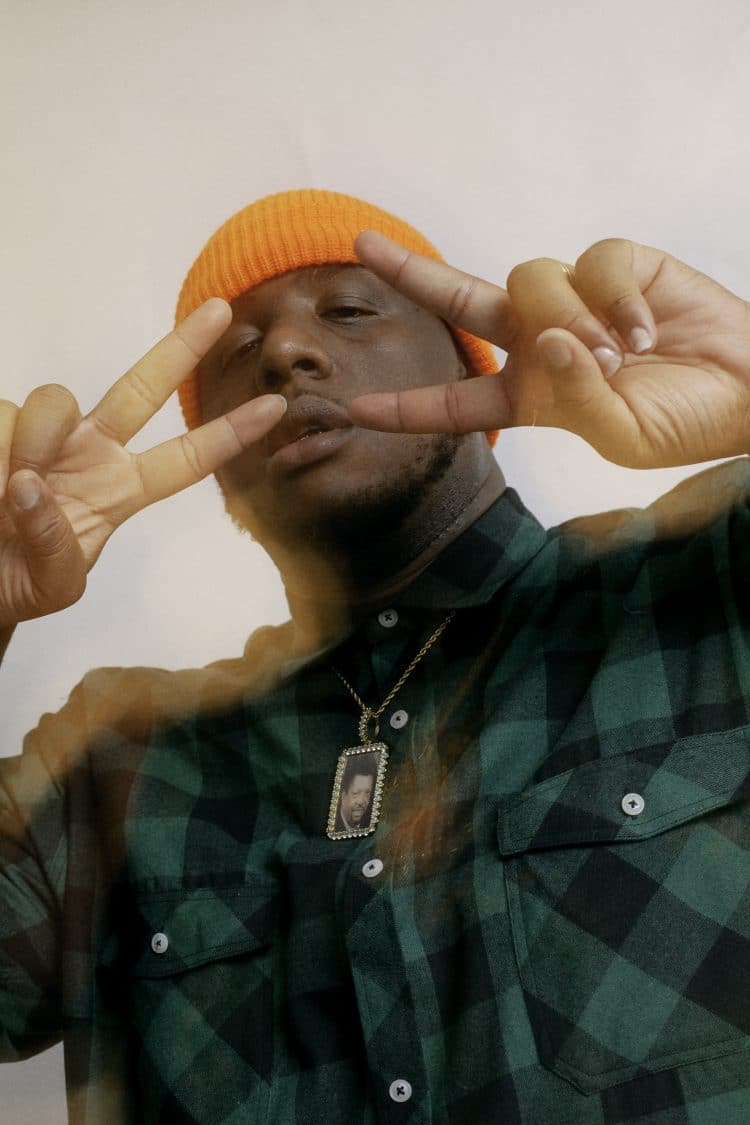 What role do the ancestors play in the way you see the world, and how do they impact the way you create?
They play a humongous position. All the work and struggle they put in to get us where we are today is super influential and a guide. As long as I'm breathing, it will never go unnoticed. I like to think and say if the ancestors made it through that shit they were going through, then I can make it through the shit I go through. So from those burning ashes of my ancestors, I emerged to carry the torch of empowerment, knowledge, wisdom, love, war, equality, and peace. I don't wish to teach in a class setting, I don't want to be a public speaker, nor a politician. So through my music is how I get the messages and gems from our ancestors to the people. Hip Hop communicates with the culture.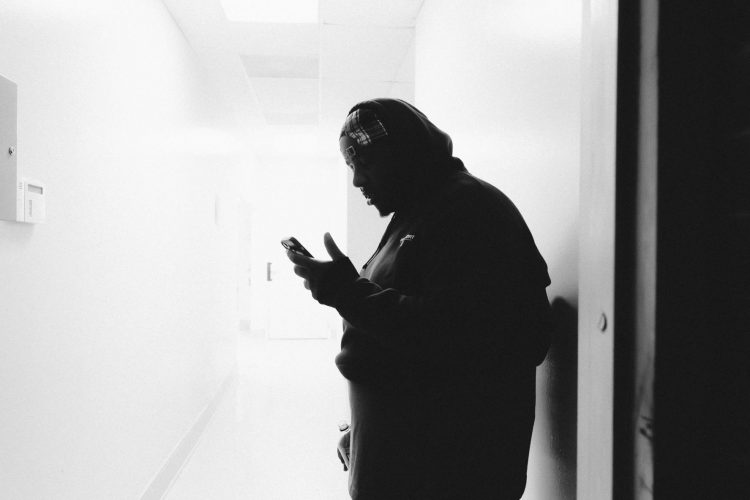 Can you break down your creative arc from Chickenwire to When The Black Hand Touches You to Why Look Up, God's In The Mirror?
The creative connection is simple. Chickenwire was the rebirth of me as an artist. It was also a form of freedom. I didn't have to worry about a formula. I could now do what I truly wanted to do and be my true self.
Black Hand was that as well but now my first child was born. It was time to take that freedom and form it into a blueprint for my seed. I then knew what my real purpose was in music.
Why Look Up is me showing my purpose and attacking my inner demons so I can continue to be a great man, husband, father, and emcee. They are all strongly connected and I grow creatively and as a person with each one.
What was the process and your vision for the cover of Why Look Up, God's In The Mirror?
That credit goes to my brother Drew Ryan. A team wins championships and everybody has a role. I just give Drew the title and a small portion of the vision. I don't give too much because I believe too much can equal restrictions sometimes. So I just provide the seed and let Drew do all the watering, growing, and finding the soil to put the seed in. I want him to do him comfortably and so in this case he becomes the leader. We agree we want nothing but the best and the flyest shit possible. And he brings that to the table every time. He knows what I want even though I give little information. It was a trust process.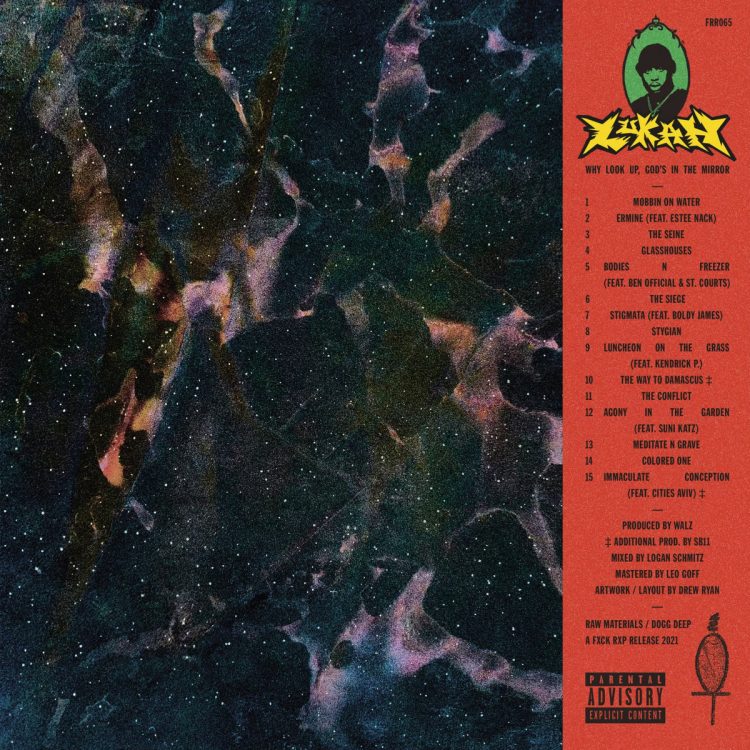 Describe Why Look Up, God's In The Mirror as a weapon of mass change—what impact do you want to see it have on the culture?
Think of the album as a mighty fist. When we come together we become stronger. I want the album to promote building and creating better environments. I want the album to influence attacks against traumas head on, so our babies have a fair chance at life. I want this album to make people see that seeking or asking for help is not a sign of weakness. I want this album to uplift and have people look in the mirror and love what they see. I want this album to help others through whatever obstacle they are facing. This album is theme music for those elevating to their highest form and beyond.
Tell us about the creative brotherhood that you and Cities Aviv share?
It's years of brothers bonding, doing music, and exchanging stories with one another. We think and say a lot of the same shit. We're from different backgrounds and just attack in our own unique ways. We just want to give the world timeless art and fly shit that's forever our mission. We're a dangerous concoction, but in a good way.
How did your collab with BOLDY JAMES come about? The vocal sample at the end of "Stigmata" makes the song even more powerful!
Yes man, so I just reached out to his manager. And it's very rare that you come across a manager who cares about the timing and art just as much as the money. His manager and I were in contact during the entire exchange and transaction. We still talk from time to time now. So peace and big salute to that brother for being a man of his word and making it happen for me and my team. And as for that snippet it just ties into the overall story I'm giving through the entire project. I won't share those gems because it's for the listeners to grasp. But it's put there for a specific reason.
Lukah, real talk—I need you to break down the creative and lyrical vision you had for your song "The Seine" (every line is a jewel)?
It's literally what you said, it's dropping jewels. I was told the best way to teach is by sharing your own experiences and your own personal triumphs. If you can relate, it makes it less of a teaching or preaching moment and more of a dialogue. You can learn a lot about self and others when listening to stories. So I'm just having a conversation with the listeners and with self in the mirror while shredding through words.
Did you know that you were creating a modern Blues Hymn when you created "The Way To Damascus"? The production and vocal delivery are divine.
I mean I didn't go into it thinking that. I just wanted to release some things that have been bottled up for some time now. I knew it would be one of the strongest songs on the LP just because listeners love vulnerability. With this song I knew a specific type of group of people would be able to relate. I just hope it makes it to those who need it most and gives them the strength to speak, release, and tell their stories.
What is it about WALZ production skills that speak to you? What essentials do y'all need for a good studio session?
Walz is a beast, and beast recognizes beast is this case, you know. I said a line in the song "The Seine," "so much rage in my art I'll need a much bigger canvas," and his production is just that. The production canvases he provides make it easier for me to do what I love to do which is be the lead instrument on songs. He's exceptionally good at what he does and his work ethics are insane. I get a pack of beats every other day from him and it contains 15 to 20 beats every time. And we don't need much. He just needs his laptop. I just need my phone to write in, his beats, some tree and it's up from there. Big salute and thanks to him. I'm glad he's on my team.
What does a beautiful day full of Black joy look like to you?
Building with my wife and son. I enjoy creating and forming this Black love bond with them. Watching my son grow and watching my wife be the strong, loving, caring, smart, and beautiful mother and wife brings me more joy than anything.
How do you see the intersection between slavery, the destruction of generational wealth, housing segregation/redlining, underfunded Black and Brown schools, and the prison industrial complex reflected in our communities today? What solutions appeal to you?
It's the same as it's been for years. Some are making the necessary steps to invoke change, but we get in the way of that a lot of times. The cards we were dealt are unfortunate and fucked up, no doubt, but we can't scream and expect change when a large portion of us are hindering that change.
We live in low-income homes and areas. And because of our property values, the schools can't properly be funded because of the low local property taxes. The schools in our areas are training and preparing our youth for prison. It's a direct and visible pipeline.
Shit, the redlining is because my neighbor is in the same position as I'm in. So we have the same lack of resources and the same problems. What's the solution if we're in the same boat? We often go to other people's doors and shout for help, but won't help ourselves.
Our people need to stop, assess, and take a look in the mirror. You may not be the one causing the damage but you may be the solution or know how to help find the solutions. We all have a part in this. The pieces to start the solution exists in our communities today.
But then we have those who people like to call gang members, thugs, gangstas, animals, criminals, and miscreants. When there's nothing to offer or to look forward to, this is what is born. They are not all bad, just misguided, confused, and maybe lost. Most of the time it's the youth.
We as a community have enough in numbers to save our youth. They are the future and if the future isn't safe or being helped properly, then we'll continue to spiral down like we've been doing for years. We need to take care of ourselves first and strengthen the village. How about stop wanting our kids behind walls and instead try forming something that can take them off the streets, and out of negligent and abusive homes. You're basically taking them out of something already damaged, then putting them into something not only worse, but a place that gives false hopes. Most go to jail, straighten out, come home, and go right back in. And here's why. They're forced to go right back into the community that was built to fail them in the first place.
Again, we need to strengthen our villages. Then we can go and knock on those doors with those "thugs and gangstas," and see if we can force some change. Everybody needs a purpose. When there's no purpose there's no hope. Strength and purpose are a start to the bigger solutions.
Is there anything you want to say about your music that you have never been asked before?
No, not really. The listeners are getting it and people are asking the right questions thus far. There are hidden gems that I would love to uncover but again that's something I want the listeners to continue to dig up. Not only do I think they would appreciate it more finding themselves, but it's also a sacred gift from me to them.