One site that covers Crust and Stenchcore like no other is Terminal Sound Nuisance. Check out this amazing feature they did on the Primitive Stenchcore Warriors Prophecy of Doom!
There are a couple of tacit but nevertheless crucial, and indeed immemorial, rules that even the most seemingly unflinching crusty has to abide by if the all-important crust credibility is to be maintained at all time. Some have been thoroughly documented by notorious crust anthropologists and I strongly recommend to read such classic studies as The Elementary Structures of Crustship or Coming of Age Rituals in Patched Societies. Today, I will focus on one of these ground rules so that the unexperienced reader will no longer be caught dithering like a speed virgin when asked about his or her favourite recording of /insert name of classic UK hardcore crust bands from the mid/late 80's/, a common enough question in punk socialising spaces like glamorous d-beat gigs, distro stalls or, of course, the bar. Make no mistake as a wrong answer to such a critical enquiry could have you banned from the crust elite for any number of years and from being asked to play in a retro stenchcore band, which is pretty much the highest rank in crusty social groups, the very top of the crust chain. In fact, there have been many instances where the question merely served as a means to gauge the current crust level of a new recruit, not unlike a rite of passage marking the transition from "poser" to "proper". So if you nurture the dream to one day become the guitar player of a tasteful synth-driven stenchcore band, the right answer could be decisive whereas faltering awkwardly "the first album?" will probably not suffice and might condemn you to only attain the spot of the bass player in a new school d-beat band. Therefore, whenever possible, safely go for "the Peel Sessions are excellent".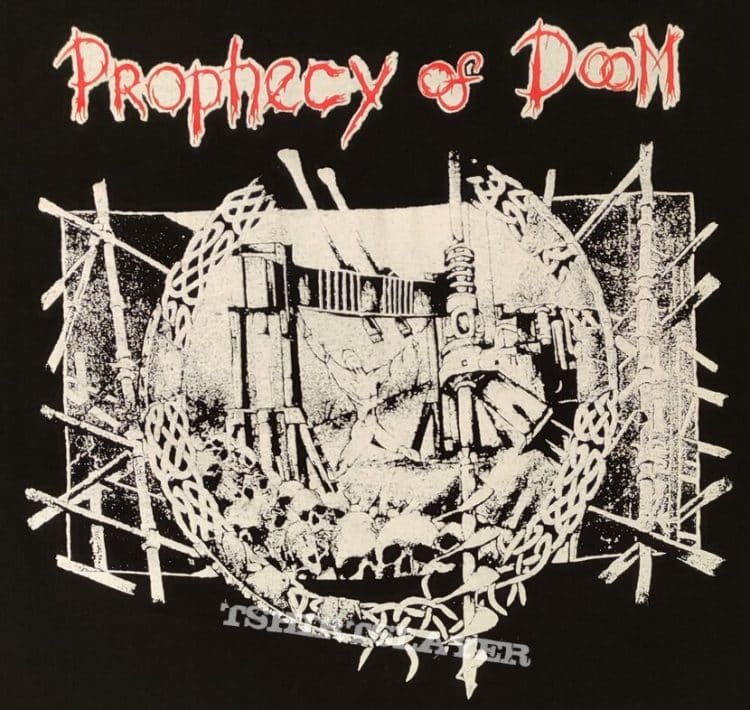 Not only is such an answer – almost – always true, as you could indeed argue that the best materials of Extreme Noise Terror, Doom or Napalm Death were recorded during their visits to the BBC studios (I personally consider the transitions between ENT's "I'm not a fool" and "In it for life" and between Doom "Symptom of the universe" and "Multinationals" to be some of the most poignant moments of crust magic ever put to tape), but it also shows that you acknowledge the influence that John Peel has had on the making of the so-called UK hardcore scene and sound. To be offered a Peel Session was a big deal for punk bands at the time. Pretty much every punk kid was a fan of the man's open-mindedness and enthusiasm and got to discover top bands through his show so it was felt as a major achievement to be invited to be a part of it, without mentioning that your band was going to be broadcast nationally on the BBC with all the exposure that ensued. I suppose one of the main reasons – if not the main reason – why punk Peel Sessions always sounded ace was that, for many bands, it would be the only opportunity to play on state-of-the-art equipment, as opposed to the usually shitty amps of their practice spaces, which accounted for the fantastic sound production they were treated with. Besides, the very idea of playing the noiziest, filthiest grinding hardcore on such expensive appliances, live on the BBC radio must have felt quite exhilarating and an antithesis in action. Punk, innit?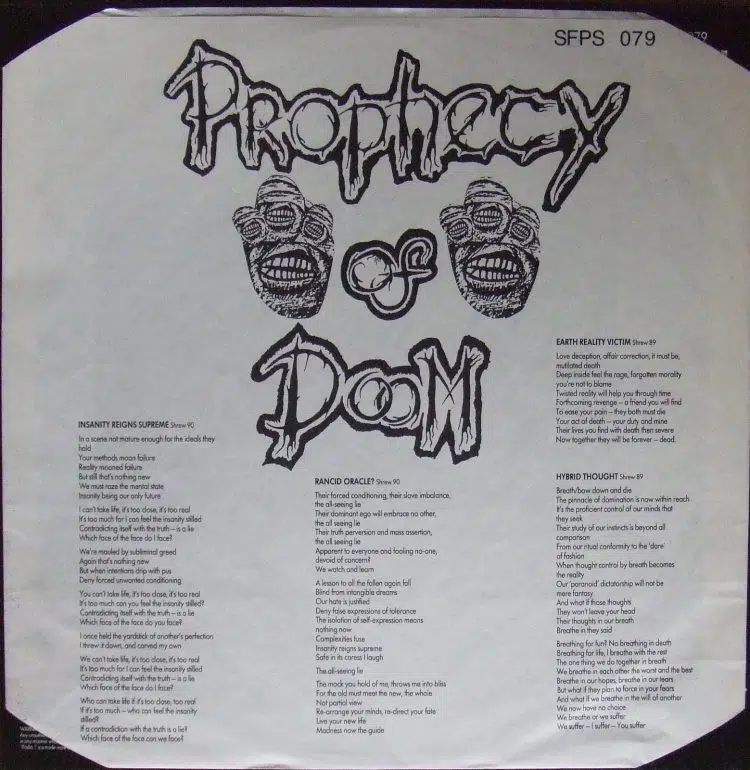 When it comes to Prophecy of Doom, from Tewkesbury, you can confidently assert that their two Peel Sessions deserved to be regarded as the best material they ever recorded (although the second one from 1991 might be even better than the first). It will undoubtedly shine a knowledgeable glow upon your person. PoD were certainly one of the most unique and convincing bands pertaining to the original UK crust wave (as usual, I strongly urge you to read the chapter devoted to them in Trapped in a Scene) and, at their peak, their brand of intelligent, oppressive grinding stenchcore certainly amounted to the best of what crust had to offer. In spite of the two aforementioned Peel Sessions, one genuinely classic crust Lp – 1990's Acknowledge the Confusion Master – and a number of contemporary reissues (thanks to the good people of Agipunk for that), PoD have unfairly remained something of an underappreciated band, fervently revered by a few but tragically ignored by many. I first came across PoD through their second album, the Matrix cd, released in 1992 on Metalcore, which I got for cheap (it figures) ages ago. It was not, to say the least, an ideal introduction to a band that I had seen mentioned on several tasteful thank lists and that shared a split cd with Axegrinder, which entitled me to expect some proper crust from them. Matrix is not good and the last time I played it, I think Tony Blair was still Prime Minister. However, it stands as their only admittedly lacklustre work and you can trust all the rest, safe in your crusthood.