I think of public swimming pools as being vulnerable places, where we're all relatively exposed to one another, but also a space where we can let our inner children out to play. Why did you name your album Swimming Pool Eternity?
I spent a summer with a lover in an apartment swimming pool. For a long time, especially while writing the record, I couldn't swim without thinking about him… Now at every hotel we stay at on tour, I always like to see the swimming pools, especially when they are empty and no one else is around. There is a strange, liminal space feeling to places built for the public but are vacant. Swimming Pool Eternity centers a heartbroken girl, maybe she's swimming laps in an empty pool, one that is bottomless, somewhere in the ethers.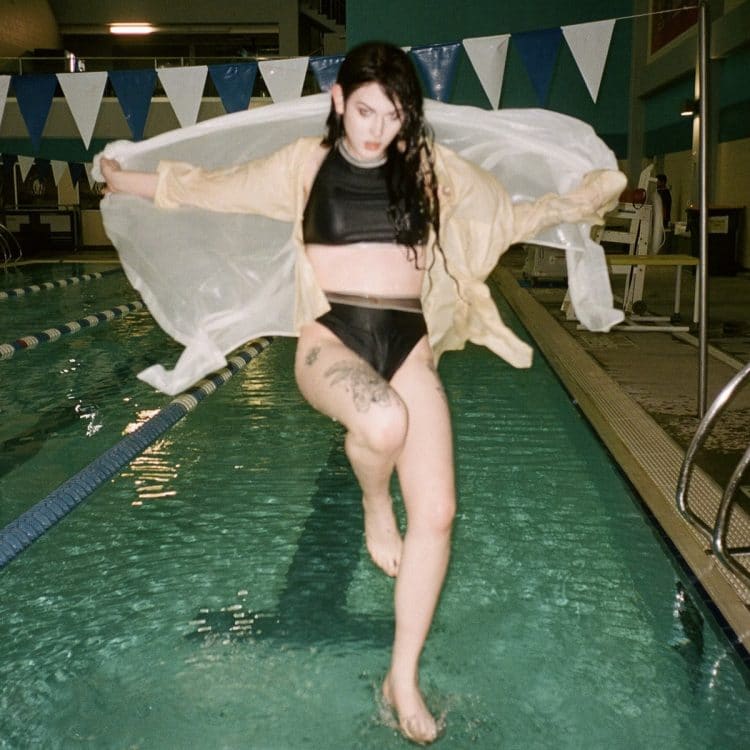 You wrote Swimming Pool Eternity before and during the pandemic. How did that massive change from "normal" socializing to sudden isolation, uncertainty, and global panic impact the arc of the album?
Some of the songs, like "Burnout," were written about being a person with big dreams and what happens when those dreams feel ripped away. I wrote a lot about holding onto those dreams because they're so important to my identity. I remember when the pandemic came to be and shows were being canceled left and right, some of the biggest shows we've ever been booked for, and how it felt to fall back into my anonymity right when I felt like the band was making strides. The uncertainty was definitely present in the lyrics, I found myself writing more honestly than ever.
Do you feel like the pandemic and isolation had a positive impact on your creative self?
It's hard to say. It was hard for me to share what we were working on because it felt insignificant to the world that was seemingly falling apart. It took me a long time to be ready to release this record. Not only were we shopping it to record labels, but it also felt… inappropriate, I guess. The lyrics are very "woe is me" at times, and I needed time to be ready to share how I was feeling.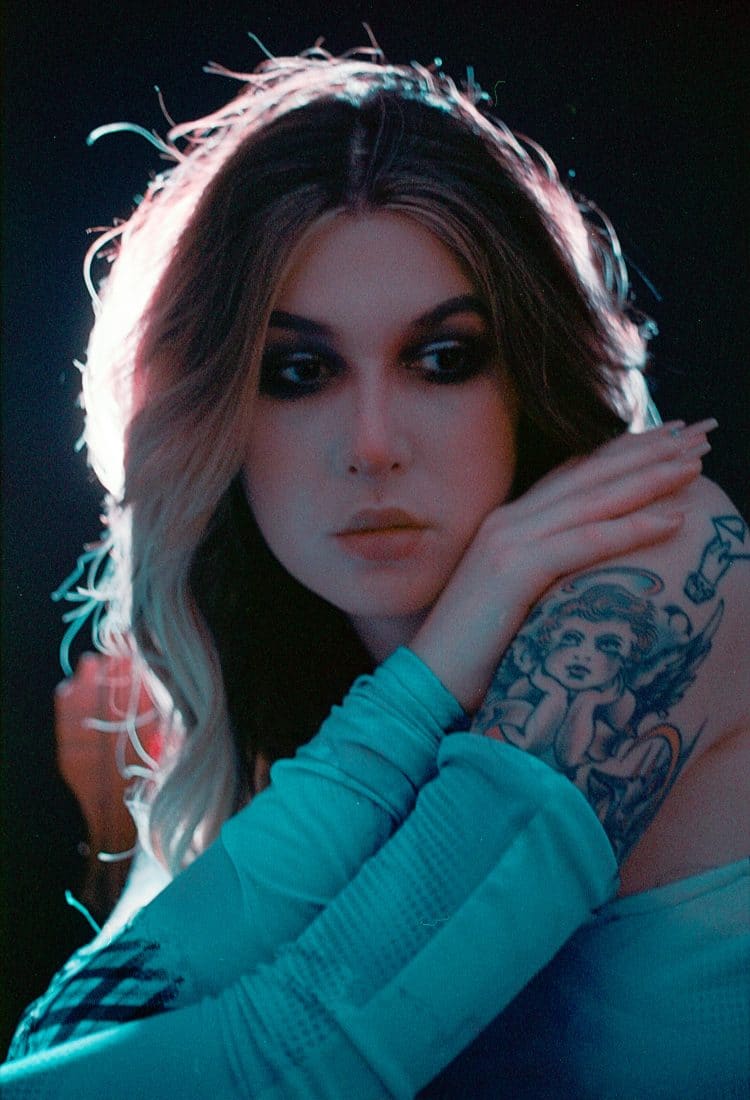 Swimming Pool Eternity is your first album with a full band, right? How did your band come together?
I've been friends and collaborators with Dean Adams, Mills Chaiken, Rex Davis, and Michael Briggs for a long time. Even when I was running Lorelei K as a solo project, they were each present in my life in different ways, especially Michael, who has always been my producer. The band came out of a need for a bigger stage presence. The five of us have been working together ever since we produced the Lightbender (2019) live performances. I am eternally grateful for each of their contributions to the project.
Swimming Pool Eternity is an engrossing album. It's very much in line with your earlier post-punk/dream pop sound but it sounds bigger. I almost get a Radiohead vibe from it; your vocals are evocative and make me very emotional, feelings I get from listening to Thom Yorke. What do you want people to feel while listening to this album?
We were definitely going for a rich, atmospheric, watery sound. It wasn't like we discussed much regarding genre or style, it just sort of made sense with the demos that I brought to work on with the band. I want to create a space for my listeners to reflect and become more in tune with their emotional worlds. It is paramount to one's growth as an individual, I believe.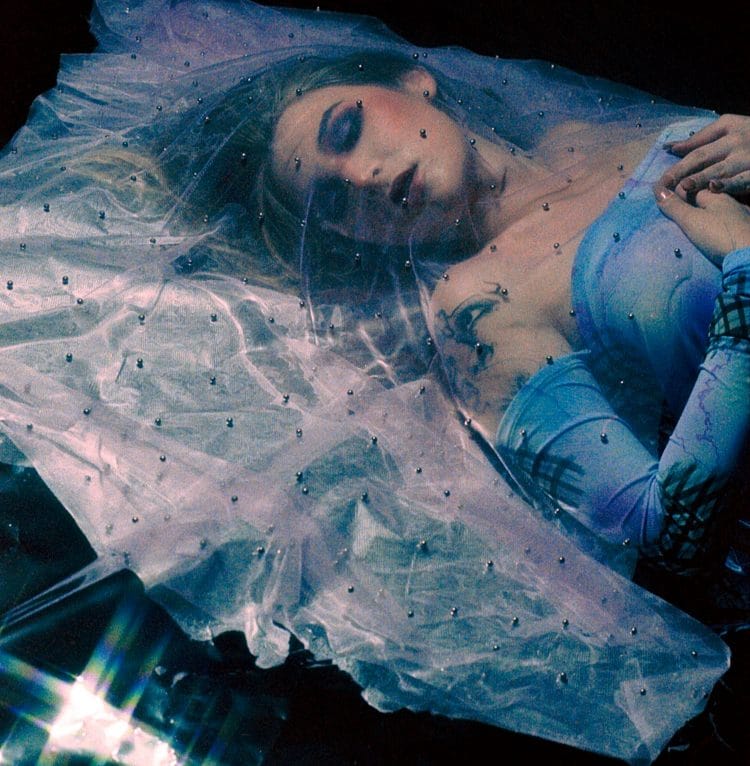 When did you first realize you wanted to sing and make music? Were you encouraged by your family to pursue the arts as a kid?
I have a photo of me in a black wig and a blanket gown, singing and playing the piano, from when I was somewhere around four years old. I always wanted to be a performer, to write about my life, to make beautiful music. My parents supported me in choir, band, piano, and guitar lessons. My brother is also musically gifted and we sort of learned a lot of the fundamentals together.
In your Billboard interview, you talked a bit about your Christian upbringing in the south of Texas, and how it made your gender dysphoria as a child and transition as a teen very difficult. You use a lot of "religious" language in your song titles on this album, "Saint Groupie," "Breakthrough at Mount Zion," "The New Psalms." How do you navigate or work through the rigid and discriminatory identity rules you were raised with through your music?
I used Christian-based symbols throughout the record, but I redefined them to fit into my own personal mythology. I have a lot of trauma to work through from my upbringing being forced to be a boy when I always knew I would never be a man. I definitely use my songs to work through that trauma. My songs, my singing — it's my own world that I get to create and anything that makes sense to me can have a space there in the music.
What are three albums that mark pivotal times in your life, and why?
Born This Way by Lady Gaga came out when I was in middle school, and I was first exploring my identity. I think a lot of kids who were queer or trans in the 2010s looked to Gaga as a source of light in a very dark place. To me, the record represents rebellion, owning your own fierceness, becoming your true self.
I Am A Bird Now by Antony and the Johnsons was a record I listened to on repeat at the beginning of my transition, which coincided with the beginning of Lorelei K. I found solace in her writing, and it helped me deeply with finding my own voice.
New Moon by Elliott Smith, a compilation released post-mortem, has always been the record I turn to in my darkest hours. I've struggled with major depression throughout my entire life, and this record always has a song I can listen to on repeat when I need to release myself to my emotional world.
You have immaculate taste in clothing. If you could choose three songs from Swimming Pool Eternity and design an outfit to embody each one, what songs would they be and what would they be wearing?
"Blue Part Four" is a girl wearing a deep, rich blue, sculptural gown with statement sleeves, a square neckline, embellished in intricate beadwork. She is the goddess of the emotional world I describe over and over again, so her outfit would need to honor that.
"Saint Groupie" wears leather, worn off makeup (or warpaint), and maybe something designed by Martin Margiela. She is a girl who is weeping as the walls spin in a hotel room. It's a moment in time that has been deconstructed and processed, she'd be wearing something really raw and also really cool.
"Bartender" wears a black scoochie dress pulled from a novelty sex shop, worn on stage at Three Links in Deep Ellum. She's a rock and roll girl.
You're on tour right now, what does that feel like? Is it your first time back on the road since your Winter 2020 tour?
It feels amazing. For this tour, I'm traveling only with Michael Briggs, and we're performing a special duo set of really old songs and brand new songs that have yet to be released. It's a really cool set. I feel optimistic, being on stage is always so empowering, and now more than ever it means the world to me. I'm so grateful for Rocky Road Touring and Princess Goes to the Butterfly Museum for having us. Yes, this is our first tour since Winter 2020.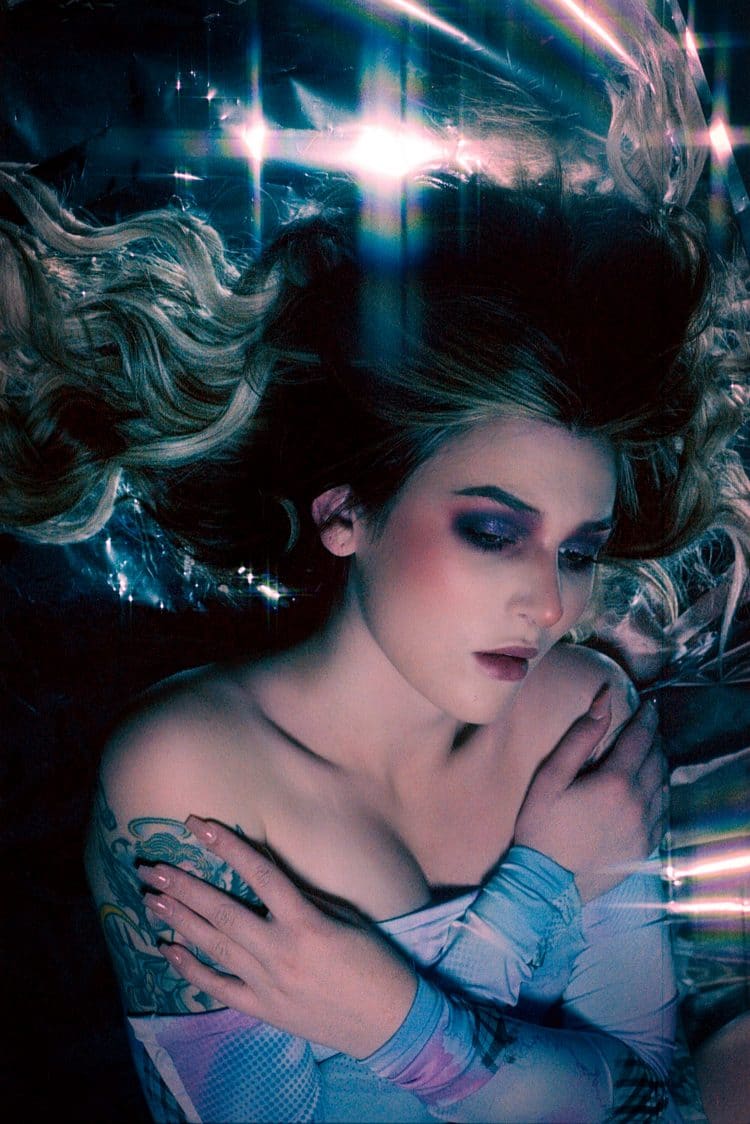 Tell me about "Breakthrough at Mount Zion" — I got chills as soon as that initial melody kicked in and as of right now it's my favorite track on the album.
"Breakthrough…" is about wanting to let go of the past, but still feeling tethered to the memory of a person. That person as he was no longer exists, and I used this song to process that reality. It's a love song and it's a tragedy. I guess it's the last of my hopeless romanticism in the form of a song.
Are you a fan of Eartheater? I think you two on a bill would be a glorious experience! Who's your dream tour lineup and why?
I love Eartheater and would love to perform with her. There are so many artists I would love to open for… Lana Del Rey, Ethel Cain, Slowdive, Choir Boy… the list goes on and on.
When is Swimming Pool Eternity getting a vinyl release? Please, I need it.
Since vinyl plants are still backed up, we do not have a definitive date for when the record will be released physically, but we are signed to Idol Records and it is a work in progress. Keep your eyes out for the announcement when it comes. If we're lucky, maybe it'll be this fall or winter.