Superior Firepower… Mammoth Grinder 'Cosmic Crypt' Review + Visual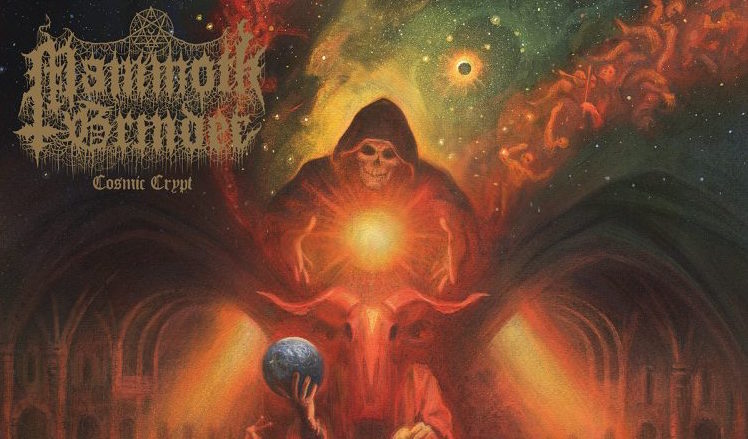 Life sucks, Mammoth Grinder rules. I mean come on, what else do you fucking want from me? It's 2018 and we are constantly bombarded with everything from videos of starving polar bears to the resurgence of Nazis; and you know what? We deserve to see it. Fuck us and everything we have done to this planet; our shitty consumptive habits and inability to kill off baby boomers have more or less placed us in a dystopian hellscape. As a whole, we've fucked this place into oblivion and didn't even bother to give it a reach-around. Luckily, death metal punx Mammoth Grinder are here to stimulate us all via riff-around as the end times come. For those that don't know me personally, I'll let you in on very deep, dark secret of mine. For about a solid month, I planned to kidnap Chris Ulsh, keep him in my closet and force him to play old Hatred Surge songs with me. I was gonna play bass, he was gonna play guitar – we were gonna be fucking sick. It was gonna be like a death metal/power violence version of that shitty Stephen King book (I know you know what I'm talking about). My friends talked me out this plan however, mainly because if I were to go through with it we would not have Cosmic Crypt to worship and I'd be serving some pretty hard time.
While Underworlds and Extinction of Humanity are absolute bangers, Mammoth Grinder brings their sound full circle to adequately represent the strong careers in heavy music the three members have had. Chris Ulsh took no chances on this album and recruited fucking legends Mark Bronzino (guitar) and Ryan Parish (drums) to pulverize us all into a sonically induced coma.
Label: Relapse Records
Cosmic Crypt encompasses every tempo and mood you could ask for in a heavy release all while maintaining lyrical nihilism and a sense of pure resentment for other humans.  The opening tracks "Grimmenstein" and "Servant To The Most High" remind us all that single kick and blistering riffs still kick the shit out of any triggered double kick or seven string guitar. The meat of the album contains tracks "Blazing Burst," "Divine Loss," "Molotov," "Superior Firepower," and "Human Is Obsolete." This is where we see Mammoth Grinder in their true form, Discharge meets Dismember, these five tracks hold the album together and keep you breaking all the furniture you and your partner bought at IKEA until the very end. Finally, the remaining four tracks (Rotting Robes especially) gracefully guide us out of this IKEA-hating savagery and lay us to rest as we make our final descent into the, dare I say…COSMIC CRYPT!! For the skeptics, Comic Crypt comes out January 26th on Relapse Records, so borrow your mom's credit card and help Relapse keep their fucking lights on!
Tour Dates:
Feb 02 Washington, DC Rock and Roll Hotel w/ Genocide Pact
Feb 03 Richmond, VA Strange Matter w/ Genocide Pact
Feb 04 Raleigh, NC The Maywood
Feb 05 Atlanta, GA Drunken Unicorn
Feb 06 Memphis, TN Rock Room
Feb 07 Little Rock, AR Vino's
Feb 08 Dallas, TX Club Dada
Feb 09 Houston, TX White Swan
Feb 10 Austin, TX Barracuda
Feb 11 San Antonio, TX Korova Basement
Feb 12 El Paso, TX Neon Rose
Feb 13 Tucson, AZ Club Congress w/ Gatecreeper
Feb 14 Phoenix, AZ The Rebel Lounge w/ Gatecreeper
Feb 15 San Diego, CA Space Bar
Feb 16 Los Angeles, CA The Resident
Feb 17 Oakland, CA Eli's Mile High
Feb 18 Santa Cruz, CA TBA
Feb 20 Salt Lake City, UT Beehive Social Club
Feb 21 Denver, CO Streets of London
Feb 22 Des Moines IA Vaudeville Mews
Feb 23 Minneapolis, MN Hexagon Bar
Feb 24 Chicago, IL Reggie's (Small Room)
Feb 25 Detroit, MI Cellarman's
Feb 26 Cleveland, OH Now That's Class
Feb 27 Pittsburgh, PA Rock Room
Feb 28 Philadelphia, PA Kung Fu Necktie
Mar 01 Boston, MA Middle East Upstairs
Mar 02 Brooklyn, NY Saint Vitus
Mar 03 Montclair, NJ The Meatlocker 
Enjoy this post? Donate to CVLT Nation to help keep us going!