"They say the heat makes people crazy."
If Huey Freeman's words are true, it might serve as an explanation for the recent wave of desert-dwelling metal and hardcore bands who have used the mind-melting heat to create sun-hardened, sweat-dripping tunes whose uniquely crazed aggression reaches both coasts. With Arizona cranking out top-tier bands like , Crossfire, Realize, Incentive, Slow Descent, Gatecreeper, Skin Ticket, Woundvac, Misery Bloc, Saintbreaker, Ugly, Sorrower, Thra, Territory, Skullcrush, and so many more, one would say there's something in the water, if there were any.
Releasing their first promo in 2015, Get A Grip arrived on the block with the swagger, confidence, and talent of veterans. This is partly due to the fact that some of the band members have been involved with the punk scene in Tucson since they were literally children. There's a strong possibility that singer Gabriel Perez could skateboard before he learned to walk. In their five years of existence, Get A Grip have consistently produced raw, catchy, grab-you-by-your-molars punk that sounds like it could have been recorded in New York twenty-five years ago, which makes more sense when you realize they were bottle-fed the classics.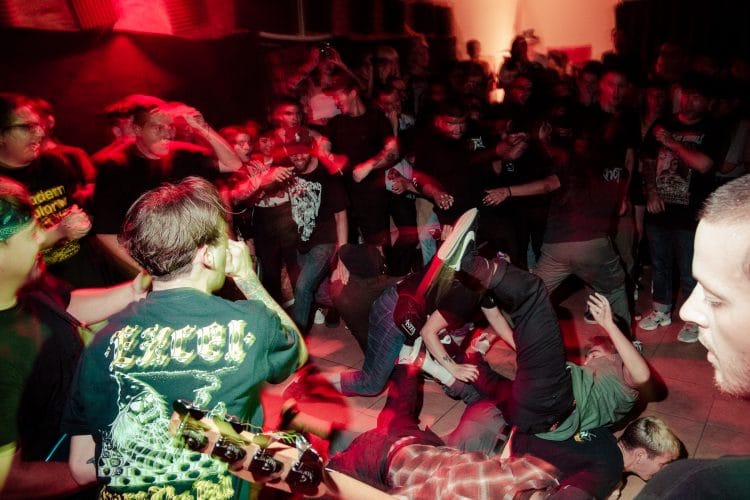 While every one of the band's releases belongs on any respectable modern hardcore playlist, their new EP, United Fight, is a special evolution for the Tucson punks. Like on earlier releases, the songs on United Fight draw on old-school crossover and hardcore like Harley-era Cro-Mags, Agnostic Front, Poison Idea, and D.R.I.; however, this EP builds on something they tried out on 2019's Running Out of Time: the integration of classic British heavy metal. Having firmly established themselves, finding root in the caliche of the Southern Arizona music scene, they've freed themselves to integrate more of their favorite bands as influences. While this is still an indisputably hardcore record, there is no avoiding the Judas Priest and Iron Maiden ingredients, which make United Fight the strongest, most exciting group of songs Get A Grip has produced to date.
From the jump, the galloping bass of title track "United Fight," hits you in the chest, before breaking into a blinding dive-bomb laced solo. Perez's voice emerges, mounting with rage, and his rough bark instantly transports the listener to an "ask a punk" show in some over-115-degree rented storage unit in South Tucson. The call for working-class unity against the wealthy oppressors recalls early Agnostic Front and Warzone: "They want us to split and kill one another, when we're all we have and they make us suffer. Don't fall for their tricks. Don't listen to them. If we all unite, it will be their end!" The song is a circle-pitting cyclone, unrelenting and real, and the gang vocals emphasize their message of banding together as disenfranchised classes and peoples.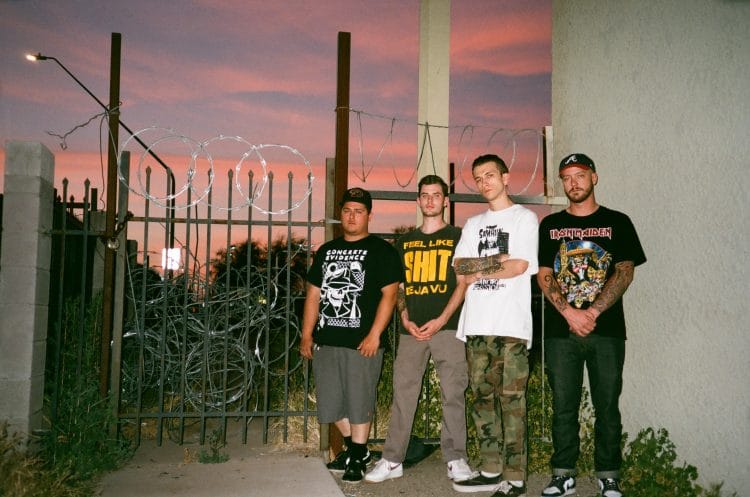 "Pay The Price" wears its metal influences on its sleeves. Focusing on the manipulation and greed one finds in toxic people, the song draws a line in the sign between friend and foe, and it does so while infusing the youthful venom of Uniform Choice, Chain of Strength, and Youth of Today with Piece of Mind-period Iron Maiden, using dual guitar harmonized-solos to counterpoint the bare-knuckled rawness of their music and their message.
"Out of Touch" is a cavalry-charge of shredding solos and tremolo-picking, the track that most completely dissolves any lines between metal and punk. While it is fairly common these days to hear hardcore bands embracing the brutality of classic death metal like Entombed and Obituary, it is far less common to hear hardcore with NWOBHM as such a strong influence, though Red Death is another example of a band fusing the styles very well. On "Out of Touch," Get A Grip weave the genres together beautifully and effortlessly.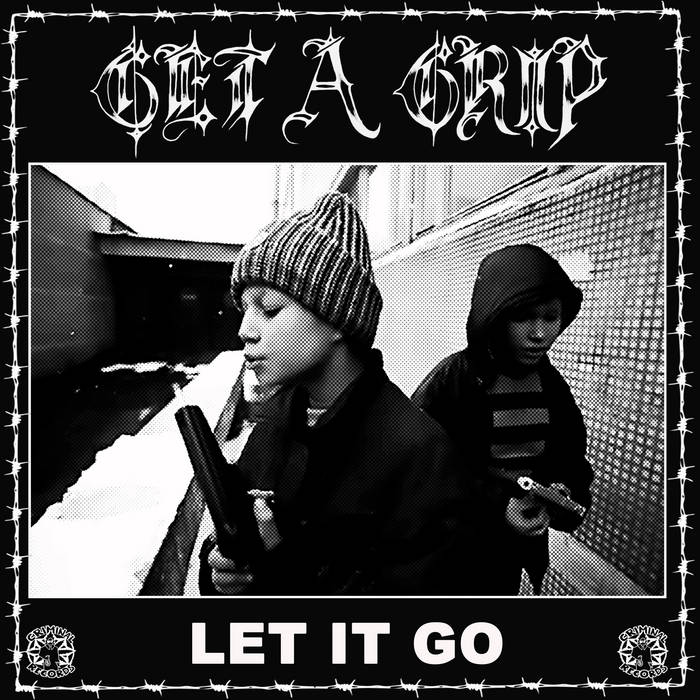 The EP's pre-release single, "Let It Go," is a suitable standout. It alternates between being the hardest-hitting and the most melodic song on the album. A song whose message is relatable to any listener, it focuses on the difficult but necessary step of cutting out the negative people in your life, the people who we hole onto even though they bring us nothing but pain. William S. Burroughs said, "If, after spending time with a person, you feel as though you've lost a quart of plasma, avoid that person in the future." It's a funny quote because everyone knows it's true, because it seems so obvious, but this step toward respecting yourself enough to sever ties with those who disrespect you is a difficult one. If you struggle with this, allow "Let It Go" to be your anthem. Over a brick-breaking, minor-key thrash verse, Perez grunts, "Breathing down my back, looking for the flaws, saying I'm not good enough, and what I've done is wrong." Too often these external, abusive voices turn into internal ones, and you can begin to believe the terrible things people say about you. That's when you stand up straight, with your head high, and the song switches to a long-haired, leather-bracelet, major-key chorus, that says defiantly and triumphantly: "I won't waste any more time. You are the worst of any kind. Lying to just put on a show. Not anymore, I won't let it go!"
EP closer, "Global Scam," turns its sights broadly on the troubles our world faces, especially at the hands of governments who claim religion as an excuse to act in devilish ways. From poverty to school shootings to bombing poor countries, the song has a bone to pick with the the powers that be in this country and how their influence depends on the perpetual suffering of those over whom they rule. Although it's the second shortest song on the album, "Global Scam" feels sweeping. It's pacing and grand themes give it a musical and narrative arc that feels comprehensive, like every problem on Earth can be boiled down to these disproportionate power structures. They're probably right about that. But the song isn't defeatist. "I refuse to be blind. I can't just close my eyes. We have to change now if we wanna survive." The "we" who starts this change is the youth. It's the people who go to hardcore shows. It's the people who've found a home in music because they have nowhere else to go.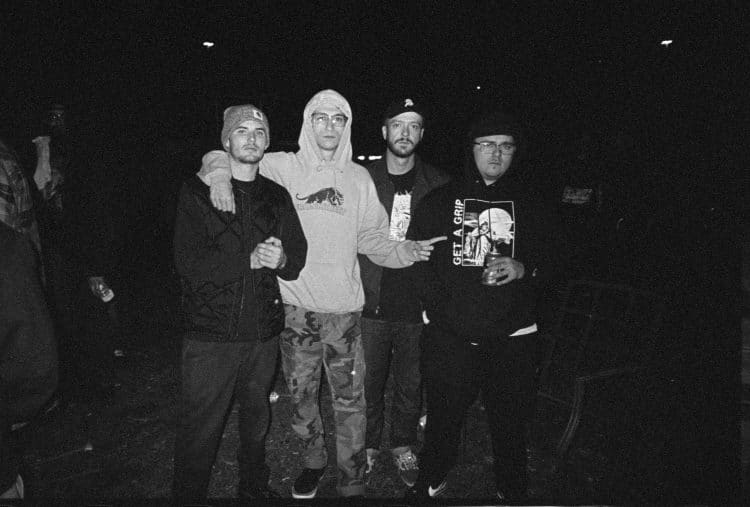 Vocalist Gabriel Perez shared some thoughts on the band and on United Fight.
Rather than finding punk and hardcore later in life, some of you have been involved in the local music scene from a very young age. Do you feel that being around this music so early gives you a different perspective on playing it? And has your perspective on the genre/scene changed as you've gotten older?
I don't think I can really speak for anyone else regarding perspective, because we all sort of have our own unique outlook. I think that's what makes everything so special about every band and scene. We've always felt lucky to have been exposed to something that is so genuine and empowering from a young age. Our views haven't strayed or changed much, but I'd definitely say we have grown to appreciate everything more with time.
Who were some of your strongest musical influences when you started the band? Have those influences changed at all?
I'd say they've pretty much stayed the same since we started. If I had to pick 5 of our biggest musical influences, they'd be Poison Idea, Negative Approach, Cro-Mags, Adolescents, and Suicidal. The records that those bands made – the way they made us feel – they'll forever inspire and influence us to make music that brings about those same kinds of feelings.
What were your lyrical inspirations for this release?
Some songs on here are political while others are personal. I let most of the emotions and thoughts I have with what I see and experience in life be the driving force for any lyrics I write. Whether I'm feeling strong or weak, full or empty, I can always find peace in letting those things out. If I didn't have this band – this outlet to use my voice and express myself – I'd probably be a very unhappy person.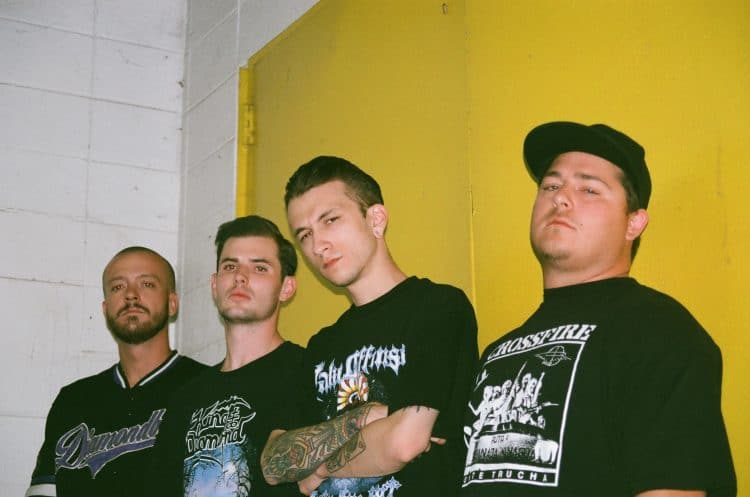 What were your creative goals in writing this album? Did you approach this differently from previous ones?
We wrote this with the same goals as the rest of our releases – to do our best and have as much fun as possible, while getting our point across loud and clear. We approached it a little differently only by recording it while the music was really, really fresh. In the past, we'd usually had songs for a few months before we'd record.
How would you describe the Arizona Hardcore scene?
It's fucking sick! There's nothing but great bands to listen to and support like War Prison, Concrete Evidence, Divine Hammer, The Beautiful Ones, Languish, Sex Prisoner, Skin Ticket, Pig City, Construct, Easy Money, and way, way more.
What should the world know about Get A Grip and United Fight?
United Fight is for everyone that feels like they've been counted out or turned away by anyone or anything. Keep an eye out for the Get A Grip LP coming next year!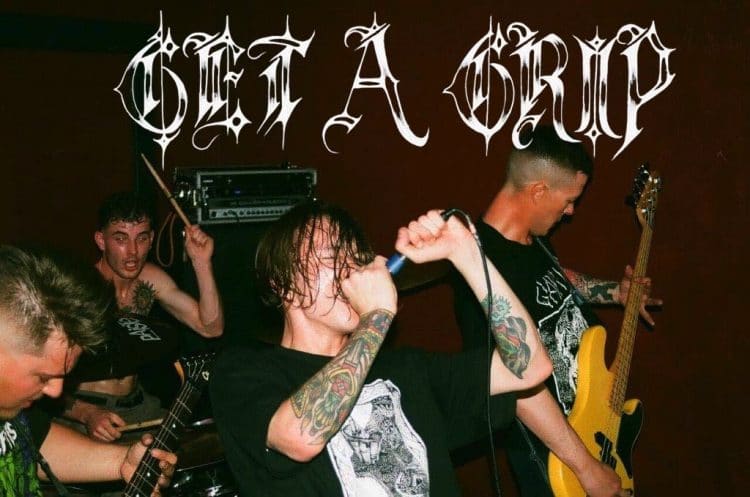 Pick up the United Fight 12″ at Criminal Records.
Recorded and mixed at Homewrecker Studios by Ryan Bram.
Mastered by Brad Boatright at Audiosiege.
Album art by Gera Vega.