Suffocating Heaviness:
GGU:LL – "Waan​:​Hoon" Review + Stream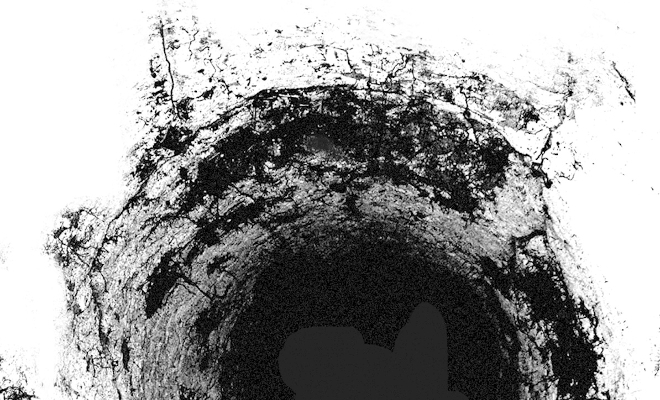 From the Netherlands come GGU:LL, a crusty and unearthly doom band hailing from the home base of the Roadburn Festival: Tillburg. When you sit down to listen to this harrowing EP called Waan​:​Hoon, you get creeped out for good. As their unholy and death-ridden riffs crawl through your ears and nest into your mind, fear starts to coagulate in your body, clogging your senses, making you drift away and creating a metastasis of horror and dismay all over your shivering soul. This is doom to lose your mind too. It's sludge metal of the darkest craft, drenched in horror, sucked into a vacuum of madness, corroded by darkness.
The riffs are huge slabs of heathen dark matter that pound the earth like the unholy fists of a behemoth made of shadows. The song structures are fluctuating and swelling tides of loss and despair, always crawling and slithering at painfully slow paces while the vocals hollow your soul with tenebrous and sickening howls. The tracks are only two and not too long for the genre – six minutes the opening one, and less than ten the second one – but they sail bravely through frighteningly uncharted waters where doom, drone and noise coalesce in massive black waves of storming heaviness. Some bands like Whitehorse, Laudanum and Dirge have already abundantly messed around with doom metal and noise, but GGU:LL have managed to add even more substance and quality to this unlikely and not too common splicing of genres, creating a monster that haunts you deep within your soul, and fucks with your head big time, messing with your fears and forcing you into a state of complete unease and amazement. This EP is like an acid trip in morgue, the feeling of death and decay feels like it's squirming and coming to life all around you. This is doom to get fucking completely lost into.  Out now on Tartarus Records.
Enjoy this post? Donate to CVLT Nation to help keep us going!