via Flashbak
Kenneth Anger told where the bodies were buried in the third issue of Kinokaze Magazine circa 1993. Or so it seemed, as no subject appeared to be off-limits. Drugs, murder, and movies. But then again, Anger rarely if ever veers from the script as he is a man who has carefully controlled his myth and reputation for decades.
Anger is a singular figure in 20th-century American culture. A filmmaker, a writer, a musician, an actor, activist, and an occultist. Best known for his hugely influential short films–Fireworks (1947), Inauguration of the Pleasure Dome (1954), Scorpio Rising (1963), Kustom Kar Kommandos (1965), Invocation of Demon Brother (1968), and the magnificent Lucifer Rising (1972/1980). Anger's films have influenced more filmmakers than would care to give him credit, but specifically directors like Martin Scorsese, Derek Jarman, Rainer Werner Fassbinder, David Lynch, John Waters, and let's not forget the whole host of promo directors who would be nothing without him. As Scorsese said of Anger:
I was astonished when I saw Kenneth Anger's Scorpio Rising for the first time. Every cut, every camera movement, every color, and every texture seemed, somehow, inevitable, in the same way that images of the Virgin in Renaissance painting seem inevitable—in other words, pre-existing but dormant, and brought back to life through some kind of evocation.

[Kenneth Anger] is, without a doubt, one of our greatest artists.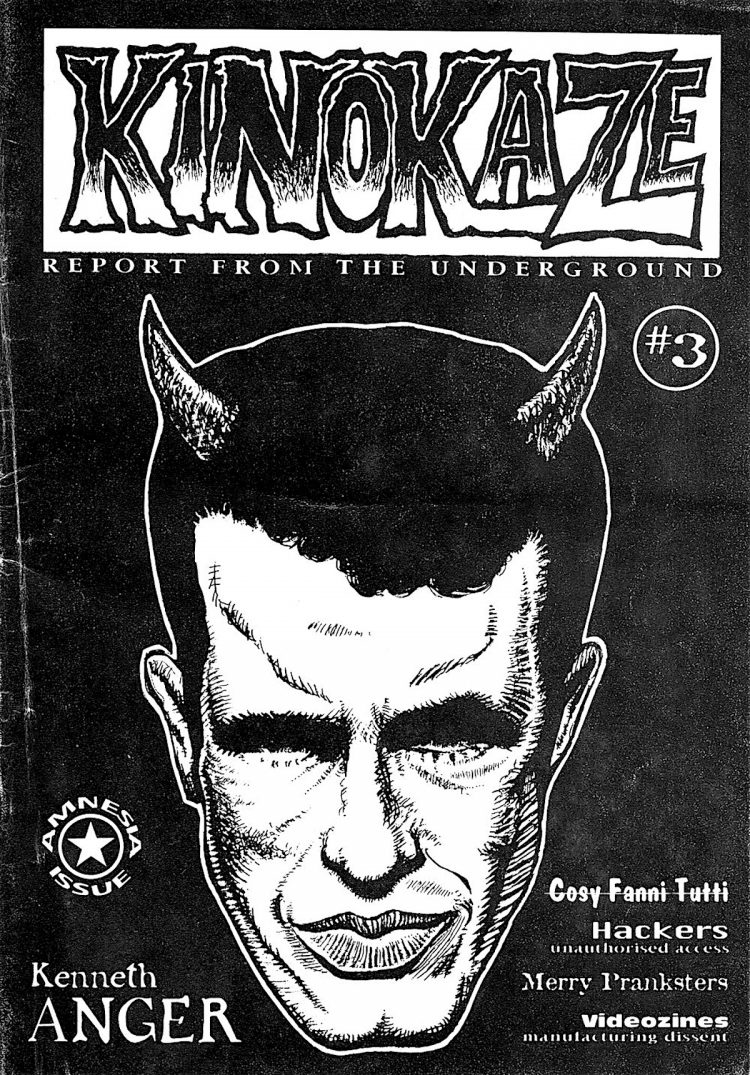 Anger is the author of two books of scurrilous gossip Hollywood Babylon I & II and notorious for his following of Aleister Crowley, and association with the Church of Satan (through Anton La Vey), and let's not forget the Manson Family via Bobby Beausoleil, who is one of the more tragic figures in that whole sorry tale. Anger also, allegedly, cursed Jimmy Page by turning him into a frog.
I've known Anger since 1994. We corresponded, met twice, and I have interviewed him twice. I like him, admire him, though of late we haven't spoken or written. C'est la vie.
Anger is larger than life. He arrives with a myth that floats like Dracula's cape around him. It encircles both expectation and response. But I'm a dick, so I never get fussed by that kinda shit. The first time I met him, I'd come out of bar on 44th St. NY, to greet him at his room at the Gramercy. He met me at the door of his room in dressing gown and a face covered in cold cream. "I'm jet-lagged," he said, having just arrived from LA. I felt like telling him, "So, am I, pal, but the bar's open." Then thought better of it. We chatted, and seemed to get on. The next day, a long interview in front of cameras, which was fun, well at least for me. Anger spilled all his favourite tales of Hollywood debauchery. We kept in touch. He was kind and generous and sent me books, magazines, photographs, posters, and many, many gifts which I was most fortunate to receive. But his letters never revealed anything other than a thank you and a hello.
Spool on a few years. This time we met in LA. Anger is allegedly living in a garage or something similarly drab. Who knows? I didn't pry. Why would I? We were at the Standard Hotel on Sunset, where we were to do a an all-day interview on camera about his long and eventful life. We sat in my room and chatted while waiting for the crew to set-up a few doors down. Anger sat on the bed tearing sex stories out of the tabloid newspapers I'd brought from the plane journey. He was going to send them to the Kinsey Institute. I stood on the balcony, smoking, watching the shimmer of eucalyptus trees in the late morning breeze.
When it was time for the interview, we walked along the orange-carpeted corridor only to be stopped by another film crew who were making a movie. At a half-corridor stood George Clooney and Brad Pitt, filming a scene for Ocean's Twelve. Both looked smaller, but their heads somehow bigger. They must have kept their magic for the camera, for it seemed that neither had the presence or, looked as grand a star as Anger, who stood half in shadow, just quietly waiting by one of the movie's ADs.
The interview went well. Anger telling the same stories I had read so many times in magazine interviews and newspaper cuttings. Only once did I get something new, when he talked about his feelings about some of the people he had loved in his life. For a moment, he opened up. But just as quick, the curtain came down and the spotlight routine continued.
The next day, I took him for lunch to Musso & Frank's where he told me all about the glamorous stars who had dined there. That was fun, but I wanted to know about him. I thought of the line Derek Jarman once wrote of how Anger had hidden himself behind screens. Anger always struck me like one of those reformed alcoholics who only stuck to the script of the twelve steps to redemption, never quite realising how boring all that shit could be for anyone else. But we all play games like that–we only tell people what we want them to hear.
After lunch, we headed to the Sex Museum and spent half-an-hour fondling lubricated dildos and looking at b&w photographs of well-hung cowboys butt-fucking twinks. "He'll never fit that in there," said Anger, but I reckon that guy probably did. We seemed to be having fun. Then suddenly Anger got angry. Where the fuck was the crew? Why was this taking so long? The crew were parking up and getting their tickets stamped. They should have been with us at the Egyptian Theatre. When they arrived, the filming went quickly. But this was more about Anger doing something for visuals–or cutaways–and not talking about himself. We headed to the Hollywood Forever Cemetery, where Anger gave me a tour of the graves and the mausoleums. He showed me Rudolph Valentino's vault. A small plaque on a marbled wall. He had a flower in his pocket which he placed by this memoriam. We filmed some more, chatted, and took a bunch of photographs. But Anger was bored. He asked about money. I paid him. Then it was over. The thanks and all that false bon homie that every TV and movie production goes through. I was sad. I liked Anger. We said goodbye, then for some reason recalled how I'd read somewhere that Anger had the power of invisibility. That he could disappear right in front of your eyes. Well, yeah, that's possibly true. I gave Anger a hug and a kiss and said "Goodbye." I watched him walk off across the graveyard. Then I pulled a cigarette from a packet and lit it up. Between the time of finding my lighter and lighting, and drawing in that beautiful breath of smoke, Anger had disappeared. I thought I was imagining things. I walked the route he had taken. Two hundred yards to the wall. No Anger. No nothing. He had disappeared without a trace. Magic is what you make it.
Kinokaze was a magazine that reported "from the underground with an emphasis on cinema, drugs, and performance art." Founded and edited by Donal Ruane, Kinokaze grew out of London's Exploding Cinema group which was a mix of anarchists, rebels, ravers, and eco-warriors in the early 1990s. Kinokaze ran between 1992-96. This interview with Anger was taken from the third issue. Interesting to note that Anger's claim to be the Changeling in Max Reinhardt's A Midsummer Night's Dream has since been discredited. The Changeling was played by child actress Sheila Brown. Similarly, his claim that Bobby Beausoleil stole his films has long been denied by Beausoleil. But it's still a good story.