See this Mind-Blowing Video from Cave Bastard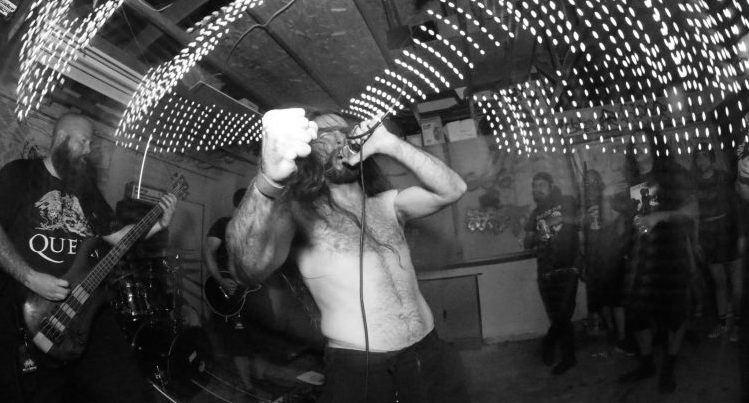 The video you are about to see is FUCKING MIND BLOWING and INTENSE!!! It's the new visual from the radical band Cave Bastard for their new song "Purity Through Oblivion" that is taken from their  record The Bleak Shall Devour the Earth.  Neil Barret handled the creative duties on this killer video, and once you press play you will be hooked! Cave Bastard hits the road this Friday and you can peep the dates below…
Three-and-a-half years in the making, the debut full-length dark vision of CAVE BASTARD is ready to be unleashed. The album combines the band's bleak imagery and outlook with devastatingly brutal riffs and earthmoving rhythms which set the tone for a voyage into the apocalypse. Featuring eight new songs bearing titles such as "Massacre Reaction," "Trapped In A World Of Formlessness," and "Purity Through Oblivion," CAVE BASTARD draws you in to their void of chaos. CAVE BASTARD is the manifestation of atrocities, inhumanities, and corruption, and The Bleak Shall Devour The Earth is the first chapter in their tale of torment.
The Bleak Shall Devour The Earth is out now via Accident Prone Records; stream the entire LP at Bandcamp HERE and find an arsenal of bundle/ordering options HERE.
CAVE BASTARD Tour Dates:
7/27/2018 Club 5 Bar – Indio, CA w/ Christ Killer, Flaunt
7/30/2018 Moonlight Club – Albuquerque, NM
7/31/2018 The Triple Nickel – Colorado Springs, CO
8/01/2018 BAR BAR – Denver, CO
8/03/2018 Neurolux – Boise, ID
8/04/2018 Eagles Lodge 2485 – Kennewick, WA
8/05/2018 Highwater Mark – Portland, OR
8/06/2018 King Wah's Bamboo Room – Medford, OR
8/08/2018 The Blue Lamp – Sacramento, CA
8/09/2018 The Golden Bull – Oakland, CA
8/10/2018 5 Star Bar – Los Angeles, CA
8/11/2018 The Tower Bar – San Diego, CA
Enjoy this post? Donate to CVLT Nation to help keep us going!