I've spent a week listening and subsequently wrestling with superlatives worthy of Secret Cutter's new and long-awaited LP Quantum Eraser. Four years in the making, you can feel every minute of hard fought chaos and perfection. Having been early adopters of the Bethlehem, Pennsylvania sludge grinders, Holy Roar Records continues their winning streak. With a roster that features such monsters as Conjurer, Mol, Svalbard, Employed To Serve, and Rolo Tomassi; they've rounded out the stable with the feral, untamable beast that is Secret Cutter. As dense and gloriously bludgeoning a listen as it can be, there's a precision and focus that transcends the genres they maniacally mash into a distorted, jagged masterwork.
Quantum Eraser begins with the aptly titled "Introduction", a warning of the pummeling that awaits you for the next 28 minutes, a last exit if you will. One could hastily throw the tag of "grindy sludge" or "sludgy grind" depending on the track, to approximate their calculated attack. That ultimately does a disservice to an extreme album packed with nuance, a tapestry of folded layers upon layers. There's, at times, a suffocatingly dense recording that calls to mind the audio fuckery of Portal and other bands with overwhelming sonic landscapes. Yet, even as it threatens to implode, Secret Cutter swings the pendulum… unleashing devastatingly heavy hammers of sludge and doom-inflected oppression that give way to blast furnace grind passages. The low end seems to dictate the album, standing as unmovable as the concrete pillars of Godflesh, Isis, and the Melvins' back end at their most foul. Impossibly, they conjure it as a three-piece, all without a bass player. Honestly, the sound they manage as a trio is a mangled orchestra by comparison. There's a command of myriad extreme music touchstones on display throughout the entire run-time, the grindier bits far too complex to be shelved with most of their peers. Groove, though making an appearance, never succumbs to it's trappings, instead keeping it's hands wrapped around our throat.
The drumming is otherworldly and, to these ears, I haven't heard vocals like these since Bannon petitioned empty skies. There's an unhinged but also martial sensibility to the throat shredding. It instills fear as much as it demands attention. This is music played by highly skilled and inventive musicians, yet it wisely never gets clinical or noodly. Tech played by artists that don't give a fuck.  Instead, everything sounds fierce and deliberate, an album meticulously stitched and celebrating it's polarity.  Lovingly and perfectly recorded by Jared Stimpfl at Captured Recordings and mixed by the almighty Brad Boatwright of Audiosiege, Quantum Eraser transcends the superlatives I've found myself grappling with… they sound like so many things and nothing in particular. Mostly? They sound like Secret Cutter. That's a rarity these days. Get it here.
I reached out to the band and they were kind enough to let me behind the curtain. Check out the interview below.
Pardon the pun, but this LP is a quantum leap from the self-titled, which I loved. It feels like an album that took a significant amount of time. Has it been in the works for a while?
Evan: We really took our time with all facets of this record. Jared has his own studio so it affords us the luxury of working on our own timeline. We did demos of most of the material many times. It was quite an endeavor, but we are very pleased with end result.
Jared: Our process always takes some time. we have allot of time to fine tune the mix which can be a double edged sword sometimes. We were able to take what we've learned from recording 'self titled' and apply it to this round of songs, which we had a handful of songs when we released the first record. Also new toys in the studio helped the evolution of our song I believe, as well as time just learning new techniques and letting our ears mature.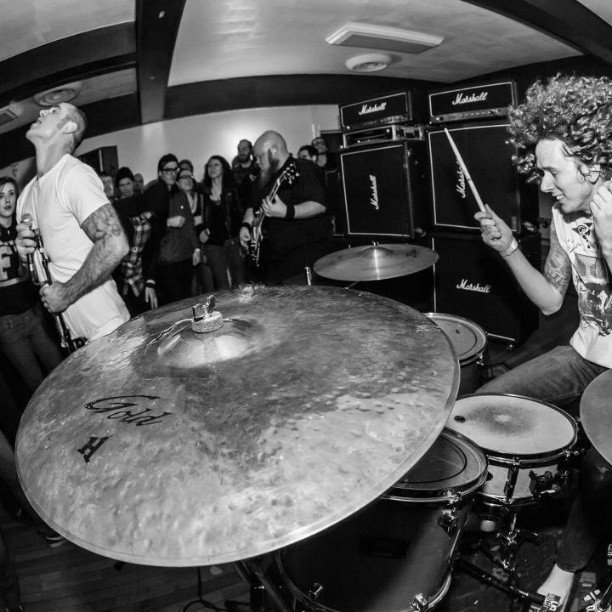 There seems to be an increased awareness of and focus on dynamics, pacing, and atmosphere. Everything feels more deliberate. Could you comment on the diversity and evolution of the songs?
Evan: I think it's a normal progression that most bands go through. We keep learning what works for us and what doesn't. We wrote significantly more material than appears on the final record. For every song we like, we throw two away because we are not feeling it. It's survival of the fittest, really.
Jared: There was an increased awareness while mixing that we did want to play with dynamics more…let parts hit harder and bump things louder here and there. It really brought things to life. I remember Ballou said one time that he would always mix to the "voice" of the songs, meaning whichever part of the song was the most interesting thing going on, at least that was my interpretation. We also played around with the order of the songs till we felt the flow was just right. We all feel the album flow as a whole really makes this album what it is.
Ekim: The way I do things vocally is when jared and Evan dial in a new tune And I'll get the feel/vibe for placement and patterns kind of like freestyle.. Then write lyrics to match. If you just write lyrics and throw them any ol' place it won't flow. Placement is key in my eyes.
The low end Secret Cutter could shift tectonic plates! How's it possible without bass?!
Evan: I tune very low and I use a bass head in addition to the guitar amps in my set up. That adds a subwoofer effect that brings out the low end. Jared did some eq stuff to bring that out on Quantum Eraser. That being said, the guitar tone is organic, I don't use octave or any other pedals.
What's in store for the band?
Evan: Writing new material. Playing as many shows as possible.
Jared: The new stuff is really stupid. I can't wait till we get going on the next record. SHOWS!!
https://www.instagram.com/secretcutterband