A two-man band hailing from San Jose, Costa Rica, Goat Rider is a hellacious mix of galloping thrash, touches of black, and lots and lots of Satanism. This is biker rock that's been fried in a skillet and thrown against the wall. It's sticky and ugly and full of blisters.
Nothing is reinvented here, the band pretty much plowing through number after number, swilling beer, hailing Satan, and having a good old time. It's not dangerous but it is fun, and that joy truly comes across, even if things get sort of chilling at times.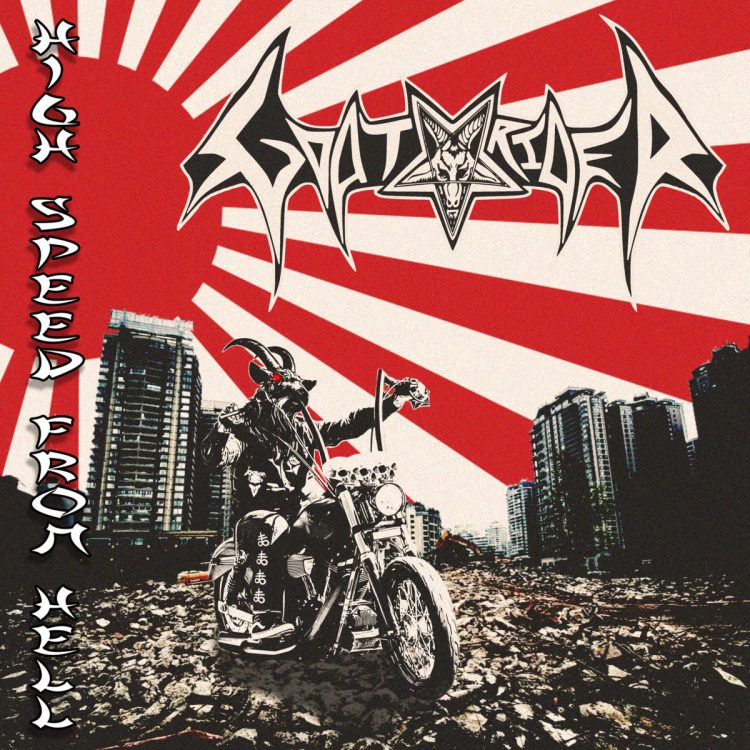 The album opens with "Intro—Black Horn," and ends with "666," a Toxic Holocaust cover. And if you're looking for a guiding light in this pitch-black darkness, Toxic Holocaust would be a good reference point. These guys aren't as technical, but they come from the same school. Crusty and rusty, every track that unfolds between the opening and closing are all of a kind: blazing speed, riffing that's dirty and nasty, gutturally blackened vocals, and charging drums. Every song is anthemic in its own way, with lots of vigorous fist-pumping to go along with the chaos. Highlights would include "Satan's Son 666" with its snaking bass line and pure, catastrophic, crashing speed. This one flies out of control and feels like you're running for your life, barefoot, through a field of rusty razor wire. It's also the longest track on the album, clocking in at 4:19, with most of the other tracks running around two to three minutes each. So this was the "epic." Love those Motorhead "Overkill" drums in the middle! The other standout track for me was "Hail Bathory." It starts out slow and grindy, then it kicks into gear and runs you over like an out of control tank. Lethal vocals on this one, mixing fine with the corrosive thrash on display.
Pretty much, you know what you're getting here, first track out, and it all stays the same throughout. You could say it's playing it safe and maybe it is, but I think it's more the case of a couple of guys having fun and paying tribute to music they absolutely love. Plenty of skill involved, and the only detriment to the album is that it's fairly throwaway. I'm not sure if I'll be listening to a year from now, but then again, a year from now may not exist. Enjoy it in the moment. A good album to crack a beer to and sit shirtless in your room, thinking about the glory that is Metal.