The two songs on Edict's demo lead most listeners to wonder where this band came from. It is unusual for a new band's demo to sound so perfect, so fully realized, and this Providence band really seems to have come out of the woodwork with one of the most exciting demos of the year. In actuality, the finesse and prowess on this release is no surprise, no coincidence. Together, the musicians in this group have more releases to their names than almost any band out there. While the term supergroup might be passe, Edict fits the bill, with its members having committed their talents to, to list a few, Dropdead, She Rides, Fucking Invincible, Sweet Jesus, Brother, Wolf Whistle, Stone Fleet, Warstone, Bury Your Dead, Blood Has Been Shed, Crippler Cross Face, As The Sun Sets, Reggie and the Full Effect, Darklands, Ruin It!, Cross Dragger, Civility, and Alpha Owl. Without these musicians, many of the New England projects that have enriched the nation's heavy music scene for the last couple of decades would simply not exist. That these consummate talents have joined forces on this project is exciting enough, but the songs on this demo speak for themselves, and were they performed by some anonymous, masked musicians, this release would still perk the ears of even the most discerning fan of metallic hardcore.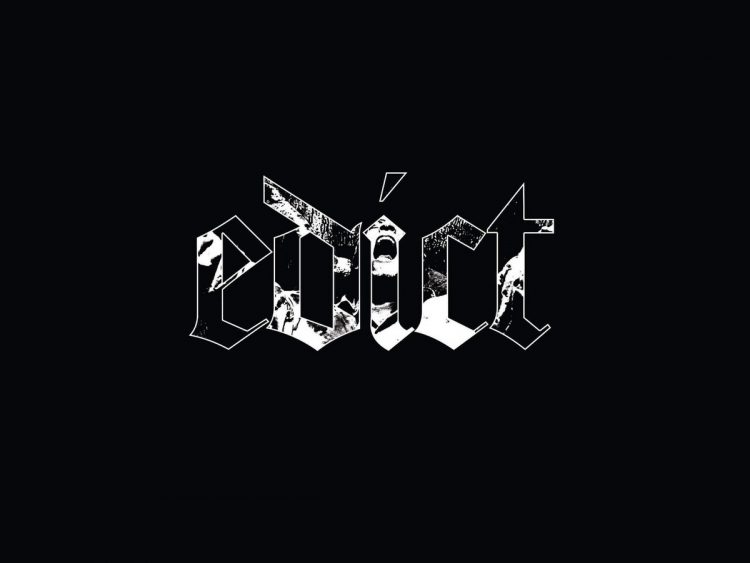 In an interview with Cvlt Nation, George Radford describes how the band came about. "On the drive home from a Brother show, the drummer put on Harm's Way Posthuman and I just went 'fuck! why am I not in a heavy band!?' Joe (Krewko) and I used to be in a band and, remaining friends, we'd often talk about doing something again, and here it is. The first version of the band was just me, Joe, and our friend Calvin (who is in LoudSounds) writing songs to programmed drums. Calvin got busy with LoudSounds, so Joe and I started looking for a real drummer. Joe, Dave (Magma), and I played with quite a few drummers but nothing really clicked so it was put on the backburner for a bit. Joe had the idea to add Rich (Gaccione), and I was for it. He then took out a fucking Craigslist ad and luckily Daniel (Tolentino) was the first to reply, got what we were trying to do, and has impeccable double bass skill.
"As far as goals/vision I just want to write and record some crushing songs with my friends and play as many shows/tours as possible. Did some other band already say they wanted to be Hatebreed for wimps? The other dudes are probably gonna laugh or tell me to edit this out but I want to play heavy jams for everyone to have fun too and not have to worry about getting knocked out or losing teeth."
Rich continues, "Joe sent me a DM on Instagram like 'hey do you want to mess around and write some heavy songs with me and George?' And I have always been looking to start a heavy band so I jumped at the opportunity. I have been into heavy music for so long but never have been in a band writing songs from scratch so I hope we end up creating some memorable heavy music."
Edict has certainly succeeded in that regard. The opening track, "Face First," opens with a mid-tempo, menacing OSDM lick before Krewko kicks in the door of the mausoleum and the song bursts into an old school Merauder-meets-Integrity tough guy section. Unfortunately for Radford, the aggression on this track is so irresistible, so hair-raising, that it is very likely that people will be concussed and picking up molars by the end of a live Edict show. There's nothing wimpy about this. On the band's style, Radford says, "For me, it started as an attempt to play 'modern' hardcore but once we all got into a room together the 90's metalcore poked through." With equal parts Bulldoze-style beatdown and Entombed-core, the recipe is a raging success.
Track 2, "Salvation," integrates even more crossover, death, and grind elements while still maintaining a knuckle-dragging, the-whole-song-is-the-mosh-part attitude. Gaccione says, "Some of my biggest guitar influences are Disembodied, Slayer, At The Gates, and Carcass, whatever comes out of my guitar are those bands' faults." Krewko's vocals are particularly visceral on this, having only gained potency and sincerity since You Had Me At Hello, and his belting seems to come straight from his sacrum, up his spine, and out his mouth. Citing lyrical inspirations of "addiction, recovery, the inherent pitfalls of capitalism, and the massive inequality caused by capitalism," it's no wonder that his delivery is so passionate.
Bassist Dave Magma says, "This was a project that literally was kicking around as a band in theory for years between Joe, George, and myself and took a very long time to get off the ground. Honestly, once we ironed down Daniel as a drummer, Rich came into the mix at the same time. Once we started writing it seemed too surreal for me personally. This felt like a band that was never going to happen for me: but turned out better, heavier, and more aggressive than I could have ever imagined: everything just fit into place with four beautiful human beings."
Heavy, aggressive, and beautiful are perfect descriptors for these tracks, both of which will be especially embraced by fans of early Earth Crisis, Bury Your Dead, and Shai Hulud. Current and classic, the sounds of Edict's first demo introduce a band that is helping to further develop a genre that its members helped to define years ago. The fact that there is a "New England sound" for hardcore and metalcore is due, in large part to the contributions of the musicians that now make up Edict, and if we continue to hear from this band, that influence will surely continue.
On the current music scene in Providence, Radford says, "I don't get out as much as I used to. Hopefully, the Providence music scene is still a magical place where you can scratch any and all musical itches in one night hopping from show to show. New things to check out: Bulletproof Backpack, anything Atomic Action puts out, LoudSounds, Traverse, The Mighty Fall, and Alley Trash for starters."
While Providence's musical legacy is secure, let us hope that Edict continues to add to it. Let us hope that this dynamite demo is just a teaser of all that is to come from these consummate craftsmen. Magma says, "Future for Edict would be to put out something that people can get into on various levels, especially after everything that has happened during the pandemic. I personally hope to tour, play shows, and give the energy to the crowd that we release at practice time and time again. I think a lot of us have all been pent up and yearning to release a lot of aggression, aggravation, fear, anger, and hurt in a more creative way."
Truly, their musical therapy is the listener's musical therapy. Magma continues by speaking to current and future fans, "Thank you for taking the time to listen to what we have produced and for supporting and showing interest in us. It's very surreal for me and means to the world to Edict as a whole."
Recorded, Mixed and Mastered by Shane Frisby at the Brick Hit House.