Riff Roaring Top Ten Speed Metal // Thrash Metal List by WHIPSTRIKER!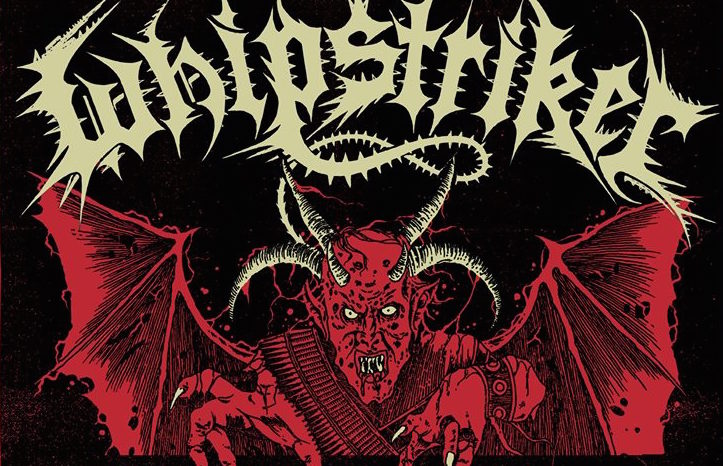 Victor Whipstriker, our CVLT Nation comrade, put together his top ten Speed Metal//Thrash Metal list and it fucking kicks ass! His new record Merciless Artillery is coming out via Hell's Headbangers –Pre-Order HERE – and make sure to catch him on his USA tour that starts on March 15th.
1 – Running Wild Gates to Purgatory
This is my number one 'cause I've listened to this album more than 1000 times in my life. I remember I was very young and I used to listen to Gates to Purgatory everyday in my way to school. Everything is perfect here. Front cover, riffs, production and lyrics. What a killer chorus! What a killer solos!
2 – Kreator Pleasure to Kill
Kreator has changed my life. They were my first contact with the "underground" scene. Before Kreator I used to listen to Motorhead, Metallica, Iron Maiden and the other mainstream bands. When a friend of mine gave me a cassette of Coma of Souls, I became a die hard headbanger. I like the first five albums a lot, but Pleasure to Kill is a masterpiece. Even nowadays I don't know if it is a Thrash or Death Metal album. I love the production, full of reverb and chorus. The Ventor's drums sound comes from the deepest hell's cave.
3 – Destruction Infernal Overkill
Destruction came right after Kreator. The same package. There was a bootleg split LP here in Brazil. Side A: Destruction "Sentence of Death"/ Side B: Sodom "In the Sign of Evil." I don't remember if we bought or stole this stuff. We were just 12/13 years old and we used to steal some records every F

riday

 after the school classes. We used to buy 1 LP and steal 3 or 4. We had no money! Fuck! But… my favorite Destruction album is Infernal Overkill. This record has the best riffs of all times. Mike is a king! Mike is a kind of god! Tracks like "Death Trap," "Bestial Invasion" and "Black Death" have the best riffs of all time for sure.
4 – Sodom In the Sign of Evil
Sodom completes the German package. This record is totally raw and crude. They were terrible musicians in 1984 and that's why I really love this EP. They had the young blood feeling. When they learned to play they became boring. I like them until the Better Off Dead album, but nothing is better than In the Sign of Evil and Obsessed by Cruelty.
5 – Venom At War with Satan
Venom is my main influence for sure. From
Welcome to Hell
to
Possessed
they play like hellish maniacs.
At War with Satan
is my favorite album. The best of Venom's sound can be felt in the "AT WAR WITH SATAN" track. 20 minutes of madness! And what about the "Genocide" track? When Cronos sings, "Sinner, death deceiver / Heathen, disbeliever / Genocide the cure of mankind / Armageddon patiently decides." Man, only these 15 seconds are better than all the NWOBHM careers. Ah, I"m joking but yeah, these few seconds kill and make my brain burn. What a power trio!
6 – Exciter Heavy Metal Maniac
I remember when my friend Leon Necromaniac from Apokalyptic Raids gave me a cassette called "HEAVY METAL TORMENT"… He recorded a split cassette for me with EXCITER "HEAVY METAL MANIAC" on side A and SACRIFICE "TORMENT IN FIRE" on the Side B. Wowww!  This tape really changed my life… The fucking Canadian Kings! I love this Sacrifice record, but I felt in love with Exciter. 
7 – Possessed Seven Churches
I can't explain what this album means to me. All the riffs are completely insane…  Jeff Becerra is a kind of young demon here. Seven Churches starts the Death Metal history. That classic "The Exorcist" riff burns my brain since 1999 when I've listened to this album for the first time.
8 – Slayer Show no Mercy
1983…. California… Kill em' All???  No, no, no! 
Show no Mercy is the law! Pure fucking Satanic Heavy Metal armageddon!  I love the early days of Thrash/Speed Metal, we can feel a lot of NWOBHM influences. I also love Hell Awaits, but I fuck and sleep listening to Show no Mercy.
9 – Warfare Metal Anarchy
Together with Venom, Warfare is my main influence. They are a mix of Venom+Motorhead+English Punk bands like GBH, Discharge etc. Is this the first "Metalpunk" album?  I don't know. I just love it. We have a lot of Warfare in our sound. We recorded a cover of "Death Vigilance" in our third album. I would like to record 20 Warfare covers.
10 – Tank Filth Hounds of Hades
10 – Diamond Head Lightning to the Nations
I hate top 10s! So fuck off and go to hell. My number 10 includes these 3 killer NWOBHM albums. I really would like to include another great death metal albums like Scream Bloody Gore and Altars of Madness…. Also some Brazilian albums like INRI, Morbid Visions, Campo de Exterminio, Immortal Force…. Can we make a top 40 next time? Oh, don't forget MOTORHEAD, VOIVOD, ONSLAUGHT, BATHORY, SACRIFICE, MERCYFUL FATE, THIN LIZZY, HELLHAMMER….. Fuck… I hate top 10s.
Enjoy this post? Donate to CVLT Nation to help keep us going!